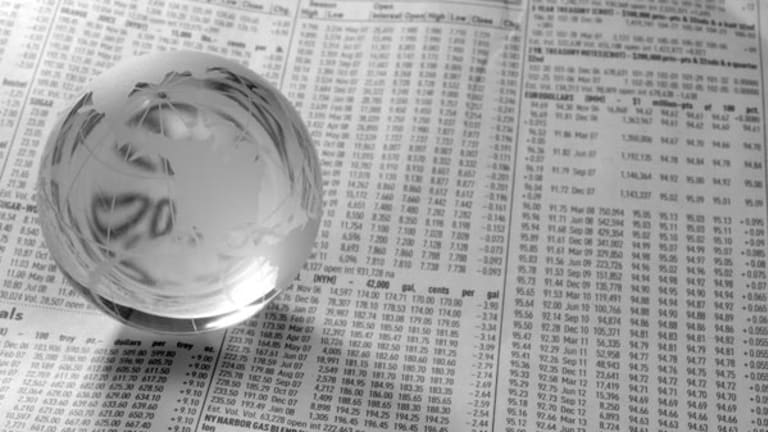 Asia Slumps on Carlyle, Refiner News
The region lost traction amid US credit woes and a Chinese refiner's rumored loss.
Asian markets mainly shrugged off Wall Street's rally Friday, slumping to new lows after a big selloff in the previous session as investors focused on the collapse of Carlyle Capital (CCC) - Get Clarivate PLC Report and rumors of a second-quarter loss for Chinese refiner Sinopec Shanghai Petrochemical( SHL).
Sinopec Shanghai, which refines around 70% of China's oil for resale, is suffering as a result of price caps ordered by Beijing officials. Still, the company denied the rumors that it would lose money for the first half of this year, maintaining they were "groundless and untrue."
The news sent the Shanghai Composite Index 0.2% lower, to 3962. That's the first time the index has closed below the psychologically-important 4000 benchmark since July 19.
In Hong Kong, the Hang Seng dipped 64 points, or 0.3%, to 22,237, extending losses of over 4.5% Thursday. Flu in Hong Kong, which has claimed the lives of four children and led to a shut-down of all primary schools on the island, was also said to be weighing on the market, though it was still not a serious factor at this point. Market commentators did point out however that China may be more seriously affected, where hospitals in the south of the country are already seeing 5,000 patients a day.
China Watch: AirMedia's No High-Flier
var config = new Array(); config<BRACKET>"videoId"</BRACKET> = 1456742235; config<BRACKET>"playerTag"</BRACKET> = "TSCM Embedded Video Player"; config<BRACKET>"autoStart"</BRACKET> = false; config<BRACKET>"preloadBackColor"</BRACKET> = "#FFFFFF"; config<BRACKET>"useOverlayMenu"</BRACKET> = "false"; config<BRACKET>"width"</BRACKET> = 265; config<BRACKET>"height"</BRACKET> = 255; config<BRACKET>"playerId"</BRACKET> = 1243645856; createExperience(config, 8);
Japan's Nikkei fell the most of all regional markets, tumbling 191 points, or 1.5%, to 12,241. The level is the index's lowest in two and a half years.
"News from the Federal Reserve of a $200 billion liquidity package is in many ways testimony to how bad things are out there," says Hugh Young, who manages $37 billion for Aberdeen Asset Management in Singapore. Referring to China's $1.5 trillion in U.S. Treasury reserves, Young adds that Chinese officials may be mulling "whether to keep a huge chunk of money in a currency that is clearly devaluing."
Sinopec Shanghai Petrochemical tumbled 5.5%, to HK$2.92 in Hong Kong, and gave up 2.9%, to 11.25 yuan, on the mainland. Other oil refiners were mixed.
PetroChina
(PTR) - Get PetroChina Co. Ltd. Report
shed 0.4%, to HK$10.08 in Hong Kong, but staged a 3.1% rally on the mainland, to close at 22.33 yuan. In Hong Kong, despite the recent surge in crude prices, shares in PetroChina are now more than half their 2007 high, and around 20% away from a 52-week low.
CNOOC
lost 0.3%, to HK$12.34.
Commodity prices retreated during the Asian trading session. Oil prices declined to $109.96 a barrel in Singapore trading, after reaching a record $111 in New York previously, while gold was selling for $96.45 an ounce, after hitting $1000.45 stateside.
Gold miners were mixed, with some trading off the bullish news from the U.S., and others reflecting weakness in demand for the commodity during the Asian trading day.
Sino Gold
( SIOGF) leapt 4.4%, to HK$58.60, while larger rival
Zijin Mining
(ZIJMF)
shed 1.4%, to HK$9.25. The smaller
Zhaojin Mining
(ZHAOF)
also slipped, losing 3%, to HK$2.10.
Carlyle Capital defaulted on $16.6 billion worth of margin calls, and analysts now expect creditors to unwind the fund. Financials were mixed.
Bank of China
(BACHF)
dipped 0.3%, to 3.10 yuan on the mainland, while in Hong Kong trading
HSBC Holdings
(HBC)
gained 0.3%, to HK$122.90, buoyed by rumors that insurer
Ping An
(PIAIF)
may make an offer for a chunk of the British bank.
Traders were buying and selling telcos based on expectations of earnings results for 2007, announced next week.
China Mobile
(CHL) - Get China Mobile Ltd. Report
gained 0.2%, to HK$107.40, while
China Unicom
(CHU) - Get China Unicom (Hong Kong) Ltd. Report
finished 0.2% higher, at HK$17.10.
China Netcom
(CN) - Get Xtrackers MSCI All China Equity ETF Report
and
China Telecom
(CHA) - Get China Telecom Corp. Ltd. Report
, which are expected to show a decline in net profit and sluggish growth of 3.5%, respectively, declined in the session.
Despite strong sales, Marvin Lo, a telco analyst at Daiwa bank in Hong Kong, says that China Mobile will have to beat expectations in order to keep beating the market.
"Unless China Mobile's results could beat consensus by a significant margin, say, more than 5%, the results may not be able to drive the share price upward under the current bearish market sentiment," says Lo.
Turnover was down slightly in Hong Kong, as sellers retreated slightly from the previous session. A total $11.3 billion worth of shares passed hands vs. $13.7 billion Thursday.
In Japan, the dollar rose to 100.65 vs. the yen, after falling to a low of 99.85 Thursday. Exporters remained weak, as
Honda
(HME)
dove 4.4%, to 2810 yen, and
Sony
dropped 2.3%, to 4200 yen.
Nintendo
(NTDOY) - Get Nintendo Co., Ltd. Report
rose however, by 0.4%, to 51,600 yen. Shares in Sony may soon see an uplift after the announcement that its new record player will copy vinyl to MP3 format files, according to dealers.
Among other market news in Japan, it was announced that
General Electric
(GE) - Get General Electric Company Report
is buying $10 billion in Japanese property during 2008. Total buying in the Japanese equity market by mutual funds in February declined by 5%, in line with expectations.
Other Asian markets were mixed. India's Bombay Sensitive Index gained 2.6%, to 15,760. Taiwan's Taiex dropped 0.6%, to 8161, while South Korea's Kospi also fell, by 1%, to 1600.
Be sure to check out the Far East Portfolio at Stockpickr.com to find out which stocks in India and China are making big moves and announcing major news.
Daniel M. Harrison is a business journalist specialising in European and emerging markets, in particular Asia. He has an MBA from BI, Norway and a blog at
. He lives in New York.