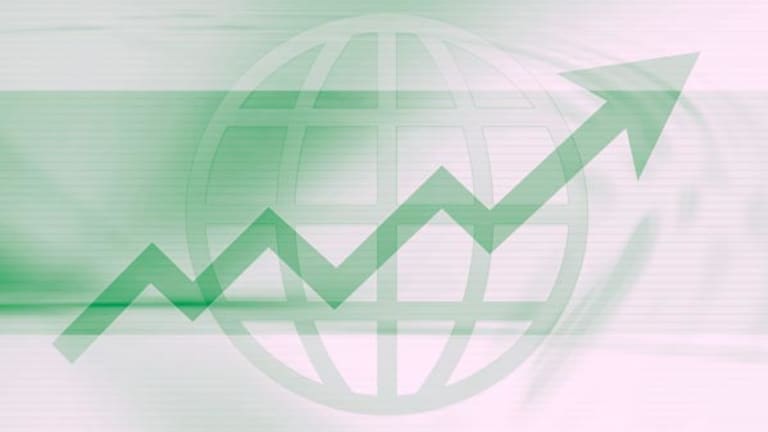 Asia Slides Lower on Sentiment and Storms
Aggressive investor expectations and the crippling snowstorms in China conspired to drive the markets lower.
Aggressive investor expectations and the crippling snowstorms in China conspired to drive the markets lower.
Asian markets shrugged off Wall Street's gains and bled into the red Wednesday, as earnings downgrades and disappointments weighed on investor sentiment.
The Hang Seng dropped 638 points, or 2.6%, to 23,653, while China's Shanghai Composite Index fell 40 points, or 0.9%, to 4417. In Japan, the Nikkei lost 133 points, or 1%, to 13,345.
Other Asian markets fell in line with Hong Kong and Japan. Taiwan's Taiex eased 33 points, or 0.4%, to 7543, and South Korea's Kospi tumbled 49 points, or 3%, to 1589. In India, the Bombay Sensitive Index finished 333 points, or 1.8% lower, at 17,758, perturbed by Tuesday's pat stance on interest rates by the central bank.
Insurance firms in Hong Kong and China took a beating following an announcement by
China Life Insurance
(LFC) - Get Report
that it projects net profit to grow by 50%, to 14.38 billion yuan ($2 billion) vs. analysts' expectations of 80% growth.
China Watch: A NICE Growth Play
var config = new Array(); config<BRACKET>"videoId"</BRACKET> = 1380790806; config<BRACKET>"playerTag"</BRACKET> = "TSCM Embedded Video Player"; config<BRACKET>"autoStart"</BRACKET> = false; config<BRACKET>"preloadBackColor"</BRACKET> = "#FFFFFF"; config<BRACKET>"useOverlayMenu"</BRACKET> = "false"; config<BRACKET>"width"</BRACKET> = 265; config<BRACKET>"height"</BRACKET> = 255; config<BRACKET>"playerId"</BRACKET> = 1243645856; createExperience(config, 8);
"People's high expectations are weighing a lot on the markets. Even in the case of companies like China Life Insurance, where earnings are very good, people were expecting a lot more," says Richard Lee, an analyst for Core Pacific Yamaichi in Hong Kong.
Shares in China Life Insurance plunged 7.4%, to HK$29. China's second largest insurer
Ping An
(PIAIF)
, which met expectations Tuesday, doubling earnings to 7.34 billion yuan ($1 billion), also fell. The stock dropped 6.5%, to HK$57.40, as analysts said that investors were concerned about whether excess cash would weigh on future growth.
Telecoms also fell, although
China Unicom
(CHU) - Get Report
bucked the trend as it said that earnings would be more than double the 3.7 billion yuan ($515 million) achieved in 2006. China Unicom gained 1.7%, to HK$18.
Market leader
China Mobile
(CHL) - Get Report
tumbled 3.7%, to HK$113.60, while
China Netcom
(CN) - Get Report
lost 2%, to HK$24.10, and
China Telecom
(CHA) - Get Report
eased 1.8%, to HK$5.58.
Among tech shares,
Alibaba.com
( ALBCF) slipped 6.8%, to HK$18.92, as dealers said that hedge funds were unloading big positions throughout the day. ADRs in
Baidu.com
(BIDU) - Get Report
were following in Frankfurt morning trading, off 4.4%, to 178.47 euros. Lee says that "fundamentally" Alibaba.com is a good company, and that shares have been selling off due to overvaluation in 2007. "In Asia you see much quicker panic selling than elsewhere," adds Lee.
On the mainland, the insurers dragged on the financial sector.
Bank of China
(BACHF)
declined 1.4%, to 5.53 yuan, while
Industrial & Commercial Bank of China
(IDCBF)
slid 2.9%, to 6.46 yuan.
Transportation stocks continued to be the biggest victims of the
.
Air China
(AIRYY)
dipped 3.5%, to 20.71 yuan, while
China Eastern Airlines
(CEA) - Get Report
lost 2.7%, to 14.82 yuan. Since the snowstorms began a week ago, Air China has lost 20% of its market value, and China Eastern has slipped back 16.5%.
The price of the yuan rose to its highest level since the dollar peg was abolished in 2005, to 7.19 yuan vs. the dollar, as currency traders speculated the snowstorms would push inflation higher.
In Japan, a weakening yen could not help offset losses spurred by more subprime jitters. The yen fell to 107 vs. 106.6 previously in Asian trading.
Mizuho Financial
(MFG) - Get Report
announced that it will writedown as much as 300 billion yen, or $2.8 billion, on subprime losses, and that it would inject cash into its ailing securities subsidiary. Mizuho lost 1.6%, to 49,500 yen.
Mitsubishi UFJ
(MTU)
held up however, off 0.1%, at 1029 yen.
Honda
(HMC) - Get Report
bucked the negative trend and rose 1.2%, to 3300 yen, after
the company announced fourth-quarter profit rose 38%, to 200 billion yen, or $1.9 billion. In a phenomenon that gave some investors hope of exaggeration in reports of a global consumption slowdown, Japan's second-largest carmaker cited an increase in sales in the U.S. and Europe.
Other Japanese exporters did not fare so well.
Canon
(CAJ) - Get Report
dipped 1.9%, to 4690 yen, and
Sony
(SNE) - Get Report
declined 1.2%, to 5040 yen.
Some analysts speculate that the worst may still be ahead for Asian electronics makers. Citigroup analyst Kirk Yang in Hong Kong has cut his earnings forecasts for Asian PC manufacturers by 19% for 2008, he writes in a research report issued this morning.
"Although Asia companies have not reported any order cancellations yet, we believe it is unavoidable, given the global economic slowdown," Yang writes.
In other Asian news, some pockets of the region are fighting a growing bird flu epidemic. In Indonesia Tuesday, the flu claimed the 101st victim, and the seventh so far this year, the health ministry reported today. In India, workers sprayed villages with disinfectants Wednesday, as the flu has reportedly spread to 13 out of 19 districts in West Bengal. Health scares are not said to have affected stock market indices so far, however.
Daniel M. Harrison is a business journalist specialising in European and emerging markets, in particular Asia. He has an MBA from BI, Norway and a blog at
. He lives in New York.