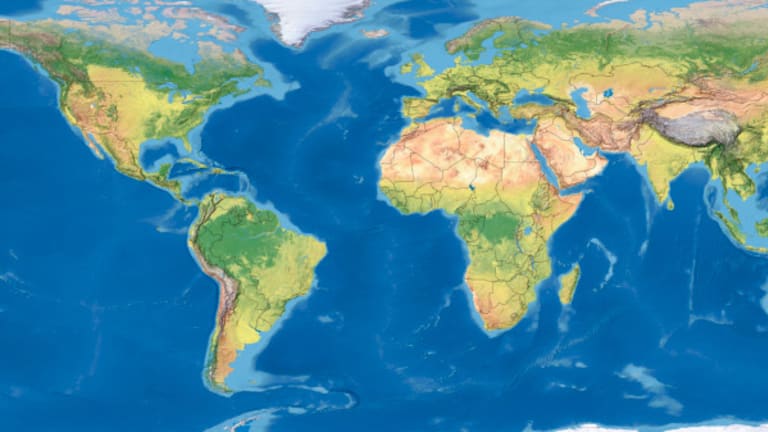 Asia: Rumor-Based Rally in Japan
Market players credit the strong rally to two separate stories moving through trading desks.
Asian markets shrugged off Wall Street's slow day overnight and entered a surprise rally Thursday, led by the Nikkei during the afternoon session as rumors abounded.
The Nikkei gained 200 points, or 1.5%, to 13,389.90, and after a strong selloff in the past two weeks, China's Shanghai Composite Index gained momentum as mainland bargain hunters came back to fish for cheap deals among commodity and banking stocks. The index gained 98 points, or 2.9%, to 3446.24. In Hong Kong, the Hang Seng jumped 392 points, or 1.6%, to 24,264.63.
"China financials seem to be a major mover of this surge, while the U.S. stock market is still on schedule for a rebound," says Castor Pang, a buy-side strategist for Sun Hung Kai financial in Hong Kong. "Most investors are changing their mind for the short term, and becoming more optimistic about market direction."
Japanese stocks spiked sharply during the afternoon session, lifting Chinese financials and regional markets, amid a consecutive pair of rumors. The first rumor, which began circulating at the end of the morning session in Hong Kong, was that there was a trading error in Singapore-traded Nikkei call futures.
Then toward the open of the afternoon session, talk on proprietary trading desks turned to a foreign hedge fund snapping up $1 billion of Japanese equity, completing the first half of the trade during the morning session on the Singapore International Monetary Exchange.
The yen dropped vs. the dollar, by around half a yen, to 102.80 by the end of Asian trading. Japanese banks continued to post sizeable gains for the second consecutive day, despite wary comments by Bernanke overnight.
Mitsubishi UFJ
(MTU)
jumped 3.1%, to 992 yen, and
Mizuho Financial
(MFG) - Get Mizuho Financial Group Inc. Sponosred ADR (Japan) Report
rose 2%, to 412,000 yen.
Kookmin Bank
(KB) - Get KB Financial Group Inc Report
finished 0.5% higher, at 64,500 yen.
Japanese Steel Works
ended 5.4% higher, at 1898 yen, and electronics maker
TDK
( TDK) added 3.4%, to 6370 yen.
On the mainland, Chinese A-shares remained in negative to flat territory until the afternoon rally in Japanese shares.
Aluminum Corp. of China
(ACH) - Get Aluminum Corporation of China Limited American Depositary Shares Report
gained the maximum daily limit of 10%, to 20.78 yuan, and
PetroChina
(PTR) - Get PetroChina Company Limited Report
raced ahead 2.3%, to 17.55 yuan.
Bank of China
(BACHF)
rose 2.2%, to 5.15 yuan, and
Industrial & Commercial Bank of China
(IDCBF)
climbed 2.6%, to 6.36 yuan.
Ping An
(PIAIF)
, China's second largest insurer, rose 3.9%, to 59.04 yuan, after it was announced that the company has successfully completed a 50% acquisition of Belgium Investment Bank
Fortis
for 2.15 billion euros, or $3.35 billion.
In Hong Kong,
Sinopec Shanghai Petrochemical
( SHL) rose 3%, to HK$7.47, as a short squeeze helped the stock rally during the afternoon. This week, 7% of free-floating shares have been used by traders to short-sell the stock, leading to many of those traders having to cover their positions by buying back stock.
Other big gainers in the region were Chinese goldminer
Zhaojin Mining
(ZHAOF)
and South Korean steelmaker
Posco
(PKX) - Get POSCO Holdings Inc. American Depositary Shares (Each representing 1/4th of a share of) Report
as oil and gold prices held up after overnight gains. Zhaojin rose 2.4%, to HK$23.55, and Posco climbed 6.2%, to 508,000 won.
Markets in Hong Kong, China and Taiwan are closed Friday for a holiday.
Other Asian markets fared mixed. South Korea's Kospi rose 1.2%, to 1763.63, and Taiwan's Taiex dipped 0.1%, to 8596.34. India's Bombay Sensitive Index gained 0.5%, to 15,832.55.
Be sure to check out the Far East Portfolio at Stockpickr.com to find out which Indian and Chinese companies are making big moves and announcing major news.
Daniel M. Harrison is a business journalist specialising in European and emerging markets, in particular Asia. He has an MBA from BI, Norway and a blog at
. He lives in New York.