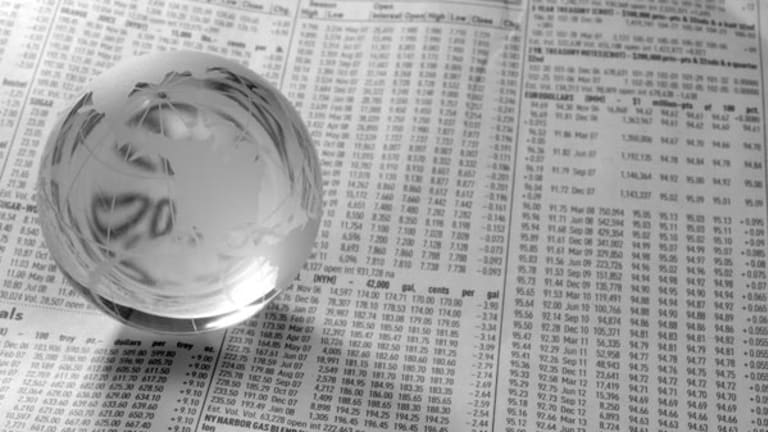 Asia Rallies on Rumors and Hope
A morning slump reverses on Fed rumors and higher S&P futures.
After trading down in the morning, Asian markets gained on the back of higher S&P futures, positive expectations over today's Federal Reserve minutes, and an intraday rumor that the Fed will make a surprise rate cut in U.S. trading on Tuesday.
After spending the morning in the red, the Hang Seng gained 311 points at the close, or 1.13%, to 27,771, while the Shanghai Composite Index rose 23 points, or 0.45%, to 5293.
The Nikkei staged a similar 1.12% rally, gaining 168 points, to 15,211. Only the Kospi couldn't come back, ending the day down 2 points, or 1.12%, to 1872.
"Mainly, the S&P futures performing well is the reason for the market upturn," says Conita Hung, head of equities at Delta Asia Financial in Hong Kong. "The Japanese market rebounded first, then the Hong Kong market, and then Asia more broadly. The Hang Seng was almost 1500 points down at the start of trading. This is a really, really volatile market."
On the question of the rumor of a surprise U.S. rate cut, Hung says that it may stem from minutes of the Fed's Oct. 31 meeting due to be released later today.
In telecoms,
China Mobile
(CHL) - Get China Mobile Ltd. Report
rose 2%, to HK$134.40, and
China Unicom
(CHU) - Get China Unicom (Hong Kong) Ltd. Report
gained 3.13%, to HK$15.80.
China Mobile said today that it added 6.6 million subscribers last month, taking its total to 356.3 million, while
China Telecom
(CHA) - Get China Telecom Corp. Ltd. Report
lost 880,000 subscribers in the same period.
China Netcom
(CN) - Get Xtrackers MSCI All China Equity ETF Report
and China Telecom surged for the second day running, by 11%, to HK$23.50, and 8%, to HK$5.89, respectively.
The big gains in the last two stemmed from a report in China issued yesterday stating that Chinese telecom companies may get 3G wireless licenses as early as next year, and that the home-grown wireless technology, called TD-SCDMA will undergo commercial trials as early as December. Still, despite confirmation by a Chinese official of the intentions to issue the wireless licenses, some market participants are wary of the factual basis of these claims.
"I think it's only speculative, rather than fact," says Delta Asia Financial's Hung. "From time to time these 3G rumors enter the market, and they are usually speculation rather than the issuing of actual 3G licenses."
Amongst commodity stocks
PetroChina
(PTR) - Get PetroChina Company Limited Report
rose 2.2%, to HK$14.84, while in China
Sinopec Shanghai Petrochemical
( SHL) rose 4.84%, to 16.58 yuan, and
Aluminum Corp of China
(ACH) - Get Aluminum Corporation of China Limited American Depositary Shares Report
jumped 0.75%, to 39.15 yuan.
Mainland Chinese commodity stocks are between 30% and 50% off their 52-week highs, and many bargain hunters are now seeking gains in these companies on the back of a weak dollar, and ahead of OPEC's Dec. 5 meeting.
Japanese exporters got hit on a rising yen, but staged a rally in late trading along with the rest of the region's shares.
Sony
and
Canon
(CAJ) - Get Canon Inc. American Depositary Shares Report
both rose 0.18%, to 5,330 yen, and 5,490 yen, respectively, while Japanese investors used the bullish sentiment to pick up
Nintendo
(NTDOY) - Get Nintendo Co. Ltd ADR Report
after recent selling, which jumped 3.71%, to 61,300 yen.
Volatility prevailed in the financials, with
Mitsubishi UFJ
(MTU)
losing 1.4%, to 935 yen while
Mizuho Financial
(MFG) - Get Mizuho Financial Group Inc. Sponosred ADR (Japan) Report
bounced 2.5%, to 539,000 yen.
The yen was trading higher vs. the dollar in Asian trading, at 110.38 vs. yesterday's level of 110.52.
The volatility in regional markets is largely because of divided opinion in Asia about whether the indices in Hong Kong and China specifically, and in the region more broadly, can reach new highs for the year.
Like many investors in Hong Kong, Hung says she expects a rally by year-end, and forecasts a 50/50 probability of another U.S. rate cut.
"I would say when the Hang Seng drops into the 26,000 to 27,000 range investors can try buying into the quality stocks. I expect the market will see another rally by the end of this year."
Still, not everyone is convinced of this scenario.
"This is fairyland stuff," says Tim Rocks, a strategist at Macquarie Bank in Hong Kong. "And if the Fed cuts tonight the market will gap about 20% higher."
Rocks instead sees slower global growth issues as driving the markets towards the end of the year.
"The issues are more short term and global issues will drive
markets -- the main one at the moment is the the Fed wants to be on hold. Bonds markets are listening but equity markets not." adds Rocks.
Daniel M. Harrison is a business journalist specialising in European and emerging markets, in particular Asia. He has an MBA from BI, Norway and a blog at
. He lives in New York.