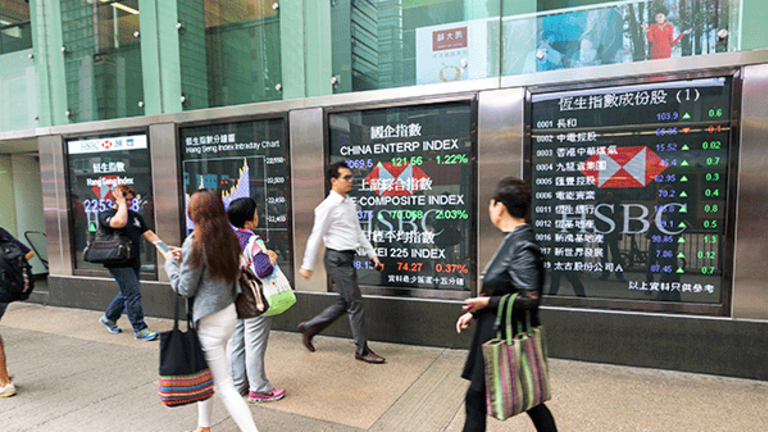 Asia Markets, U.S. Stock Futures Shrug Off North Korea Worries
Asia markets, U.S. stock futures take their cues from support on Wall Street.
U.S. stock futures were slightly higher overnight, while stocks in Asia started the Wednesday in the green.
Widespread reports that North Korean leader Kim Jong Un called Tuesday's test-firing of a missile over Japan a "meaningful prelude" to containing Guam didn't dampen investor support in Tokyo, Hong Kong or South Korea on Wednesday.
Bloomberg News, citing a statement from the official Korean Central News Agency, said the missile launch was "muscle-flexing" to protest military exercises being held between the U.S. and South Korea.
Shortly before 11 p.m. Eastern, Dow futures were up 7 points, or 0.03%, to 21,881; S&P futures were up 1.25 points, or 0.05%, at 2,448.25; and Nasdaq futures were up 5.75 points, or 0.10%, to 5,875.50.
Gold futures were down 0.09%, while crude oil futures fell 0.26%.
In early Asia trade, Japan's Nikkei was up 6.99 points, or 0.20%, to 19,462.20 and Hong Kong's Hang Seng index was 169.29 points, or 0.61%, higher at 27,934.30. South Korea's KOSPI index rose slightly, up 0.05% at 2,365.98.
On Wall Street Tuesday, U.S. stocks shrugged off worries about North Korea to turn early losses to gains by the end of the day. The Dow Jones Industrial Average was up 0.26%, the S&P 500 added 0.08% and the Nasdaq increased 0.3%. The CBOE Volatility Index, otherwise known as the "fear index," spiked nearly 4% to 11.75.
More of What's Trending on TheStreet:
Domino's and Ford Join Forces to 'Kill' the Pizza Delivery Boy
This article was written by a staff member of TheStreet.