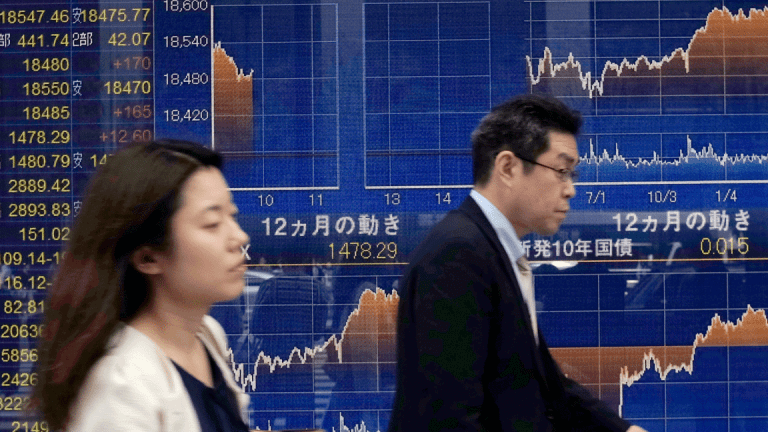 Asia Markets Follow Wall Street's Weakness
Asia stocks dipped in early trade Tuesday, while U.S. stock futures also weakened overnight.
Stocks were lower throughout the Asia region in early trade Tuesday, taking their cue from losses on Wall Street. U.S. stock futures also were mixed to lower overnight.
Jappan's Nikkei 225 Index was down 0.64%, or 152.08 points, to 23,477.26. Hong Kong's Hang Seng Index was off 0.30%, or 98.29 points, to 32,868.60. Indexes in Shanghai and Singapore also declined.
In futures trading, Dow futures were down 0.24%, or 62 points, at 25,984 and S&P futures dipped 0.04%, or 1 point, to 2,852.50. Nasdaq futures edged up 0.03% to 6,994.25.
Gold futures were up 0.32% and crude oil futures rose 0.05%.
On Wall Street Monday, stocks tumbled as bond yields spiked. The Dow Jones Industrial Average fell 177 points, or 0.67%, to 26,439. The S&P 500 declined by 0.67% and the Nasdaq slid 0.52%.
The Dow, S&P 500 and Nasdaq all finished at new highs on Friday, Jan. 26.
Benchmark 10-year U.S. Treasury yields rose to a near four-year high of 2.71% on Monday amid increasing concerns over faster inflation readings in the world's biggest economy. Two-year notes were also on the move, rising to 2.15%, the highest since 2008.
More of What's Trending on TheStreet: