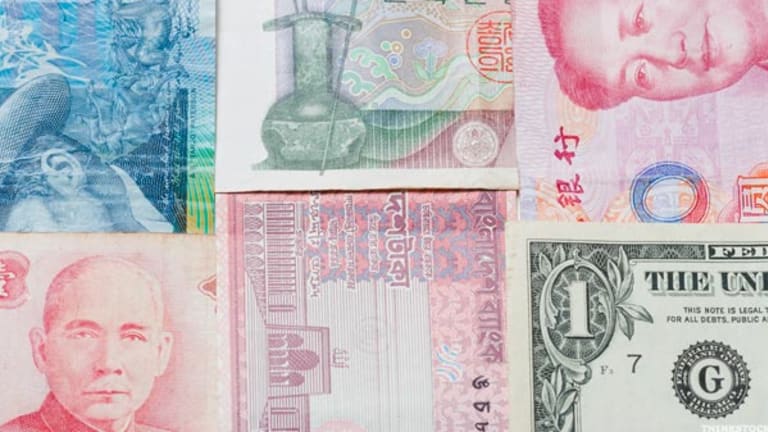 Asia: Late Rally Lifts Shanghai
But Hong Kong sees a 3.6% loss in sympathy with Wall Street.
MARBELLA, Spain -- Thursday was an erratic end to a highly volatile four-day week for markets in Asia. The Shanghai Composite Index rebounded from early losses of over 5%, driven by oil stocks shedding value on lower commodity prices, to end the day safely in the green.
The Composite Index ended up 42 points, or 1.1%, at 3804. Traders said the last-minute gains were due to rumors that Beijing officials may cut stamp duty, a form of tax paid on share purchases, as soon as this weekend. In Hong Kong, equities didn't fare so well, as the Hang Seng tracked late losses on Wall Street overnight, and finished 784 points, or 3.6% lower, at 21,082.
"It seems the market is still volatile," says Castor Pang, a buy-side analyst for Sun Hung Kai in Hong Kong. "China will be the major driver for now the Hong Kong stock market." A short term rebound in the Hang Seng is to be expected, but only for the short term, adds Pang.
A sharp drop in commodity prices overnight after the recent oil and gold-led rally mauled miners and refiners in Hong Kong, but a heavy majority of market participants expect the two commodities to rebound back to previous levels.
"This is not a structural change, but only a fundraising exercise by hedge funds," says Alex Wong, a director of Ample Financial Group, and prominent market commentator in Hong Kong. "The confidence crisis in the dollar is not over yet." Wong explains that as the first quarter comes to a close, many hedge funds are cashing in profits in commodities to pay for redemptions by investors, and to show booked profits in what has so far been a year of turmoil in other areas of the market.
In Singapore, oil was selling for $102.18 a barrel, while gold recovered a bit to $936.17 an ounce after falling nearly 3% on the opening, extending Wednesday's steep slide.
Among commodity shares,
PetroChina
(PTR) - Get PetroChina Co. Ltd. Report
tumbled 6.8% to HK$9.17 in Hong Kong, and by 3%, to 21.90 yuan in Shanghai, after the company reported worse-than-expected earnings for 2007 late Wednesday. Earnings of PetroChina rose 2.4%, to 145.6 billion yuan, or $20.6 billion. Analysts expected around another percentage point of earnings growth, which failed to materialize as a result of Chinese state-imposed curbs on the retail price of oil and higher material costs, the company said.
CNOOC
fell further than PetroChina, plunging 10.5%, to HK$10.18.
Sinopec Shanghai Petrochemical
( SHL) dropped 6.2%, to HK$6.17, in Hong Kong, but caught the late market momentum in Shanghai, and rose 1.5%, to 10.14 yuan. Sinopec is not adversely affected by a drop in the price of oil, and can even benefit, since much of its revenue is derived from retail sales at its gas stations across the mainland and in Hong Kong.
Gold miners tumbled.
Zijin Mining
(ZIJMF)
dropped 13.7%, to HK$6.49, and smaller rival
Zhaojin Mining
(ZHAOF)
dive-bombed 15.12%, to HK$21.05.
Sino Gold
( SIOGF) plummeted 9%, to HK$50.50, and
Lingbao Gold
(LGBOF)
lost 6.6%, to HK$3.38.
The drop in commodity prices spurred buying in airlines, adding to the day's volatile swings. In Shanghai,
Air China
(AIRYY)
and
China Eastern Airlines
(CEA) - Get China Eastern Airlines Corp. Ltd. Report
both surged the maximum daily allowed limit of 10%, to 15.94 yuan, and 12.10 yuan, respectively. In Hong Kong, Air China rose 8.1%, to HK$6, while China Eastern Air jumped 8.2%, to HK$3.95.
Cathay Pacific
(CPCAY)
gained 1.9%, to HK$14.98.
Telcos pulled back, in line with the drop in the Hang Seng and on profit taking after mostly announcing strong earnings this week.
China Mobile
(CHL) - Get China Mobile Ltd. Report
fell 3.2%, to HK$104.20, while
China Telecom
(CHA) - Get China Telecom Corp. Ltd. Report
dropped 6%, to HK$4.55.
China Unicom
(CHU) - Get China Unicom (Hong Kong) Ltd. Report
fell 5.3%, to HK$15.79, and
China Netcom
(CN) - Get Xtrackers MSCI All China Equity ETF Report
finished 4.6% lower, at HK$19.19. Market participants say that these dips in the share prices of telcos are a good buying opportunity for bargain-hunters since the stocks have shown resilience to the slow-down in the global economy.
Among financials, investors were mostly selling, but dealers said that some hedge funds were picking up shares in
Industrial & Commercial Bank of China
(IDCBF)
. ICBC lost 2.8%, to HK$4.79, and HSBC
HSBC Holdings
(HBC)
fell 0.9%, to HK$120.70.
Bank of China
(BACHF)
slipped 3.5%, to HK$3.02.
Insurers followed in the declines.
China Life Insurance
(LFC) - Get China Life Insurance Co. Ltd. Report
fell 6.3%, to HK$25.15, and
Ping An
(PIAIF)
tumbled 6.1%, to HK$49.90. Ping An, which is China's second largest insurer, announced that it will take a 50% stake in Belgian-Dutch bank Fortis for 2.15 billion euros ($3.35 billion), confirming recent rumors that it was eyeing such a deal. The insurer is also rumored to be considering taking a stake in HSBC.
Thursday is the last trading day of the week for Hong Kong, which reopens Tuesday after the Easter holidays.
Following the drop in commodity prices, the dollar was gaining a bit against the yen, although it still remains below the psychologically crucial 100 yen vs. dollar benchmark. The dollar was buying 99.54 yen by the end of Asian trading vs. 99.20 at the close of the morning session. Japanese and Indian equity markets were closed for a holiday, and re-open Friday.
Other Asian exchanges also rose. The Taiwanese Taiex gained 1.9%, to 8337, and the South Korean Kospi was slightly ahead, by 0.1%, at 1623.
Be sure to check out the Far East Portfolio at Stockpickr.com to find out which stocks in India and China are making big moves and announcing major news.
Daniel M. Harrison is a business journalist specialising in European and emerging markets, in particular Asia. He has an MBA from BI, Norway and a blog at
. He lives in New York.