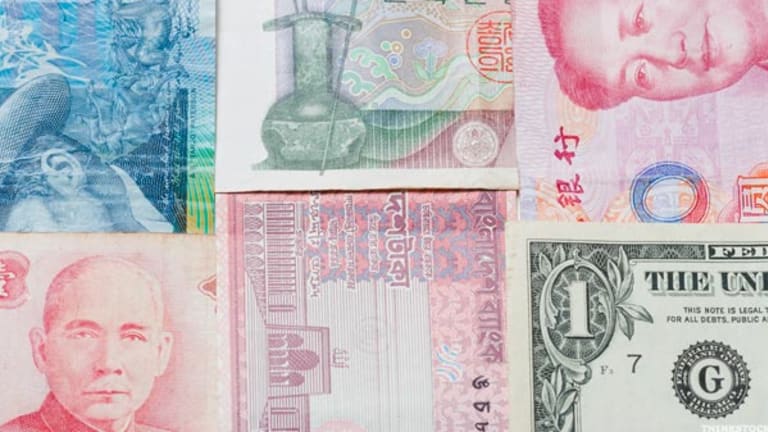 Asia Falls Sharply on Credit and Inflation Woes
Shares of gold miners stood out in the broad selling on the continent's exchanges.
Markets in Asia caved in to inflation, credit worries and pressure from a triple digit oil price Wednesday, with all the major indices ending sharply in the red on increased trading volumes.
In Hong Kong, the Hang Seng fell 532 points, or 2.2%, to 23,590, while the neighboring Shanghai Composite Index dropped 97 points, or 2.1%, to 4567. Shares were also lower in Japan, where the Nikkei fell the furthest of the big Asian exchanges, down 447 points, or 3.3%, to 13,310.
In India, the Bombay Sensitive Index gave back 458 points, or 2.5%, to 17,617, dragged down by stocks like
Tata Motors
(TTM) - Get Tata Motors Ltd Limited Report
, whose margins are ultra-sensitive to oil price fluctuations. Tata Motors dove 4.4%, to 705.70 rupees.
"Should the Fed's cuts fail to restore credit confidence and U.S. economic prospects, there is a high probability that market sentiment in Asia will worsen further," says Elaine Chu, Asian strategist for Citigroup in Hong Kong. "Market-wise, India appears the most vulnerable."
A bearish report in the
Financial Times
stating that
KKR Financial Holdings
(KFN)
has deferred the repayment of several billion dollars of commercial paper weakened financial stocks. (KKR Financial is an affiliate of New-York based private equity giant Kohlberg Kravis Roberts & Co.)
HSBC Holdings
(HBC)
dipped 1.5%, to HK$112.70, and Asia's subprime casualty
Bank of China
(BACHF)
lost 1.8%, to HK$3.24. Japanese megabanks plunged on the report.
Mizuho Financial
(MFG) - Get Mizuho Financial Group Inc. Sponosred ADR (Japan) Report
was off 4.2% by the end of the day, at 430,000 yen, and
Mitsubishi UFJ
(MTU)
fared worse, down 4.4%, at 919 yen.
Telcos across Asia also fared poorly, as Asian investors stayed on the sidelines of speculating over more growth in the region. Some market participants say that telcos are ideal "defensive" stocks in the event of an economic downturn, and that such price decreases represent buying opportunities.
China Telecom
(CHA) - Get China Telecom Corp. Ltd. Report
plunged 5.2%, to HK$5.99,
China Unicom
(CHU) - Get China Unicom (Hong Kong) Ltd. Report
dove 4.1%, to HK$18.38.
China Netcom
(CN) - Get Xtrackers MSCI All China Equity ETF Report
fared little better, off 3%, at HK$24. Market leader
China Mobile
(CHL) - Get China Mobile Ltd. Report
fell 2.7%, to HK$116. In Japan,
NTT DoCoMo
(DCM)
was 4.6% lower, at 165,000 yen.
Among dot-com stocks,
Alibaba.com
( ALBCF) tumbled 4.3%, to HK$20.20.
Baidu.com
(BIDU) - Get Baidu Inc. 百度 Report
ADRs were 2.3% lower, at 166.70 euros in Frankfurt morning trading, after the stock fell Tuesday in New York on news that a recent spate of highly controversial images of Hong Kong celebrities showering and engaging in sex acts have been banned from the site in China.
Unlike telcos, Internet stocks tend to fare worst in times of macreconomic jitters, and many agree these stocks may fall much further.
Gold Miners Shine Amid the Muck
One sector that was shining was gold miners, which rose on an increase in the price of the metal, spurred by an uplift in the price of the metal after crude reached $110.10 in New York trading Tuesday. Investors were also cheered by inflation of 7.1% in China on the same day, since gold is widely used as a hedge against these price hikes. Gold was nearing a three-week high, at $928.21 an ounce in Singapore trading.
Zijin Mining
(ZIJMF)
gained 1.9%, to HK$9.92, while the more volatile
Zhaojin Mining
(ZHAOF)
jumpd 5.1%, to HK$33.90.
Sino Gold
( SIOGF) rose 2.7%, to HK$55.10.
Oil stocks were a victim of the broad selloff however.
PetroChina
(PTR) - Get PetroChina Company Limited Report
declined 2.6%, to 24.11 yuan in Shanghai, and 2.2%, to 11.70 in Hong Kong. Retailer
Sinopec Shanghai Petrochemical
( SHL) slipped 4.2%, to 13.13 yuan in Shanghai, since the company is an importer of the liquid and hurt by price hikes. Oil was trading slightly lower, at $99.30 a barrel by the afternoon in Singapore.
Airline stocks were also hard hit, after days of rising in the face of a bullish crude price.
Cathay Pacific
(CPCAY)
lost 2.7%, to HK$16.54, and
Air China
(AIRYY)
fell by 1.2%, to 21.83.
In Japan, the yen rose, as unwinding carry trades brought the currency to 107.91 vs. 107.78 previously.
Aside from inflation and high commodity prices, some market observers argue now that Asia may take an additional hit on earnings disappointments and further downgrades, when the companies announce late this month. A Societe Generale-issued research note being passed around dealing floors in Hong Kong titled "Global Earnings Estimate Analysis" forecasts exactly this scenario.
"In our view we are only at the beginning of the downgrading process, for while, on aggregate, 12-month forward profit growth is now declining, excluding the Financials it is still on the up. We fully expect the downgrading to continue and intensify throughout 2008," says the note.
Other Asian markets were also lower. The Taiwanese Taiex lost 1.6%, to 7894, and the South Korean Kospi slid 1.9%, to 1688.
Daniel M. Harrison is a business journalist specialising in European and emerging markets, in particular Asia. He has an MBA from BI, Norway and a blog at
. He lives in New York.