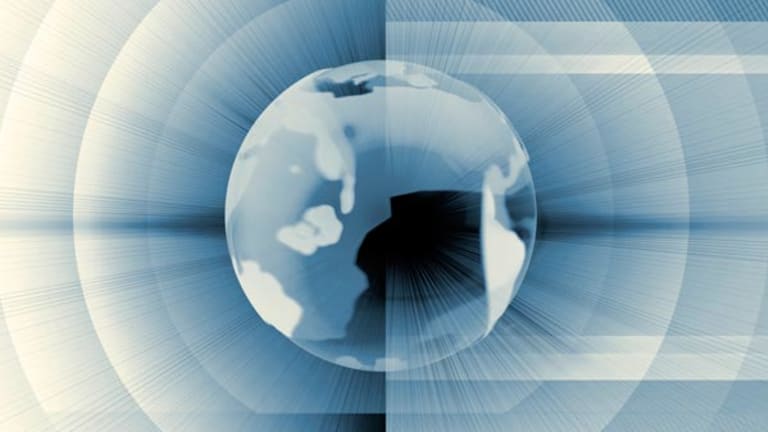 Asia Ends Week With Gains
The Shanghai Composite Index rises 44 points, or 0.93%, to 4761.
The Shanghai Composite Index rises 44 points, or 0.93%, to 4761.
After a deeply bearish start to the week, Asian indices ended on a high note Friday, as sentiment in Hong Kong over the U.S. economic stimulus proposals, coupled with a weakening yen in Japan, propelled stocks to a regional rally.
The Hang Seng bounced to within just 80 points of last week's closing level, soaring 1,583 points, or 6.7%, to 25,122. The Shanghai Composite Index regained strength off early weakness to close up 44 points, or 0.93%, at 4761.
In Japan, the Nikkei rose 536 points, or 4.1%, to 13,629, as the yen slipped nearly 2%, to 107.61 vs. the dollar.
China Watch: PetroChina
var config = new Array(); config<BRACKET>"videoId"</BRACKET> = 1388808438; config<BRACKET>"playerTag"</BRACKET> = "TSCM Embedded Video Player"; config<BRACKET>"autoStart"</BRACKET> = false; config<BRACKET>"preloadBackColor"</BRACKET> = "#FFFFFF"; config<BRACKET>"useOverlayMenu"</BRACKET> = "false"; config<BRACKET>"width"</BRACKET> = 265; config<BRACKET>"height"</BRACKET> = 255; config<BRACKET>"playerId"</BRACKET> = 1243645856; createExperience(config, 8);
"We are back on an uptrend," says Jackson Wong, investment manager at Tanrich Securities in Hong Kong. "We are on a technical rebound since selling off so much last week, where we were oversold exactly 2,000 points on the Hang Seng."
Wong adds that the support level for the Hang Seng is now 24,000, with an upper resistance level of 26,000.
Leading the gainers were Chinese consumer plays after China's Vice Premier Zeng Peiyang said that stimulating domestic consumption would be a top priority for Beijing in 2008.
"The focus of our efforts will be shifted from relying mainly on investment and export to stimulating consumption and steadily increasing the consumption rate," Zeng announced at the World Economic Forum Thursday, according to the state-owned newswire
Xinhua
.
Zeng's comments sent shares of insurers, airlines and Olympic-theme stocks surging. In Hong Kong,
China Life Insurance
(LFC) - Get Report
leaped 8.6% to HK$33.50, while rival
Ping An
(PIAIF)
jumped 9% to HK$68.20.
Despite doubts expressed by some this week that a proposed 140 billion yuan ($19.4 billion) share sale in Ping An to fund acquisitions may be rejected by regulators, the company maintained its intention to go ahead with its capital-raising plans.
Air China
(AIRYY)
rose 11% to HK$7.86, while
China Eastern Airlines
(CEA) - Get Report
jumped 10.7% to HK$5.61.
Cathay Pacific
(CPCAY)
was up 3.7% to HK$18.08.
In Shanghai, sportswear maker
Li Ning
(LNNGF)
rose 1%, to 25.55 yuan.
Dot-com stocks feeding Chinese consumption were also doing well.
Alibaba.com
( ALBCF) soared 12.8% to HK$21.40 in Hong Kong, while ADRs in
Baidu.com
(BIDU) - Get Report
were gaining 9.9% in Frankfurt.
"Dot-com stocks mirror the Nasdaq, as well as the Chinese economy, so there has been a strong rebound," says Wong.
Among commodity stocks, gold miners soared as the price of the metal hit a record $920 an ounce in Asian trading.
Zijin Mining
(ZIJMF)
advanced 9.2% to HK$10.30, and
Zhaojin Mining
(ZHAOF)
gained 7.2% to HK$34.95.
Sino Gold
( SIOGF) rose 8.9% to HK$53.60.
PetroChina
(PTR) - Get Report
surged 8.6% to HK$11.88, while the shares in Shanghai closed up 0.5% at 26.14 yuan. Also in Shanghai,
Aluminum Corp. of China
(ACH) - Get Report
advanced 2.5% to 33.44 yuan.
Dealers said that hedge funds were using the bumps to unload positions in
Hang Seng H-Share
(HSXUF)
, an ETF similar to the
iShares FTSE Xinhua
(FXI) - Get Report
. Hang Seng H-Share gained 9.2% to HK$141.80.
In Japan, official data showed that inflation doubled in 2007, by 0.8%, its highest in nine years. Central bank Governor Toshihiko Fukui said the price increases were mostly seen in gasoline and commodities.
The reports now lead many to believe that the Bank of Japan will not raise interest rates any time soon, as previously expected. That would be a plus for exporters, which depend on a weak yen to extract bigger margins.
"A rate cut is unlikely as the Japanese economy is expected to grow at a pace near the potential growth of the economy in 2008," writes Citigroup analyst Kiichi Murashima in Tokyo, in a research report. Murashima cautions, however, that Japan's export growth will "inevitably" slow in the same period, due to a U.S. slowdown.
Canon
(CAJ) - Get Report
soared 6.8% to 4,860 yen, while
Honda
(HMC) - Get Report
added 6.5% to 3,270 yen. Canon has held up better than most exporters in the recent selloff.
Sony
(SNE) - Get Report
gained 2.4% to 5,110 yen.
Nintendo
(NTDOY)
fell 2.3% to 52,000 yen. Despite what dealers describe as big buying by institutions and a strong newsflow, gains have failed to materialize in the stock during the market rebound.
Other Asian markets ended the week in the green, too. The Korean Kospi rose 29 points, or 1.8%, to 1692, after the Bank of Korea announced that the national economy grew 1.5% in the fourth quarter last year. The Taiwanese Taiex posted a rebound after a week-long selloff, rising 22 points, or 3%, to 7739.
In India, in an increasingly common trend, the Bombay Sensitive Index jumped in line with Hong Kong, surging 1139 points, or 6.6%, to 18,361.
Daniel M. Harrison is a business journalist specialising in European and emerging markets, in particular Asia. He has an MBA from BI, Norway and a blog at
. He lives in New York.