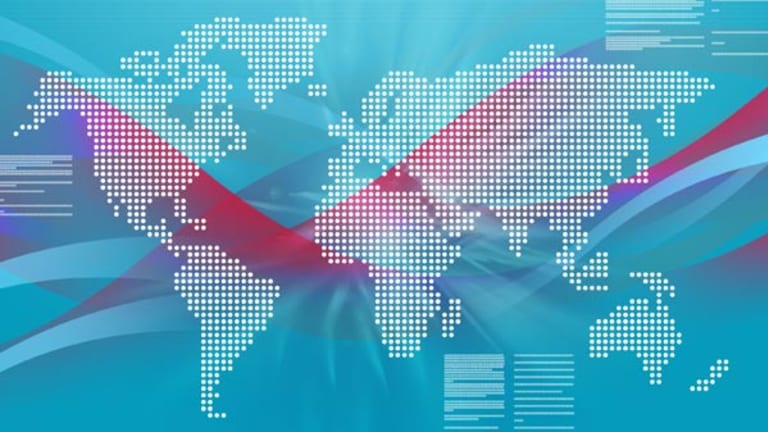 Asia Drops Like a Stone
Megabanks and momentum favorites led the heavy selling in the region.
Asian markets took Wall Street's overnight lead and plunged in trading Wednesday, as a wave of short selling hit Hong Kong, where the Hang Seng dropped its most in one day since Sept. 11, 2001.
The Hang Seng plummeted 1,386 points, or 5.4%, to 24,450. China's Shanghai Composite Index tumbled 153 points, or 2.8%, to 5290, and the Nikkei dropped to a 26-month low of 468 points, or 3.4%, to 13,504.
China Watch: Studying EDU
var config = new Array(); config<BRACKET>"videoId"</BRACKET> = 1379245260; config<BRACKET>"playerTag"</BRACKET> = "TSCM Embedded Video Player"; config<BRACKET>"autoStart"</BRACKET> = false; config<BRACKET>"preloadBackColor"</BRACKET> = "#FFFFFF"; config<BRACKET>"useOverlayMenu"</BRACKET> = "false"; config<BRACKET>"width"</BRACKET> = 265; config<BRACKET>"height"</BRACKET> = 255; config<BRACKET>"playerId"</BRACKET> = 1243645856; createExperience(config, 8);
"What's bad on the Hang Seng is the dip below last November low of 25,862 points," says Andrew To, head of research and sales at Taifook Securities in Hong Kong. "The final support level to keep the market from extreme bearishness now is 23,400 -- that level can be taken as the dividing line between a bull and a bear market."
Other dealers said that the new support level for the Hang Seng was 24,200, and below that, 22,380. They pointed out that there was aggressive short selling activity by hedge funds, in particular in
Hong Kong Exchanges
(HKXCF)
, which dived 7%, to HK$172.
Other big victims of the sell-off were
China Life Insurance
(LFC) - Get China Life Insurance Co. Ltd. Report
, which lost 7.6%, to HK$33.45,
PetroChina
(PTR) - Get PetroChina Co. Ltd. Report
, down 6.14%, to HK$11.92, and
Cathay Pacific
(CPCAY)
, off 5.3%, to HK$18.60.
China Life Insurance is now down more than 20% since the beginning of the year. PetroChina suffered as crude oil declined 1%, to $90.09 a barrel by the end of the Asian trading session, while a large Japanese hedge fund was reportedly selling Cathay Pacific heavily.
Among property stocks, increasing speculation in Hong Kong that the
Federal Reserve
may cut interest rates early couldn't hold back profit taking, as the stocks have recently been hitting all-time highs. Conglomerate
Hutchison
(HUWHY)
slipped 4.2%, to HK$79.40, and
Cheung Kong
(CHEUY)
fell further, down 4.8%, to HK$129.20.
Hang Lung Properties
(HLPPY)
dipped 2.8%, to HK$30.10.
Most telcos were heavily sold, as these momentum favorites were some of the biggest gainers previously.
China Mobile
(CHL) - Get China Mobile Ltd. Report
and
China Unicom
(CHU) - Get China Unicom (Hong Kong) Ltd. Report
both shed 5%, to HK$118.50, and HK$16.60, respectively.
China Netcom
(CN) - Get Xtrackers MSCI All China Equity ETF Report
lost 3.3%, to HK$23.65, but
China Telecom
(CHA) - Get China Telecom Corp. Ltd. Report
held up, losing just 1%, to HK$6.11, as investors were reluctant to bet against what they think may be the new winner in the industry's mainland restructuring process.
Despite the heavy selling, which followed a dip of 4% on Tuesday, many expect a sharp rebound in the Hang Seng soon, and say that in particular Hong Kong Exchanges may rise as much as 10%, to HK$190, as funds are forced to cover deep short positions.
Rumors were also circling that
China Development Bank
may have rejected a $2 billion investment offer in
Citigroup
(C) - Get Citigroup Inc. Report
because the bank is waiting for a further discounted price. Turnover on the exchange was at a two month high of HK$145.1 billion, or $18.6 billion.
"The focus will now be on U.S. interest rate cuts, and
if they are deep that will be the buying excuse," says Conita Hung, head of equities at Delta Asia Financial in Hong Kong.
Hung also added that if Citigroup can successfully complete a quick share sale stateside that would also be a key driver for a rebound in the Hang Seng.
In China, Shanghai's index was dragged down by PetroChina and
China Shenhua Energy
(CUAEF)
which combined, comprise 24% of the weighting in the market. PetroChina "A" shares fell 2%, to 29.66 yuan, while China Shenhua Energy tumbled 5%, to 63.92 yuan.
In Japan, the yen rallied to 106.22 vs. the dollar, from 107.63 in Tuesday's trading. The hardest hit stocks in Japan were the star performers of 2007, including
Nintendo
(NTDOY)
, which plunged 8.5% to 54,000 yen,
Sony
, which dived 6.8% to 5510 yen and
Kobe Steel
(KBSTY)
lost 6.3%, to 326 yen.
Megabanks were also hammered, after Citigroup announced its massive writedown.
Mitsubishi UFJ
(MTU)
slid 4.7%, to 952 yen, and
Sumitomo Mitsui Financial
( SMFJY) shed 2.4%, to 574 yen.
In India, the Bombay sensitive Index tracked Chinese declines, falling 382 points, or 1.9%, to 19,868, but held up the most in the region.
Daniel M. Harrison is a business journalist specialising in European and emerging markets, in particular Asia. He has an MBA from BI, Norway and a blog at
. He lives in New York.