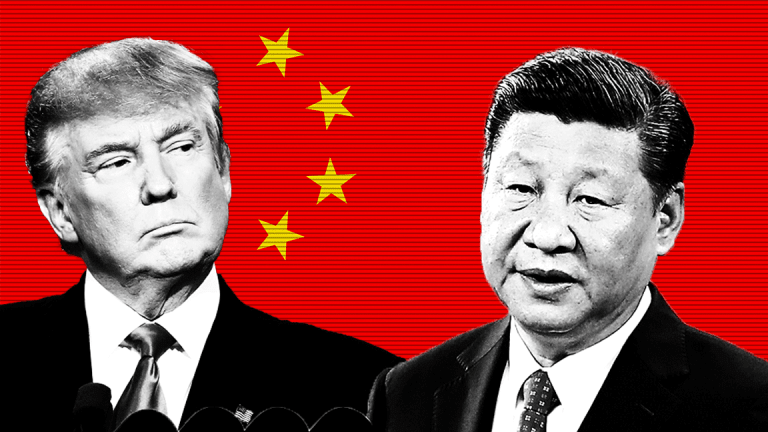 As Trade War Hits, China Looks Unsteady as $1.1 Trillion Treasury Investor
Some traders have speculated that China might liquidate its $1.1 trillion of U.S. Treasury bonds as a way of striking back against President Donald Trump's tariffs on imports from the country. But such a scenario might hide the real urgency: The Chinese government might need the cash, according to the wealth manager deVere Group.
As President Donald Trump escalates his administration's trade war against China, a growing number of investors worry that the Asian country might fight back by liquidating its biggest-in-the-world stash of U.S. Treasury bonds.
Such a move is seen by most observers as unlikely. For China, it would be the economic version of the nuclear option. 
But a new report suggested that China's central bank might have to start selling down its $1.12 trillion of Treasuries anyway -- to meet growing demand for the American currency from Chinese importers and tourists. 
China has been one of the biggest buyers of Treasuries since it won entry into the World Trade Organization in 2001, so a shift to draw-down mode could reduce global demand for the U.S. government bonds -- putting downward pressure on prices for the securities, and consequently pushing up yields.
It couldn't come at a worse time for the Trump administration, which is confronting China over allegedly unfair trade practices even as the U.S. Treasury Department needs international investors to help finance U.S. government budget deficits, currently pushing $1 trillion a year.  
"As China stops being a large buyer of U.S. Treasuries, America's budget deficit is ballooning," according to the report from Dubai-based deVere Group, a $12 billion wealth-management firm. "The combination is negative for U.S. Treasuries."
Yields on 10-year Treasuries could jump to 2.8% by the end of 2019 from about 2.4% currently, said Tom Elliott, deVere's London-based chief international strategist. And even that level would still be low by historical standards, at roughly half the 30-year average. Last October, JPMorgan Chase CEO Jamie Dimon predicted that Treasury yields could jump to 4% or higher.  
The Treasury market is critical because it's the U.S. government's primary means of financing the $22 trillion-and-growing national debt. Treasuries are a staple in most investors' portfolios, and they're a core asset of U.S. banks, since the bonds theoretically could be liquidated to free up cash if depositors suddenly demanded their money back.
China's massive trade surplus over the past two decades has allowed the nation to build up roughly $3 trillion of foreign reserves, including the U.S. Treasury bonds.
But that surplus is shrinking now, partly driven by a big increase in the nation's imports from Japan and South Korea as well as a surge in domestic consumption.
More Chinese tourists are going abroad, and they need to exchange their yuan for dollars. As of 2017, for example, the London department store Harrod's was reportedly taking in more sales from Chinese tourists than from British nationals. 
A selldown by China of its Treasuries could open a new front in its ongoing trade war with the Trump administration, increasingly seen as a historic standoff among the world's two biggest economic superpowers. 
"Some kind of trade conflict was present rather consistently throughout the history of conflict between ruling powers and rising powers," according to a Bank of America analysis published Monday. 
Higher Treasury yields would likely exacerbate U.S. federal budget deficits, since payments would rise on the national debt.
And given the dollar's role as the world's dominant reserve currency, interest rates would likely also increase in other countries.  
"Investors around the world may see higher global borrowing rates, from car loans to mortgages, because of the end of the Chinese savings glut," Elliott wrote. "This could trigger a global economic downturn," Elliott wrote.