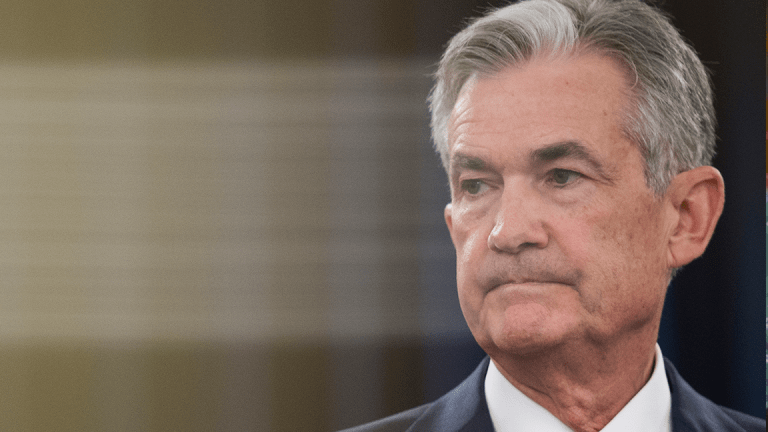 As Recession Signs Emerge, Federal Reserve Could Turn Even More Dovish
The Federal Reserve, led by Chairman Jerome Powell, said last week it will hold interest rates steady while waiting for signs that the economy is stabilizing. But traders and economists at Bank of America say the Fed could loosen monetary conditions more than previously expected, leading to an acceleration in growth and a reversal of a growing number of recent indicators pointing to recession.
Here's another dimension of the Federal Reserve's recent shift toward potentially relaxing monetary conditions as the U.S. economy slows: To prevent a recession, the central bank might shrink its roughly $4 trillion balance sheet even less than some economists are currently projecting, according to analysts at giant lender Bank of America.
The Fed's total assets are likely to drop to about $3.75 trillion in September, at which point the central bank's balance sheet will likely stabilize around that size, Bank of America analysts wrote Monday in a report. That would still be roughly four times the level prior to the financial crisis of 2008, and it would also be well above the $3.5 trillion mark projected earlier this month by economists at Pittsburgh-based lender PNC Financial.
Last week, officials led by Fed Chairman Jerome Powell said they would hold interest rates steady in the current range between 2.25% and 2.5% while waiting for signs that the economy can stabilize as the stimulus fades from President Donald Trump's late-2017 tax cuts. The Fed historically has used interest rates to influence the speed of the economy, but over the past decade policymakers have also used balance-sheet increases to loosen monetary conditions, and reductions to tighten them. 
In fact, according to Bank of America, the Fed's shift to a less-restrictive monetary stance appears to have, by itself, injected additional worries into U.S. financial markets.  
"The Fed communication last week might have helped fuel the market's recessionary concerns," the analysts wrote. 
A key indicator of the likelihood of a recession emerged last week when yields on 10-year U.S. Treasury bonds dipped below those on one-month bills for the first time since 2007. The yield on the 10-year bond traded at about 2.44% on Monday, versus 2.47% on one-month bills. In times of economic expansion, bonds with maturities further into the future usually carry higher yields, since investors have to wait longer to get their money back.
The so-called inverted yield curve adds to a growing number of signals pointing to a steeper economic slowdown, or even a recession. Recent surveys have shown that three-fourths of economists now expect a recession by 2021, following disappointing readings on U.S. home sales, jobs growth and manufacturing.  
And a report Monday from the Federal Reserve Bank of Chicago showed that the economy probably slowed further in February. The three-month moving average of the Chicago Fed's National Activity Index slipped to minus 0.18 in February, from a neutral reading in January.
The index doesn't usually indicate a recession until it drops below minus 0.7%, but anything below zero indicates an expansion speed below the historical trend, according to the Chicago reserve bank.
In fact, a majority of traders are now betting that the Fed is likely to cut interest rates at least once by December, in a desperate reversal of monetary policy to make it more accommodative following four rate hikes in 2018.   
Bank of America said growth is likely to accelerate in the second quarter of this year as the Fed eases up, which in turn should cause the Treasury-bond curve to steepen -- when yields on longer-term bonds rise relative to those on short-term bills. Other bullish factors include a possible resolution in the next few weeks to Trump's trade war with China, which has overshadowed markets for the past year.
And the completion of Special Counsel Robert Mueller's investigation into Russian election meddling should "help the country heal its partisan divide and refocus on important policy priorities," according to the lender. 
It's a "bullish signal for pro-cyclical trades," the analysts wrote. "We are hesitant to join the recession camp, notwithstanding a clearly nervous Fed."
Read what Real Money's Jim "Rev Shark" has to say about how the stock market usually reacts to Fed announcements here.
How Much Money Will I Need to Retire?
Want to learn about retirement planning from some of the nation's top experts? Join TheStreet's Robert "Mr. Retirement" Powell live in New York on April 6 for our Retirement Strategies Symposium. For a limited time, tickets are available for $99 for this full-day event. Check out the agenda, learn about the speakers and sign up here.