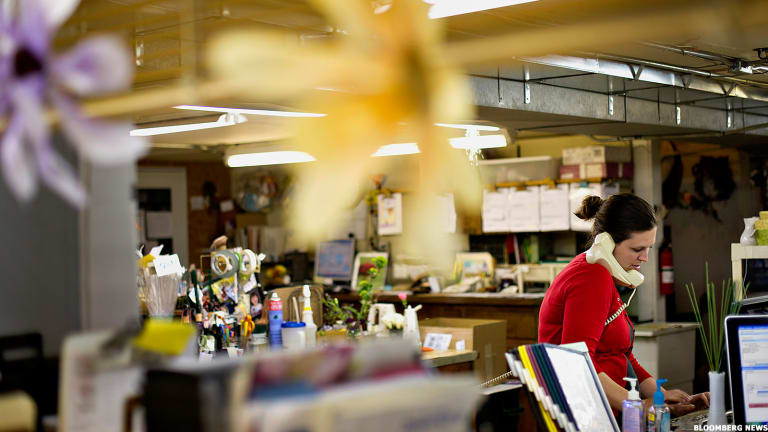 U.S. Small Business Owners Feeling Peachy Even as the Global Economy Sputters
They're no grumps: U.S. small-business owners are as optimistic as they've been all year about things like sales, expansion and hiring. But at least one economist cautions that a recent downturn in U.S. stocks could sap the confidence.
The Federal Reserve was so worried about the global economy last month that it cut interest rates to stimulate activity. 
But among U.S. small business owners, things are looking just peachy.
The National Federation of Independent Business said Tuesday that its index of small-business owner optimism rose by 1.4 points in July to a reading of 104.7, one of the highest levels this year.  
Small companies are optimistic about future sales and are planning to expand, according to a statement from the industry association. They're also planning to create new jobs, place new inventory orders and invest money on improvements like new shops, technology and equipment. 
Loans are easy to come by, and earnings have improved. 
"The small-business sector continues to defy expectations with another exceptional month of strong optimism," the group said. 
The report highlights the stark contrast between the moods on Main Street and Wall Street, with small-firm owners clinging to a degree of optimism that has gone missing among many investors as President Donald Trump escalates his trade war with China and forecasts are slashed for global economic growth.    
Yields on 10-year U.S. Treasury bonds are trading below those of three-month bills, a classic warning sign of a recession known as an inverted yield curve. 
As of July, though, the small-business owners just weren't seeing it.
In fact, according to the federation, one of their biggest challenges is finding qualified workers to meet the demand from customers, with the U.S. unemployment rate close to its lowest in a half-century.
"The demand for workers has not faded and remains at record levels," according to the statement.
But at least one economist is skeptical that the optimism can last. 
Ian Shepherdson, chief U.S. economist at the forecasting firm Pantheon, wrote in a report to clients that the mindset of the small-business owners might simply be tracking gains in the stock market, with the S&P 500 hitting a new record high in July.  
The gauge has fallen 4.2% in the past month, though, as Trump tweeted plans to raise U.S. tariffs on imports from China, ratcheting up tensions between the world's two biggest economies.
"The outlook is unfavorable unless the market rebounds," Shepherdson wrote.