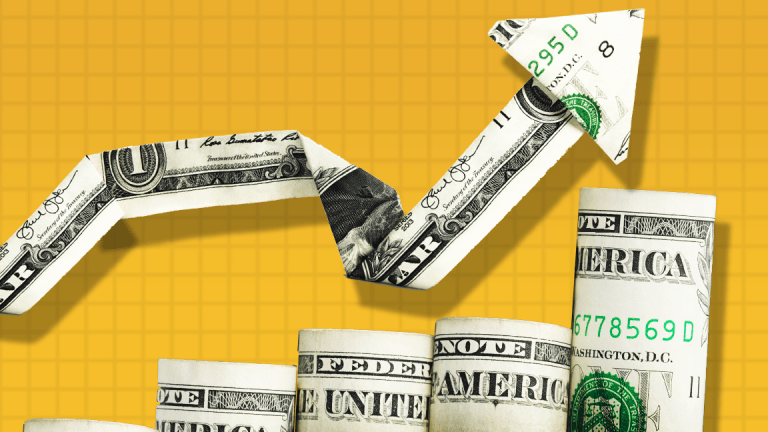 As Fed Tries to Reheat Economy, Consumers See Inflation Falling
A new survey from the Federal Reserve Bank of New York shows that consumers see inflation declining in the years ahead. Federal Reserve officials recently have said they see falling inflation as a sign of a weakening economy.
Consumers now see inflation slowing in the years ahead for the first time since early 2018, adding to signs that the Federal Reserve can avoid raising interest rates in the near future as the economy slows. 
The Federal Reserve Bank of New York's Survey of Consumer Expectations found that participants on average saw prices increasing at an annual pace of 2.8% over the coming year, as well over the next three years. That's down by 0.2 a percentage point from the expectations in January, after remaining essentially unchanged since April 2018. 
Over the past three years, the Federal Reserve has raised short-term borrowing costs from near zero to a range between 2.25% and 2.5% in an effort to keep the economy from overheating. Borrowing costs typically affect interest rates on business loans, mortgages and credit cards so they can influence consumers' willingness to take out debt to finance purchases -- and, in turn, the pace of economic activity.  
Fed officials recently have signaled their intention to pause the interest-rate increases, especially with the economy projected to slow from last year's growth of around 3% and inflation running below the central bank's target of 2%. The central bank's monetary-policy committee is scheduled to meet next week.
Of course, the reality is that most consumers have little clue what the inflation rate is currently, much less what it will be in the future.
But Steve Blitz, chief U.S. economist for the forecasting firm TS Lombard, said in a phone interview that consumers might be more inclined to put off purchases if they don't see imminent signs that prices are going up.
"If people think the price is going to be higher a year from now, they'll buy it today," Blitz said. "If people's expectations of inflation start to drop, they can wait till tomorrow."
Average expectations for growth in household income declined to 2.5% in February from 2.8% the prior month, according to the New York Fed's latest survey.
"The decline was driven by lower-educated (high-school degree or less) respondents," according to a press release.
But the survey also showed that consumers are finding it easier to take out new loans and make payments on outstanding debt.  
The proportion of respondents who reported difficulty in obtaining a new loan fell to 29.8% from 31.5%, according to the release.    
And the average perceived probability of missing a minimum debt payment dropped from 12% in January to 10.9% last month, the lowest reading since March 2018.
The Labor Department's Bureau of Labor Statistics is scheduled to report the official inflation rate for February at 8:30 a.m. ET on Tuesday.