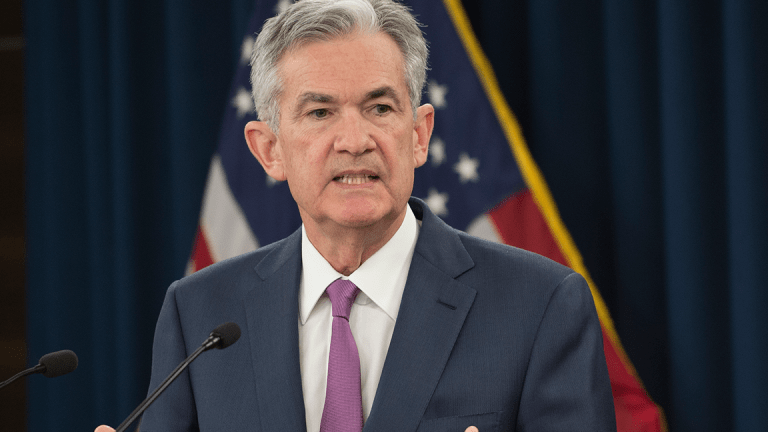 As U.S. Pushes Late Into Economic Cycle, Fed Lets Banks Off the Hook
Federal Reserve Chairman Jerome Powell says it's not yet time to force Bank of America, Citigroup and other big financial firms to raise extra capital for use during an economic downturn. Yet some top officials, including Boston Fed President Eric Rosengren, say the time has come for banks to raise a "rainy-day fund."
Big banks such as Bank of America Corp. (BAC) - Get Free Report and Citigroup Inc. (C) - Get Free Report are required to hold ample capital -- the surplus money that can insulate a financial firm from failure or the need for a government bailout -- in bad times and good.
But what about when times are really good?
Under a U.S. regulatory policy adopted over the past decade, the Federal Reserve is supposed to force banks to build up even more capital, on the assumption that really good times eventually lead to really bad times, with surging loan defaults and widespread trading losses. An extra layer of capital, the thinking goes, should give banks the stockpile they need to keep lending to households and businesses.
At least one Federal Reserve official believes that such times - the really good ones, preceding the really bad ones - are here now. The official, Federal Reserve Bank of Boston President Eric Rosengren, said last week in a speech that the potent combination of a healthy economy and rich asset valuations means that regulators should require banks to sock away the extra capital - starting right away. 
"This would be the ideal time," Rosengren said last week in a speech. "Doing so could help address the incentive that banks will have to pull back on lending to shrink assets in a future economic downturn."
The message may not be welcomed by bank executives and investors who have cheered President Donald Trump's push to loosen financial regulations, even as his tax cuts brought them a profit windfall - translating to fresh capital. Instead of forcing banks to shepherd their capital, though, regulators are letting the banks return almost all of their net income to shareholders via dividends and stock buybacks.
Last week, the Fed gave the 35 biggest U.S. bank holding companies permission to pay out a record $168 billion of capital to shareholders over the coming 12 months, up 22% from the previous year, based on a tally by the brokerage firm RBC Capital Markets. Stock prices of the firms had rallied in anticipation of the payouts.
But under the Fed's own rules, it's supposed to consider forcing banks to raise more capital when the economy and markets are exuberant. 
In 2010, after the financial crisis forced big banks around the world to seek government bailouts, regulators in the U.S., Europe and elsewhere agreed on a plan for banks to raise extra capital when the risks of future losses were building. Such hazards could come from fast loan growth, loose underwriting standards that could eventually lead to a spike in defaults, or from surging prices of assets like stocks, bonds and real estate, which could plunge in value if markets sour.
The concept comes from the belief that a recession or financial crisis would saddle banks with big losses, leaving them with too little capital to make new loans at a time when credit is needed to fuel an economic recovery. The "rainy-day fund," as Rosengren described it, is known in regulatory jargon as a "countercyclical capital buffer."
Under rules approved by the Fed earlier this decade, the buffer would amount to as much as 2.5% of the largest banks' adjusted assets; for context, Bank of America's capital amounted to 11.3% of adjusted assets at the end of March, while Citigroup's ratio was 12.05%.
But, according to the Fed, Bank of America's capital ratio could fall as low as 5.4% in a severe recession, while Citigroup's could fall to 5.6%. With the minimum set at 4.5%, such a scenario would leave the banks less room to continue making new loans.
Fed Chairman Jerome Powell has said he thinks it's too soon to force banks to build up the countercyclical capital buffer, despite inflated asset prices in some markets. The central bank and other regulators have published a framework for identifying a buildup of risks in the financial system, though the criteria aren't quantified, making the decision subjective and opaque.
"The game is to try to figure out when we're in the eighth inning, which nobody really knows," said Patrick Hanchey, a partner at the law firm Alston & Bird LLP who advises banks on mergers and regulation.
Powell said during a June 13 press conference that any decision on the extra buffer boils down to whether Fed officials think "financial-stability vulnerabilities are meaningfully above normal."
"I would say they're roughly at normal," Powell said. "If you bake it all in, I think we see, generally, financial vulnerabilities as moderate. Could that change, you ask, over a couple of years? Yeah, it could." A Fed spokesman declined to comment. 
Yet Rosengren isn't the only top banking official raising the issue already.
Loretta Mester, president of the Federal Reserve Bank of Cleveland, said in a May speech that the Fed has "yet to set a positive countercyclical capital buffer, even though countercyclical policy calls for building up buffers during good times so that they are available during bad times."
Banks are allowed as much as 12 months to build up the extra capital, she noted, so it might be too late by the time a financial crisis hits.
"The lead times needed to use this tool likely make it less effective at addressing vulnerabilities that may rapidly develop or may be detected only after they have had time to develop," she said.
In April, Fed Governor Lael Brainard said the countercyclical buffer can "lean against a dangerous increase in financial vulnerabilities" following "periods of rapid asset-price appreciation or credit growth that are not well-supported by underlying economic fundamentals."
On that basis, take a look at some of the data: The Standard & Poor's 500 Index of large U.S. stocks is trading around 20 times the past 12 months' earnings, well above its long-term average of about 17.6, according to FactSet. Loans to companies with junk-grade credit ratings have doubled in the past five years to about $1.2 trillion, even as banks have loosened underwriting standards. The national debt has surged by about 10% since the end of 2016 to $21.2 trillion, a growth rate that's expected to accelerate with the phase-in of Trump's tax cuts and spending authorizations; yields on U.S. Treasury bonds have climbed.
In December, the Treasury's own Office of Financial Research judged overall financial-stability risks to be "moderate" but cautioned that market risks were "elevated." The International Monetary Fund warned in April that years of near-zero interest rates following the 2008 financial crisis had pushed investors to buy riskier assets while encouraging companies and emerging-market countries to borrow more, with loose underwriting standards that could amplify losses in a downturn.
Fidelity Investments, the $2.5 trillion money manager, said in a report last month that the U.S. economy is in a "prolonged shift between the mid- and late-cycle phases of expansion."
"Maturing cycles among many large economies imply that the risks of a global slowdown may be higher than generally appreciated," according to the report.
The Fed, for its part, has been raising U.S. interest rates to ward off a surge in inflation as the economy strengthens. Unemployment is at an 18-year low, and Powell himself said last month that the economy is "in great shape."
So if now's not the time to stockpile, then when?