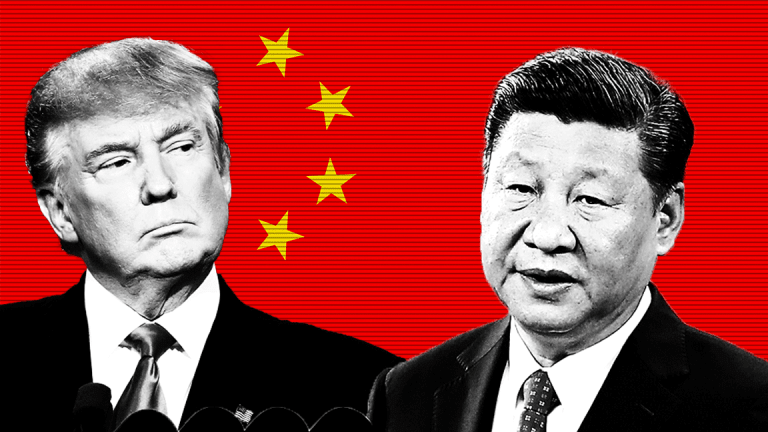 As China Digs in on Trade War, Trump Might Claim to Be Fighter Instead of Winner
President Donald Trump's trade war with China has proved anything but easy to win. So what's the 2020 presidential candidate to do? Possibly retool his personal brand as 'fighter' instead of 'winner,' according to a Raymond James analyst.
In March 2018, President Donald Trump was flying high. He had just pushed through his signature $1.5 trillion tax-cut plan, sending U.S. stocks surging. His popularity rating, per Gallup, was inching up toward 40% for the first time since early in his presidency. 
And he was just starting to ratchet up another effort that would become a key element of his economic policy: the trade war with China. In a tweet on March 2, he wrote: "Trade wars are good, and easy to win."
Fast forward almost 18 months, and the trade war with China is looking anything but easy to win. China has refused to buckle under the Trump administration's demands, threatening last week to raise tariffs on politically sensitive U.S. exports like autos, soy and pork. Trump responded ferociously on Friday, promising further tariff increases on goods from China, adding via Twitter that he was ordering U.S. companies to start looking for alternatives to sourcing products from the Asian country.
So what's the political tack now for a politician who has tweeted the words "winner" or "winning" a combined 32 times this year? Possibly, it's to rebrand himself for the 2020 presidential elections as a "fighter."
Ed Mills, a policy analyst in Washington for the brokerage firm Raymond James, said such a tack might be the president's best bet as he tries to make the most out of a trade war that has rattled investors, business executives and consumers alike, all the while roiling global markets. 
Many investors have assumed that Trump's acute focus on economic growth and the stock market as barometers of his success means he will quickly end the China trade war if it stands in the way of his re-election. But Mills said that looks like wishful thinking.
"It is becoming increasingly clear that China is unwilling to make the changes Trump wants," Mills wrote. "If he is forced between a weak deal or showing the voters in key swing states that he is a fighter, we expect him to decide to play the role of a fighter through the 2020 election."
Economists from the Federal Reserve to the International Monetary Fund have warned that the U.S.-China trade war has caused such disruption to business executives' ability to plan for the future that they're canceling or delaying investments in new factories, improved technology, equipment upgrades and additional hiring. The pall has led to a slowdown among U.S. manufacturers, recently unnerving individual investors as well.     
The president wrote Monday on Twitter that "talks are continuing" to resolve the dispute, and he described his Chinese counterpart, President Xi Jinping, as a "great leader." According to Reuters, Chinese Vice Premier Liu He, who has been leading the talks with Washington, said his country is willing to resolve the standoff through "calm" negotiations. 
Stocks in the U.S. traded higher Monday as investors viewed the conciliatory comments favorably. 
But there might be a longer-term dynamic at work that would keep the trade war going, according to Mills: a battle for global supremacy extending beyond trade relationships to economic dominance, politics influence and military superiority.  
"Battles for supremacy are not won overnight," Mills said in a phone interview. "If China views this as a battle for supremacy, they're not going to surrender."
Indeed, the Wall Street firm Goldman Sachs wrote Friday in a report that China's leaders may be negotiating aggressively to appear tough before their own people.  
Absent a win in the trade dispute, Trump the politician might decide that simply continuing the fight is a winning campaign strategy, according to Mills. 
The president has blamed Federal Reserve Chairman Jerome Powell, his own appointee to lead the U.S. central bank, for setting official U.S. interest rates too high, which he says puts him at a "disadvantage" relative to other countries with lower borrowing costs.
And Trump tweeted on Monday that Democrats "want to raise your taxes." China might serve as another useful target as the 2020 elections approach. 
"In politics it's always very important to have a bogeyman, and he is really good at finding a bogeyman," Mills said. "The message of his re-election campaign could be, 'You might not like me, but if you vote for the other guy, you'll lose your jobs and they'll give it to China.'"
The upshot is that, despite Monday's pullback in the renewed trade-fight tensions, both sides might find it politically expedient to dig in.
Keeping up the fight might be the next best thing to winning.