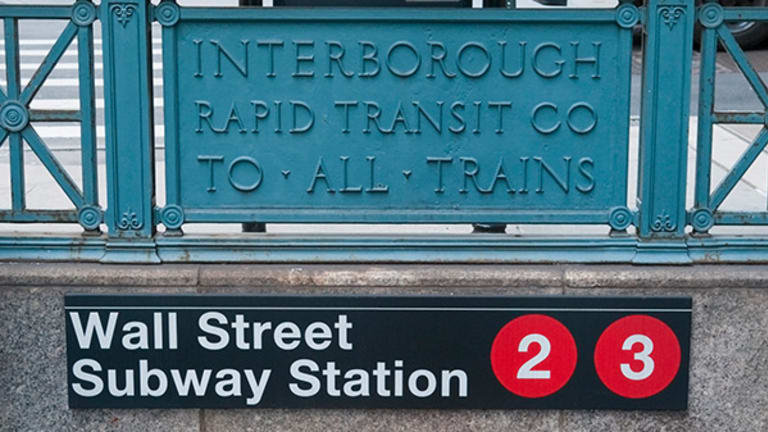 April 25 Premarket Briefing: 10 Things You Should Know
U.S. stock futures slide Monday while European and Asian shares slump ahead of rate-setting meetings this week of the Federal Reserve and the Bank of Japan.
Here are 10 things you should know for Monday, April 25:
1. -- U.S. stock futures pointed to a lower open for Wall Street on Monday and European and Asian shares slumped ahead of rate-setting meetings this week of the Federal Reserve and the Bank of Japan.
European stocks followed Asian indices lower and remained subdued throughout the morning after a key indicator of German business confidence came in short of expectations.
Oil prices in the U.S. fell 1.4% to $43.13 a barrel.
2. -- The economic calendar in the U.S. Monday includes New Homes Sales for March at 10 a.m. EDT
3. -- U.S. stocks on Friday ended mixed as earnings dragged on the tech-heavy Nasdaq.
The index slumped even further into the red for the year as major companies including Microsoft (MSFT) and Alphabet (GOOGL) tumbled. The Nasdaq ended the day 0.8% lower and is now down 2% for the year. 
Alphabet is a holding in Jim Cramer's Action Alerts PLUS Charitable Trust Portfolio. Want to be alerted before Cramer buys or sells GOOGL? Learn more now.
It was a better day for the S&P 500 and Dow Jones Industrial Average which, while mixed, came off their session lows by the middle of the afternoon. The S&P 500 was flat and the Dow climbed 0.12%. 
4. -- Novartis (NVS) , the Swiss drug giant, is looking to dispose of a 13.5 billion Swiss franc ($13.8 billion) stake in local rival Roche (RHHBY)  and already has hired banks to support the selling process, a Swiss paper reported on Sunday, according to Reuters.
Novartis started building up the stake -- worth 33% of Roche's voting shares -- as a basis for a possible merger more than a decade ago, but the plan never materialized, Reuters said.
Novartis plans to sell the stake in a so-called order book process, having banks collect purchase offers within a predefined price range from selected investors, weekly Swiss newspaper Sonntagszeitung said, citing board and banking sources.
5. -- Can maker Ball (BLL)  cleared a major obstacle to the closing of its ¿5.4 billion ($7.8 billion) purchase of the U.K.'s Rexam (REXMY)  by striking a $3.42 billion agreement to sell assets to Ardagh to meet regulatory conditions of the larger deal.
On arranging the assets sale, the Ball, of Broomfield, Colo., also scrapped a $1.58 billion-revenue limit on the amount of operations it would be willing to divest that formed part of its February 2015 takeover deal with the U.K. target. It said the assets it will hand to Ardagh had 2015 revenue of $3 billion and Ebitda of $375 million.
Under the agreement, the Luxembourg company will buy can factories and associated infrastructure in Europe, Brazil and the U.S.
6. -- Ford (F)  isn't interested in a merger with Fiat Chrysler Automobiles (FCAU) , CEO Mark Fields said on Saturday, when asked about FCA head Sergio Marchionne's remark that Ford could be a potential merger candidate.
"I can't speak to what Sergio or others wake up and want to say," Fields told reporters ahead of this week's Beijing motor show this week, Reuters reported.
After being rebuffed by General Motors, Marchionne said last week that Ford, Toyota and Volkswagen are the only remaining merger candidates for Fiat Chrysler.
7. -- Separately, Fiat Chrysler said it's targeting "significant double-digit growth" for jeep sales in China this year, according to Mike Manley, chief operating officer for the automaker's Asia-Pacific region. 
Manley, speaking at the Beijing auto show, told reporters that pricing pressure will continue in China's sports utility vehicle market, Reuters reported.
Princing pressure will continue in China's broader car market through 2016, Manley said, with most pressure on the price of passenger vehicles.
Must Read: These 7 Stocks Under $10 Are Breaking Out

8. -- Goldman Sachs (GS) will begin offering online savings accounts for as little as $1 on deposit, the Financial Times reported.
Goldman's shift down market comes as the bank is under pressure to develop new streams of funding.The bank last week launched GSBank.com, a platform it inherited through the acquisition of a $16 billion book of deposits from GE Capital, the FT reported.Through that deal it gained about 145,000 retail depositors and is now seeking more, offering annual interest rates of 1.05% on a savings account -- many times better than the rates of the biggest U.S. brick-and-mortar lenders. FT said.9. -- In the three days since Prince died at the age of 57, he has sold more than 579,000 albums (both digital and physical), according to Nielsen Music representative Fran Curtis, USA Today reported. By comparison, Prince sold 1,400 in the three days prior -- an increase of 42,000%.10. -- Earnings are expected Monday from Halliburton (HAL) , Express Scripts (ESRX) and Xerox (XRX) .