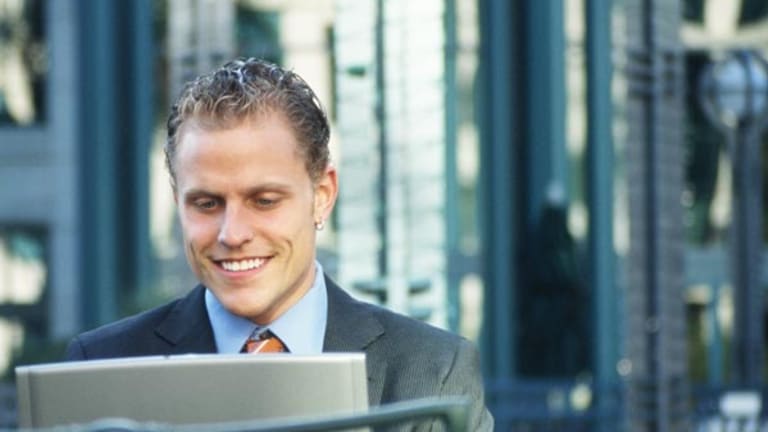 Apple's Dangerous Contempt
The global smart-phone party started years ago, and Steve Jobs slept through it.
This column was originally published on RealMoney on Jan. 17 at 7:15 a.m. ET. It's being republished as a bonus for TheStreet.com readers. For more information about subscribing to RealMoney, please click here.
Much has been said about
Apple's
(AAPL)
first phone -- most of it tainted with feverish hyperbole.
But a week after the grand announcement, it is striking how limited the device seems at a second glance. The iPhone's willful disregard of the global handset market will come back to haunt Apple.
Glory Days
Many highly successful people and companies stumble when they try to relive past glories in a radically different environment. Half a decade ago, the digital music player market was a hot mess. Consumers had rejected a string of early entries until Apple stepped in and both created and defined a new market with the totally different iPod.
Last week, Steve Jobs seemed to attempt to recapture those glory days during his unveiling of the Apple phone. He suggested that consumers are confused by or disinterested in the smart-phone market, and Apple will now step in to save the day.
The company's first phone design has undoubtedly been shaped by how little Jobs thinks of the phone manufacturers: The device is defiantly out of step with the existing smart-phone market, which, incidentally, is wildly more successful than the iPod on a global scale.
However, the smart-phone market of 2007 sure isn't the MP3-player market of 2001. Outside of America, consumers are anything but disinterested in smart-phones: This year, the market will top 100 million devices sold worldwide, and it has evolved at a feverish pace over the past 12 months. The new phenomenon of smart-phones priced below $300 without subsidies has enabled operators in Europe and Asia to offer the devices for free with relatively cheap annual contracts.
While the price revolution of 2006 redefined the smart-phone market in Europe and Asia, several major markets have simultaneously made a decisive transition to 3G. Practically every new smart-phone features third-generation technology, and operators have all but stopped subsidizing high-end phones that do not support 3G. Instead, subsidies in Europe and Asia are geared toward phones with keypads (so people will send as many text messages as possible) and two cameras (so that they'll engage in video calls).
Jobs seems to have gone out of his way to demonstrate his contempt toward mobile operators and their acute concern for 3G revenue generation. And he did this with a $700 platinum turkey of a phone. Without heavy subsidies to push the price below $400, its chances of success in Europe and Asia are slim indeed.
California Dreamers
There's a certain type of Northern Californian tech expert who has never seen a successful high-end consumer technology product that failed to hit it big in America, and he can't grasp that the rest of the world is a very different market. This affliction seems to plague Apple executives.
Smart phones have not taken off in North America in a big way. That is partly because local devices such as those from
Research In Motion's
(RIMM)
and
Palm
(PALM)
have created successful corporate niches, and the operators never pushed the smart-phone concept strongly to consumers.
But globally, the success of the smart-phone market is nothing short of stunning. Using the leading operating system, Symbian, smart phones will likely sell more than 20 million units per quarter by the end of 2007.
The new Apple phone will compete in a mature, high-volume business where thousands of applications exist for the leading operating systems. Yet Apple is pricing its product about 100% to 200% above much of the smart-phone market, while yanking basic features -- such as 3G, keypads and open access for third-party software developers -- that existing customers are used to. This is the haughty attitude Apple had when it launched the iPod against the notoriously weak MP3-player competition in 2001.
What is the common theme regarding the key specification decisions made for the Apple phone? California. There is no decent W-CDMA network coverage in California, so 3G support may seem superfluous from a regional point of view. Plus, the lack of a keypad may not be a problem for people who have never used a smart phone and may not be heavy text-messagers. Instead, many Americans have BlackBerrys, email-oriented devices not in direct competition with a music phone.
But in the most affluent markets of Europe and Asia, consumers are used to getting 3G access in high-end phones. Also, high-end buyers there are typically heavy text-message or mobile-email users. Smart phones in Europe and Asia typically offer music players and high-end cameras along with a wide range of third-party applications.
Using both a BlackBerry and an iPod is common in America, but this is rare in Europe and extremely rare in Asia. In those markets, this niche is already filled with smart phones. The 100 million consumers there won't easily be retrained to do without what they already take for granted.
Every controversial design decision made by Apple flipped in favor of a narrow, parochial vision geared toward affluent U.S. consumers. There is not an iota of a global strategy in its game plan.
Timing Trouble
Apple can undoubtedly sell a few million of its new phones in the U.S. market in a flash, but it will have tough sledding outside its domestic market. Most hot phones are launched simultaneously in Europe and Asia, which are the two biggest phone markets in the world, and the Korean companies quickly follow those debuts with savvy knock-offs.
For instance,
Motorola's
(MOT)
Razr debuted for Christmas 2004. By summer of 2006, LG and Samsung launched slimmer phones with better specs in Europe and Asia. It is no coincidence that Motorola's phone margins suddenly disappointed in the third quarter of 2006 and seem to be in a free fall now. The Korean counterattack machine gutted the Razr's profitability in just about six quarters.
Apple announced the new phone in January 2007 yet won't start selling it in Asia until 2008. That is a rookie mistake, one among several that Apple has committed. The $20 billion added to Apple's market cap by giddy U.S. investors will evaporate once the global competition starts.
At time of publication, Kuittinen had no positions in any stocks mentioned, although holdings can change at any time.
Tero Kuittinen is a senior product specialist for Nordic Partners, Inc., a pan-Nordic brokerage firm. Although Kuittinen is an employee of Nordic Partners, Inc., the statements above are being made in Kuittinen's personal capacity and are in no way are the statements of Nordic Partners, Inc., nor attributable to the company. Under no circumstances does the information in this column represent a recommendation to buy or sell stocks. Kuittinen appreciates your feedback;
to send an email.