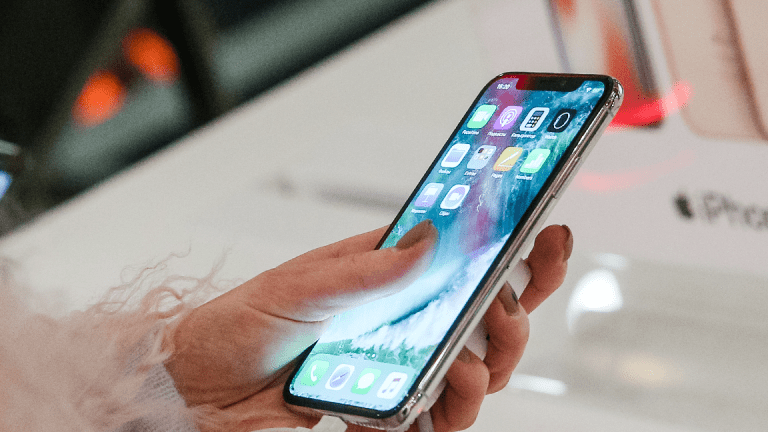 Apple Supplier AMS Surges After Bullish Forecast on New Order Surge
AMS AG, which makes optical sensors for Apple's iPhone X, is forecasting a surge in third quarter revenues, sending its shares, and the broader European tech sector, higher in early Tuesday trading.
Apple Inc. undefined supplier AMS AG (AMSSY) shares surged Tuesday, lifting the broader European tech sector, as the maker of facial recognition sensors for the iPhone X forecast solid second half revenues following a disappointing quarter.
The Swiss listed group reported an operating loss of of $48.6 million for the three months ending in June, the company's second quarter, even as revenues bumped mostly higher to $252.8 million. However, the group's second-half forecast, which sees "strong sequential revenue and profitability growth in the third quarter as high volume ramp-ups in consumer optical sensing have started" helped boost shares and paint a bullish picture for iPhone X orders heading into Apple's own earnings on July 31.
"This expected development reflects the ramp-up nature of the third quarter as production and shipment volumes in AMS' consumer business continue to expand," the company said. "Driven by these large scale consumer ramps, AMS currently expects a record level of revenues for the second half of 2018."
"The adjusted operating margin for the third quarter (excluding acquisition-based and share-based compensation costs) is expected to show a significant sequential increase to a low teens percentage, predominantly resulting from the ongoing improvement in capacity utilization," AMS added.
AMS shares were marked 8.73% higher by mid-morning in Zurich and changing hands at Sfr6.10 each, a move that trims its year-to-date decline to around 13.8% and values the group at around Sfr5.9 billion ($6 billion).
The Stoxx 600 Europe technology subindex was marked 1.45% higher at 487.86, while Apple suppliers STMicroelectronics   (STM)  (4.77%) and Dialog Semiconductor Plc (DLGNF) (1.74%) were trading notable higher in Amsterdam and Frankfurt respectively.
"For the third quarter, AMS sees strong sequential revenue and profitability growth driven by high volume ramp-ups in consumer optical sensing with expected revenues of ($450 million to $490 million), up 46-59% year-on-year," the company said.
The AMS numbers offer a contrast to those of  Taiwan Semiconductor Mfg. Co. Ltd., (TSM) the world's biggest contract chipmaker and a leader supplier for Apple, which trimmed its full year revenue forecasts last week citing a slowdown in cryptocurrency mining and waning smartphone demand.
However ASML Holding NV (AMAT) , a Dutch chipmaker who's components find their way into tech products all over the world and is widely considered a key benchmark for sector demand, posted stronger-than-expected second quarter earnings and boosted it full year outlook.
Earlier this month, Samsung Electronics (SSNLF) forecast its slowest profit growth in a least a year as global smartphone demand slows and competition from low-cost rivals intensifies, suggesting the Apple rival may miss full year sales targets.
Strategy Analytics, a closely-watched industry benchmark, sees global handset sales only rising by 1.4% by the end of the year to 1.49 billion units, although 5-G network rollouts in 2019 and beyond should reignite appetite in the near-term.
Apple will publish its fiscal third quarter earnings on July 31, with investors looking for the Cupertino, Calif.-based group to meet or beat its $51.5 billion to $53.5 billion revenue guidance with a gross margin of between 38% and 38.5%. Apple shifted 52.2 million handsets in it previous quarter, a figure which translated into $61.1 billion in revenue and a $728.30 average selling price.
Apple shares were marked 0.4% higher in pre-market trading, indicating an opening bell price of $192.36 each, a move that would extend its year-to-date gain to 13.6% and value the Cuptertino, Calif.-based tech giant at just over $943 billion.