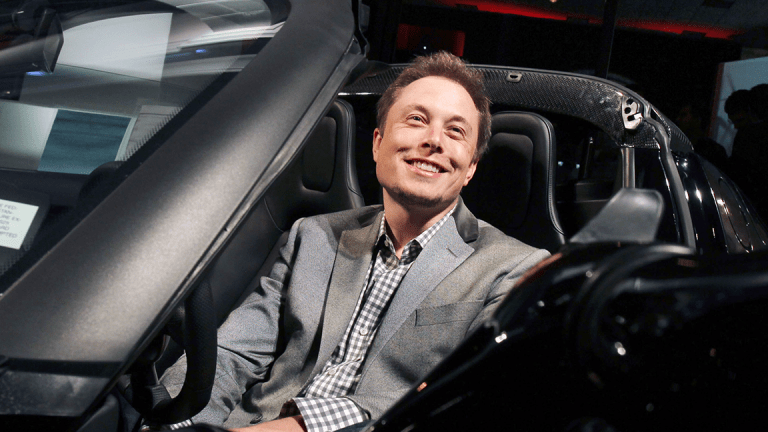 Apple and GE Switch Roles; Musk's Super Control of Tesla Explained -- ICYMI
Here's what you need to know for Friday, April 20.
Freaky Friday. General Electric (GE) - Get Free Report  lifts the Dow, Apple (AAPL) - Get Free Report  weighs it down, big time. Say what? That's what we got Friday, April 20, as strong gains in the industrial giant were offset by a continued slump in shares of the Silicon Valley darling and Action Alerts PLUS holding. The Dow Jones Industrial Average declined 201 points, or 0.82%. The S&P 500 fell 0.85% and the Nasdaq dropped 1.27%.
Under promise, over deliver. That's what General Electric did Friday in so many ways as it reported first-quarter earnings. GE shares rose almost 4% to $14.54 Thursday, and are down about 20% so far this year. But shareholders of General Electric, especially those who are retired and are (or were) relying on the stock's quarterly dividend to fund their living expenses, should reconsider their rationale for owning the stock and review their options, write TheStreet's Robert Powell. With the prospect of the worst-performing stock in the Dow for 2017 delivering disappointing results Friday morning, investors in GE might need to consider alternatives, depending on their circumstances. GE has halved its dividend, to 12 cents a share from 24 cents, but also positioned itself to be a turnaround story.
We've had a lot of talk about Tesla (TSLA) - Get Free Report  this week as the company continues to disappoint investors with production miscues, steep cash burn and a seemingly off-kilter chief executive. Tesla's visionary CEO Elon Musk may only own 22% of the equity of the battery powered car company that he oversees but coupled with corporate supermajority voting rules, that stake gives him control over the business, academics and investors say. Check out Ron Orol's story from The Deal.
The golden age of Madison Avenue has come and gone, as advertising and marketing agency WPP (WPP) - Get Free Report  can attest. The London-based company has pushed back against claims by analysts that the advertising group will break up following the departure of CEO Sir Martin Sorrell after an investigation into personal misconduct. Liberum Capital analysts called Sorrell "the glue that bound much of WPP together" and say his departure raises the chances that significant chunks of the business will be sold off. Mark Read, who was appointed co-COO after Sorrell's departure last weekend, wrote in a memo to staff that breaking up the world's advertising group did not make sense, The Walll Street Journal reported.
This is an excerpt from "In Case You Missed It," a daily newsletter brought to you by TheStreet. Sign up here.
Photo of the day: The growing business of pot
Dude, this isn't your parents' weed business. Pot has become big business in the U.S. and Canada as states move to legalize the substance for either recreational or medicinal purposes and Canada is set to legalize it over the summer completely. The industry's growth has fueled growth for many companies and attracted billions of dollars in public and private money. But in some ways the sprouting cannabis industry and public fanfare can be a double-edged sword for companies: if they grow enough, they can list publicly. But if they grow too much, they can become the target for overseers looking to crack down on what is still a complicated regulatory space. TheStreet's Kinsey Grant sat down with GrowLife Inc. (PHOT) Chief Executive Officer Marco Hegyi to discuss the latest trends in the industry. Read More
Read more from "In Case You Missed It." Sign up here.