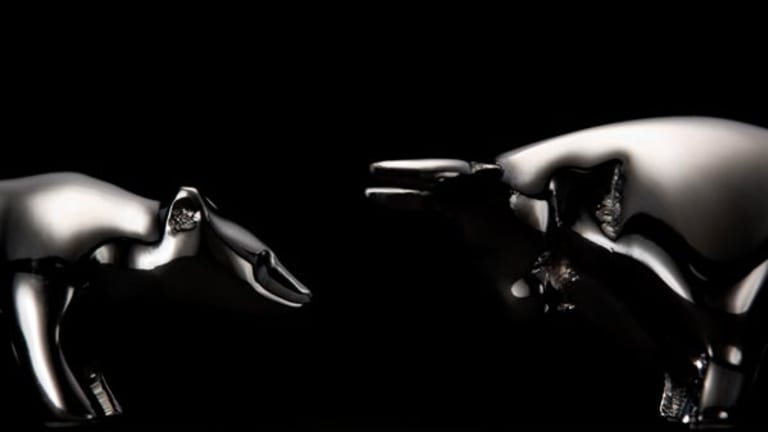 Another Slide in Crude Oil Beats Up Stocks
Another swing lower for crude oil couples with continuing developments in Brussels on Wednesday to keep investors weary.
Another swing lower for crude oil coupled with continuing developments in Brussels kept investors wary on Wednesday.  
Both had the potential to sink equities, but crude did the bulk of the heavy work. West Texas Intermediate gave up 4% to settle below $40 a barrel, its biggest daily loss since Feb. 11. 
The S&P 500 closed 0.64% lower, the Dow Jones Industrial Average declined 0.45%, and the Nasdaq slid 1.1%.
Worries over domestic crude stocks weighed on the energy and materials sectors on Wednesday. Domestic crude oil inventories increased by 9.4 million barrels in the past week, far higher than an estimated increase of 2.7 million barrels.
Traders have been recently concerned about global oversupply, though hopes of a production freeze among members of the Organization of Petroleum Exporting Countries has eased worries somewhat. West Texas Intermediate crude oil closed at $39.79 a barrel.
"The oil market remains well supplied, with U.S. domestic stocks continuing to grow," said Robert Haworth, senior investment strategist at U.S. Bank Wealth Management. "However, production is slowing for now and we should see market rebalancing take place this summer, with solid seasonal demand, continued contraction in U.S. production and some agreement within the OPEC to limit production growth. The upcoming OPEC meeting, scheduled for April 17, should provide some indication that they are making progress in renewing cooperation."
The energy and materials sectors were the worst performers on markets. Major oilers including Chevron (CVX) - Get Free Report , ConocoPhillips (COP) - Get Free Report , Kinder Morgan (KMI) - Get Free Report , and Royal Dutch Shell (RDS.A) were lower, while the Energy Select Sector SPDR ETF (XLE) - Get Free Report slid 2.2%. Materials stocks such as Rio Tinto (RIO) - Get Free Report , BHP Billiton (BHP) - Get Free Report , and LyondellBasell (LYB) - Get Free Report were sharply lower. 
Investors appeared to overcome jitters tied to a terrorist attack in Brussels a day earlier. The death toll in the two explosions there rose to 34 overnight, according to security officials, while several hundred people are injured.
Brothers Khalid and Brahim el-Bakraoui have been named as the suicide bombers, while a third suspect, Najim Laachraoui, is on the run. Earlier reports erroneously suggested the third suspect had been caught. The three are suspected of being involved with the ISIS group responsible for terror attacks in Paris in November.
Trading was quieter Wednesday because of the shortened holiday week. Markets will be closed on Good Friday, reopening as usual on Easter Monday. Banks will remain open on Friday.
In economic data, new home sales bounced in February, recovering slightly from seasonal weakness suffered over a late winter. Sales of newly built, single-family homes rose 2% to 512,000 in February, according to the Commerce Department. Worryingly, most of the gains were concentrated in the West with increases of nearly 39% in the region. Elsewhere, sales declines ranged from 4% to 24%.
Deal reports percolated on Wednesday. Virgin America (VA) spiked more than 13% on reports it is considering a sale. The airline is allegedly reaching out to potential buyers who could buy some or all of the company, according to Bloomberg.
Yum! Brands (YUM) - Get Free Report jumped 2% on reports it is contemplating unloading a stake in its Chinese operation, the first step in its plans to eventually spin off the entire business. The company, which owns KFC and Taco Bell, could sell a stake as large as 20% for around $10 billion.
Merck (MRK) - Get Free Report  added 0.1% after a federal jury in California ruled in its favor in a lawsuit against rival Gilead Sciences (GILD) - Get Free Report over several key hepatitis C patents. Merck accused Gilead of infringing on patents it filed over a decade ago, claiming Gilead's sofosbuvir infringes on those patents. Merck is seeking billions in damages and royalties on sales of Gilead's two hepatitis drugs.
Pinnacle Foods (PF) dropped 5.5% after current CEO Robert Gamgort announced he will leave the company at the end of April. Keurig Green Mountain (GMCR) announced that Gamgort will assume the position of CEO at its company.
Nike (NKE) - Get Free Report was 3.8% lower, following a mixed third quarter. The athletic apparel company reported earnings of 55 cents a share, 6 cents above forecasts, flat margins from a year earlier, and sales of $8.03 billion, missing estimates by nearly $200 million. Higher margins were due to increased warehouse costs, a stronger dollar, and excess inventory.