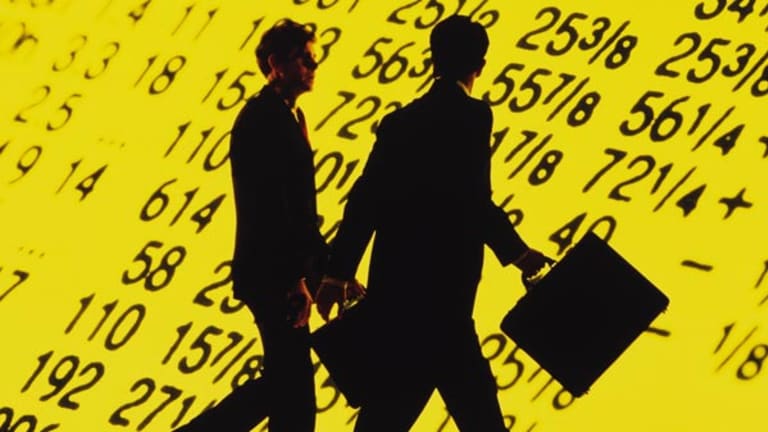 Another Mixed Day on Wall Street
The Dow posts additional gains, but the Nasdaq again closes with a loss.
Updated from 4:14 p.m. EDT
The major averages had another mixed session Friday, as tech stocks slipped because of weakness in the semiconductor sector, while blue-chips posted more gains with the help of a strong showing by
McDonald's
(MCD)
.
The
Dow Jones Industrial Average
finished with a gain of 64 points, or 0.7%, to 9191. The
Nasdaq
fell 8 points, or 0.5%, to 1644, and the
S&P 500
rose 3 points, or 0.4%, to 977.
"There wasn't a lot out today, not much to grab onto, so people were just closing out and getting ready for next week," said Daniel Morgan, fund manager at Noble Financial. "Everyone got excited in anticipation of earnings reports. It appears second-quarter results will be better than expected, but now that the numbers have come in, everyone is looking ahead and asking what's next."
A little over 1 billion shares were traded at the
New York Stock Exchange
and 1.3 billion at the Nasdaq. Advancers outpaced decliners by a 2-to-1 margin at the Big Board, and tech winners were practically even with losers.
The Dow managed to end the week in positive territory, advancing 0.4%, while the S&P shed 0.3% for the week. The Nasdaq posted a 4.2% loss this week and has lost ground for six straight days.
Treasury yields rose after having fallen earlier this week during the government's sale of $60 billion of debt. The move tempered concerns that high interest rates would get in the way of an economic recovery. The yield on the 10-year note was at 4.28%.
"The markets got some perspective back, with the horizon along more normal lines and investors looking out six to 12 months, as they used to before the Iraq war," said Christopher Schwartz, chief investment officer at Lindner Funds. "Investors now see some good news, but the question is whether it is sustainable, whether companies will expand operations. There's still concern about that."
Pressuring the Nasdaq was graphics chipmaker
Nvidia
(NVDA)
. The stock took a beating after the company warned that third-quarter sales and earnings would come in lower than expected and that gross margins would be hurt by higher costs. Shares fell $3.75, or 19.4%, to $15.55.
Chip bellwether
Intel
(INTC)
dropped 43 cents, or 1.8%, to $23.56, dragging the Philadelphia Semiconductor Index down 3.1%. Other chipmakers and chip-equipment stocks also slipped, such as
Applied Materials
(AMAT)
,
Micron
(MU)
and
Xilinx
(XLNX)
.
McDonald's lent the Dow a hand after the fast-food chain posted an increase in July sales. Shares soared $1.78, or 8.1%, to $23.84 despite news that its unit in Japan cut its earnings estimates by almost half, citing continued revenue declines.
Earnings still dribbled in, with
Pixar
undefined
posting higher-than-expected second-quarter earnings and increasing its full-year profit forecast.
After some hesitation, traders reacted positively to the news, with Pixar shares ending up 22 cents, or 0.3%, at $65.78 after being down more than 1% earlier in the session.
In research action, CSFB commented on the retail sector, raising its profit estimates on
Gap
(GPS)
and
AnnTaylor
(ANN)
after positive results for both clothing vendors. Gap shares climbed 26 cents, or 1.4%, to $18.42, while AnnTaylor shares rose 85 cents, or 2.8%, to $31.70.
Meanwhile,
General Motors'
(GM)
North America President Gary Cowger said at an automotive conference that second-half sales would be hurt by higher incentives, making it increasingly difficult for the company to post continued market share gains. Nonetheless, shares gained 25 cents, or 0.7%, to end at $36.96.
Tenet Healthcare
(THC)
was again in the headlines after the second-largest U.S. hospital operator said it's being investigated by Florida's Medicaid program. On Thursday, the company posted a quarterly loss and announced the settlement of one of its several government probes. Shares slid 20 cents, or 1.4%, to $14.37.
Overseas markets were mixed, with London's FTSE 100 up 1.3% at 4147, and Germany's Xetra DAX falling 0.4% to 3320. In Asia, Japan's Nikkei closed 0.7% higher at 9327, while Hong Kong's Hang Seng fell 0.1% to 9945.
Crude oil futures rose in London, and the dollar was weaker against the yen and stronger vs. the euro.
On Thursday, the Dow ended 64 points higher at 9126. The S&P 500 gained 7 points to 974, while the Nasdaq fell a half-point to 1652.