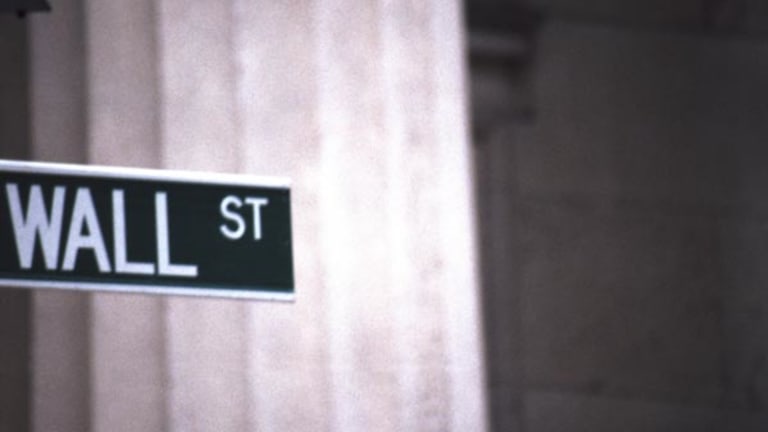 Another Late Rally Lifts Stocks
The stock market in the U.S rose Wednesday thanks to strength in the final hour of trading. Frank Curzio discusses the day in The Real Story video above.
Updated from 4:32 p.m. EDT
A late rally lifted stocks to a positive close -- after an indecisive day -- as an improved tone from the
Federal Reserve
helped offset a spate of mixed earnings and economic data.
The
Dow Jones Industrial Average
gained 109.44 points, or 1.4%, to 8029.62, while the
rose 10.56 points, or 1.3%, to 852.06. The
Nasdaq
gained 1.08 points, or 0.07%, to 1626.80.
Financials were the weakest performers on the Dow early. But
American Express
(AXP)
and
JP Morgan Chase
(JPM)
finished the day as two of the strongest, adding 11.9% and 6.1%, respectively, a day before JP Morgan's earnings. The KBW Bank Index also reversed to gain 5.1%.
Perhaps offering a bit of hope, the Fed said in its beige book, which provides details about conditions in its 12 districts, that overall economic activity contracted further or remained weak since its last survey, but that five of the regions noted a moderation in the pace of decline. Several districts said activity in some sectors was stabilizing, albeit at low levels. Stocks didn't move a great deal immediately, though they turned higher late.
The technology sector wasn't as strong as
Intel
(INTC)
fell 2.4% to $15.62, and
Microsoft
(MSFT)
gave back 2.7% to $18.83.
Investors were unnerved when Intel, which exceeded first quarter expectations late Tuesday, wouldn't provide much in the way of
.
Chipmakers
National Semiconductor
(NSM)
and
Advanced Micro Devices
(AMD)
were also under pressure, losing 2% and 5.2%, respectively.
Among other things, the day brought dim news for struggling homeowners and plans for more layoffs, along with new economic data.
Some of the nation's largest mortgage companies, including
JPMorgan Chase
(JPM)
,
Wells Fargo
(WFC)
,
Fannie Mae
undefined
and
Freddie Mac
undefined
, have lifted moratoriums that had temporarily halted foreclosures,
The Wall Street Journal
reported.
The increased pressure on delinquent homeowners comes in the face of the Obama administration's housing rescue plan, although mortgage companies say they are taking steps to keep borrowers in their homes and are only resorting to foreclosure when there are no other options, according to the report.
Separately, the Obama administration is drawing up plans to disclose the results of the "stress tests" that evaluated conditions of the 19 biggest banks in the country,
The New York Times
reported, citing senior administration officials. Some of those banks will report their first-quarter performance in the next few days. JPMorgan reports on Thursday, Citigroup on Friday, and Bank of America on Monday.
Along with earnings season came another round of job cuts.
Swiss banking giant
UBS
(UBS)
estimates it will reduce headcount by 8,700 in 2010, and said it expects to report a
of almost $1.75 billion. UBS shares rose 0.4% to $11.23.
Yahoo!
(YHOO)
is also readying itself for a significant round of
that could be announced next week with its earnings report, according to published reports. Shares were lower by 0.4% at $14.02.
Adding to concerns,
Wal-Mart
(WMT)
CEO Mike Duke said in an interview with NBC's "Today Show" that he doesn't expect a quick turnaround for the recession. The world's largest retailer added 0.3% to $51.29.
Meanwhile, the Labor Department said that the consumer price index, a widely used gauge of inflation, was lower by 0.1% in March, whereas expectations were for a 0.1% increase. The core index was up 0.2%, while it was also forecast to increase 0.1%.
The Fed reported that industrial production fell 1.5% in March after a similar decrease in February, compared to expectations for a 0.9% decline. Output dropped at an annual rate of 20% for the first quarter, the largest quarterly decrease of the current contraction, according to the report.
The capacity utilization rate dropped to 69.3%, which was roughly in line with expectations but marks a historical low for this series.
In one of the brighter reports of the day, the New York Fed said its Empire State manufacturing survey showed that "conditions for New York manufacturers continued to deteriorate in April, but at a much slower pace than in recent months."
The survey's general business conditions index climbed to negative 14.7 from a record low in March, and was far better than the consensus for minus 36.
Elsewhere, a report on oil inventories offered a surprise. Stockpiles rose to a 19-year high, increasing by 5.7 million barrels last week, according to the U.S. Energy Information Administration. That's far more than the anticipated 1.8 million build. Gasoline supplies, on the other hand, fell by 944,000 barrels, compared with an expected decrease of 500,000.
Oil fell 16 cents to settle at $49.25 a barrel, while gold was down $1.50 to $893.50 an ounce.
Stocks overseas were mixed. In Europe, the FTSE in London and Dax in Frankfurt were down 0.5% and 0.2%, respectively. In Asia, Japan's Nikkei gave up 1.1%, but Hong Kong's Hang Seng increased 0.6%.
Longer-dated Treasuries were recently mixed. The 10-year was gaining 5/32, yielding 2.8%, while the 30-year note was down 4/32 to yield 3.7%. The dollar was stronger against the yen and weaker vs. the pound and euro.
TheStreet.com Ratings, recently cited for Best Stock Selection from October 2007 through February 2009 , is an independent research provider that combines fundamental and technical analysis to offer investors tremendous value in volatile times. To see how your portfolio can use this research, click here now!