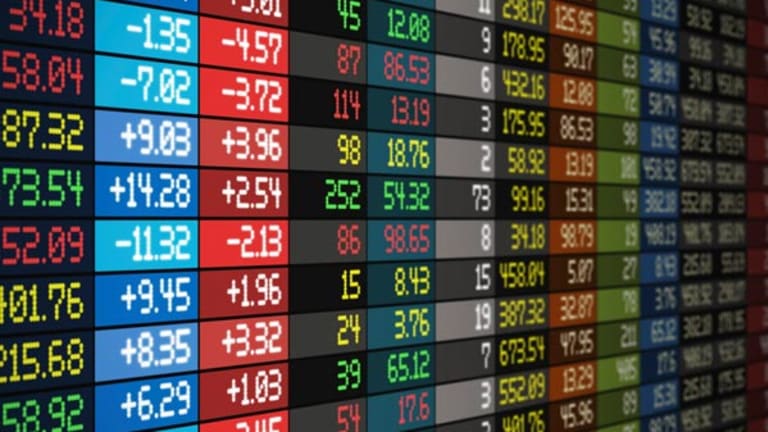 Another Down Day Leaves the Dow at 8000
The bad news that came through earnings and economic data was too much for stocks to take today.
Updated from 3:12 p.m. EST
Stocks in New York marked a dim start to the year, with accelerated losses into the close of the first month of the year, as the worst GDP number in a quarter century, although better-than-expected, added to a chilling picture of the anemic economy.
Led by sharp declines in
Citigroup
(C) - Get Report
,
Alcoa
(AA) - Get Report
and
Procter & Gamble
(PG) - Get Report
, the
Dow Jones Industrial Average
lost 148.15, or 1.9%, to 8000.86, and the
S&P 500
fell 19.26 points, or 2.4%, to 825.88. The
Nasdaq
gave up 31.42, or 2%, to 1476.42.
Other big movers for the day included
Amazon
(AMZN) - Get Report
and networking gearmaker
Juniper
(JNPR) - Get Report
- up 16% and down 19%, respectively -- on
earnings and
guidance.
While the Obama Administration turned its attention to the aching middle class, Wall Street worried a bad-asset sequestering plan (the noted "bad bank") might be further from fruition, sending financial stocks lower, again. Particularly disturbing was the stream of continually dour economic data that registered throughout the week.
In one of the most anticipated events, The Commerce Department reported gross domestic product, which measures total domestic goods and services output,
fell at a 3.8% annual rate in the fourth quarter of 2008. This comes after a 0.5% decline in the third quarter and marks the first consecutive declines since 1991.
The figure was better than expectations, which were for a 5.4% decline, but it still marks the worst output since the first quarter of 1982.
"Obviously all of the economic news we had today was on the negative side, but the good news is that
the decline in GDP didn't come in above market expectations," said Peter Cardillo, chief market economist for Avalon Partners. "This sets us up for the fact that we probably could get out of recession in the latter part of the third quarter if we get the banking system fixed."
President Barack Obama was focused Friday not on banks, but on the record-high unemployment numbers that are devastating would-be working Americans. We are seeing "the American dream in reverse," said President Obama at a press conference Friday morning, announcing that Vice President Joe Biden would head a "middle class task force."
While no one can ignore the continual announcements of layoffs, "the real fear factor here is that the second half of the TARP (Troubled Asset Relief Program) could be in trouble - and that's weighing on the market," said Avalon's Cardillo.
Stocks rallied earlier in the week with a surge in financials on news that the Obama administration was considering a "bad bank" to sequester toxic assets that have been poisoning bank balance sheets, but the euphoria gave way to a flurry of criticism and debate about the mechanics and, today, the likelihood of such a measure.
CNBC
reported Friday that as of now there is no consensus on the "bad bank" front in Washington and such a measure, although in discussion, isn't imminent.
Big cuts in financial firms, which have been plagued by those toxic assets, are showing no signs of slowing down.
Morgan Stanley
(MS) - Get Report
is reportedly considering laying off 5% of its employees after letting 7,000 go in 2008, and
Goldman
(GS) - Get Report
, which cut back 10% last year, is considering another trim as well, according to the
Wall Street Journal
.
Cutbacks, though, have been across sectors and on a global basis as the economy worsens. Adding to those figures, Japanese electronics maker NEC Corp. said
it will cut more than 20,000 employees worldwide after it reported a dismal recent quarter and predicted a loss for the full year.
In other earnings, consumer products giant
Procter & Gamble
(PG) - Get Report
said profits rose 53% in its fiscal second quarter to $5 billion, including a substantial benefit from the sale of its Folgers coffee business.
Coal producer
Arch Coal
(ACI) - Get Report
said
its profit slid in the recent quarter. The company still beat Wall Street's view, but is lowering its production outlook for this year on continued weakness in the U.S. coal markets.
The world's largest oil company,
Exxon Mobil
(XOM) - Get Report
, had record 2008 profit of $45.2 billion, despite plummeting fourth-quarter earnings. Oil prices, which soared for the first legs of 2008, have fallen roughly 70% amid the deepening recession, and while profit fell, Exxon Mobil, and the second-largest oil company
Chevron
(CVX) - Get Report
, still managed to surpass expectations on the top and bottom lines for the recent quarter.
Today, crude oil rose 24 cents to settle at $41.68 a barrel, while gold rose $21.90 to settle at $928.40 an ounce on Friday.
Longer-dated Treasuries were recently rising; the 10-year note was recently up 14/32 to yield 2.8%, the 30-year was adding 22/32, yielding 3.6%.
The dollar was recently stronger against the euro and yen, and weaker against the pound.
Stocks were mixed overseas. The FTSE in London and the DAX in Frankfurt gave up ground. Japan's Nikkei ended 3% lower, while Hong Kong's Hang Seng added nearly 1%.