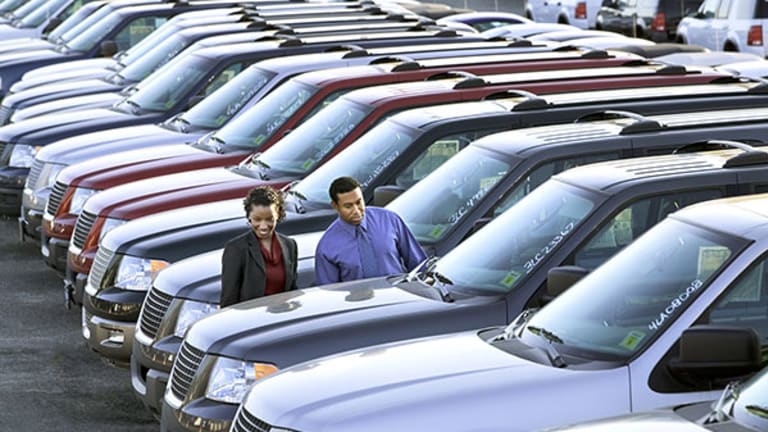 Analysts Discuss the Potential of a Car Crisis on CNBC
Leader of global auto research team at Morgan Stanley, Adam Jonas, senior analyst for Autotrader Michelle Krebs, and CNBC's Phil LeBeau discussed a car crisis on today's 'Power Lunch.'
NEW YORK (TheStreet) --The question of whether or not the auto industry is in the midst of a crisis, or if one is on the horizon, was raised and debated on CNBC's "Power Lunch" Thursday afternoon.
Joining the program was managing director and leader of the global auto research team at Morgan Stanley (MS) Adam Jonas, senior analyst for Autotrader Michelle Krebs, and CNBC's Phil LeBeau. The three discussed the auto sector and the potential looming crisis.
"We are at a point where you have make it worth someone's while to get them into a dealership instead of having that pull," Jonas said.
The question of if we are seeing the peak in terms of the declining auto cycle was also raised.
"We've actually thought that the peak should have been earlier, and we have been warning about this for quite some time. We've always said this year might eek out another record, but possibly not and as the year progressed we have thought probably not more than it will," Krebs noted.
LeBeau then commented on concerns swirling around the industry and whether or not companies will need to place more incentives on buying cars, even though it comes at a cost to the manufacturer.
"It looks like we're heading in that direction. Having said that, historically this is an industry that has not done well in terms of showing discipline when it comes to not going crazy with incentives," LeBeau said adding that if markets slow, it could be different this time around.
Finally, CNBC's Brian Sullivan questioned Jonas on the auto company that he would label as his favorite in the sector.
"Our top pick among our North American names is Fiat Chrysler (FCAU), because we think that the management team understands the urgency that the industry is facing both in terms of where we are in the cycle and the technological disruption that is transforming the industry, "Jonas explained.