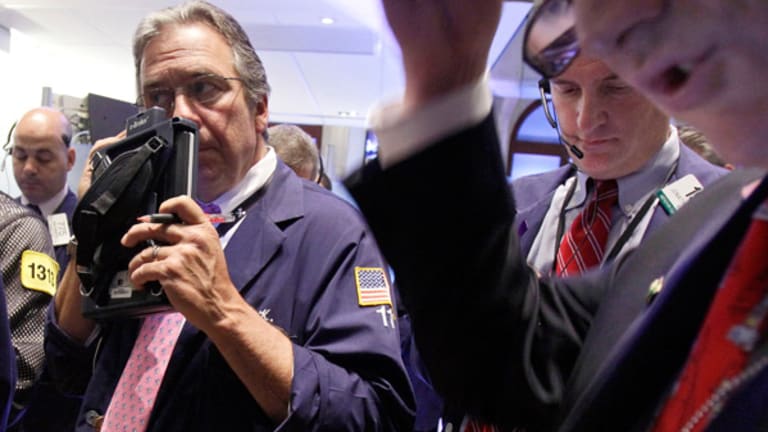 This column was originally published on RealMoney on May 1 at 11:00 a.m. EDT. It's being republished as a bonus for TheStreet.com readers. For more information about subscribing to RealMoney, please click here.
In
yesterday's column, I talked about the unique differences among traders and noted that ample trading capital can really spell the difference between success and failure. Today, let's discuss the variety of interests among traders.
Some are very interested in short-term trading and even daytrading. Their idea of a long-term position is one held from Friday to Monday. They'd go nuts watching their holdings day after day, week after week.
Others could care less about short-term trading. They focus on the fundamentals and believe that a stock will ultimately reflect the value of a company. They take pride in their analysis and expect to make money by being right.
Now, imagine a successful person from each camp: a short-term trader and a long-term fundamentalist. Each trader does quite well and works extremely hard. Now, force them to switch methodologies and give them ample time to learn the new trading approach. The value investor learns to swing trade; the swing trader learns to invest on fundamentals. The outcome will probably be a disaster.
That's because the work ethic wouldn't translate. The swing trader would fall asleep looking at balance sheets and income statements and wouldn't be interested in learning the fundamentals, at least not interested enough to put in the same amount of effort that goes into swing trading. The same goes for the value investor, who would be disgusted at the idea of trying to game a stock's short-term direction and would see it as a silly waste of time.
Here's the point: Both traders excel because their particular methodology suits their personality. They are excited about their approach to trading, so they spend an inordinate amount of time on it. It's so interesting that it doesn't seem like work. And it takes this level of commitment to succeed in trading. If you're not really excited about your style of trading, you'll never become good enough to excel.
Stop and think about your style of trading. Can you explain, with specificity, what your trading approach is? If you can't articulate your trading approach, you have no way of knowing whether you're putting your effort into a style that suits your interests. You're just banging stocks or options around on a whim, going with the flow of the market. Your best possible destination on that journey is mediocrity.
Don't be that trader. Once you find the style of trading that really interests you, you'll never work another day in your life. You'll be too busy focusing on honing your trading skills.
Let's look at some reader requests.
Altria
While the
Dow Jones Industrial Average
has been running throughout April,
Altria
(MO) - Get Altria Group Inc Report
has been consolidating some solid gains. Could this be a light-volume consolidation before the next leg higher? Maybe, but it would take a breakout above $70 to get me interested. If the stock instead falls below support, the next level of buyers will probably be around $66.
Amgen
I last
wrote about
Amgen
(AMGN) - Get Amgen Inc. Report
when it was down around $57, noting that it had finally become oversold enough to catch a reversal. But I was also concerned about the significant volume at around $62 and wondered if there was enough buying pressure to chew through that resistance.
The chart has the answer. The stock is now back above the 50-day moving average and is also poking its head back above the prior high. I'd look for the next level of resistance to be up around $70.
Hercules Offshore
Last week,
Hercules Offshore
(HERO)
broke out of a tight trading range on decent volume and started to run. Yesterday, in response to the company's earnings call, the stock gapped up to $32. But the low close was indicative of selling into strength.
If you're still long, consider using yesterday's range as the benchmark for your trading decisions. A move back below yesterday's low might be a solid signal that it's time to lock in profits, and a move above yesterday's high is confirmation that the stock will continue to run.
Eastman Chemical
This weekly chart of
Eastman Chemical
(EMN) - Get Eastman Chemical Company Report
is pretty straightforward from a trading perspective. The stock is in a multiyear uptrend and running out of a tight volatility squeeze that occurred in the first quarter. When a stock runs along the upper Bollinger Band on a weekly chart, you know you've got one strong stock! The breakout level is typically the level of support on any pullback. So I'd keep a stop just below $62.50, almost 10% below the current level.
Be careful out there.
At the time of publication, Fitzpatrick had no positions in any of the stocks mentioned, though positions may change at any time.
Dan Fitzpatrick is the publisher of
, an advisory newsletter and educational forum dedicated to teaching effective risk management and trading methodologies to aspiring traders and investors. He is a former hedge fund manager and a member of the Market Technicians Association, and he now trades from his home in San Diego, Calif. While Fitzpatrick holds various securities licenses, he does not give recommendations to buy or sell stocks. Under no circumstances does the information in this column represent a recommendation to buy or sell stocks. He appreciates your feedback;
to send him an email.