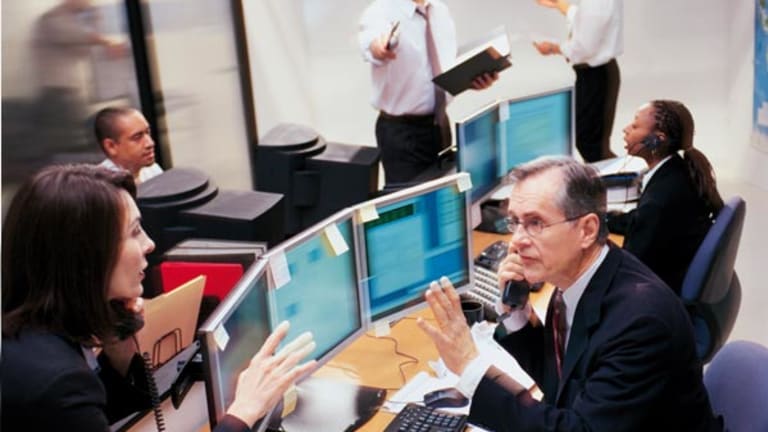 Amgen Feels More Pain
Investors fret that the company's No. 1 drug may actually hurt patients.
This column was originally published on RealMoney on Feb. 19 at 10:53 a.m. EST. It's being republished as a bonus for TheStreet.com readers. For more information about subscribing to RealMoney, please click here.
How I long for the days (just a few weeks ago, really) when the biggest worry with
Amgen
(AMGN) - Get Amgen Inc. Report
was that its anemia drug Aranesp faced a competitive threat from an overseas rival.
Now, investors are having a collective freak-out because Aranesp, Amgen's top-selling drug, might be hurting patients instead of helping them.
The latest knockdown came Friday, when the
Cancer Letter
reported on negative results from a Danish study of Aranesp in head-and-neck cancer patients. Making matters worse, Amgen knew about these results in December, but didn't disclose the information to investors. Amgen executives discussed Aranesp at length during the company's Jan. 25 earnings call but for some reason felt that mentioning the Danish study wasn't important.
Big mistake. Amgen's stock fell 2% Friday, just adding to its recent woes. At $66.73, the stock is now down 11% from its recent $75 high, reached just before reporting fourth-quarter earnings.
What makes this downturn all the more frustrating for Amgen bulls, and I count myself among them, is that the stock's recent ramp-up was fueled by increasing confidence in the company's anemia drug franchise, of which Aranesp is the most important component. Swiss drug maker
Roche
is trying to launch its own anemia drug, Cera, but Amgen has gone to court in the U.S. to block it, contending that Cera infringes on Amgen patents.
A growing number of investors had started to believe Amgen would win this legal battle against Roche. Coupled with prospects for new growth out of Amgen's pipeline, most notably the osteoporosis drug denosumab, Amgen was a compelling investment.
But all this becomes moot if Aranesp is found to hurt patients. With sales of $4.1 billion in 2006, the drug accounts for 30% of Amgen's total product revenue. There is no definitive evidence that Aranesp is detrimental to patients, and in fact, the company has done a fairly good job of defending the drug. But nonetheless, Aranesp sales could be negatively affected as doctors reassess the drug's benefits and risks. Regardless of what happens, the current situation breeds uncertainty, something investors don't like.
The "Aranesp-Cera" overhang on Amgen has now turned into the "Aranesp safety" overhang.
On the positive side, all the reasons to like Amgen as an investment, including those mentioned above, remain. And the stock is cheap, trading at 15 times the consensus EPS estimate for the current year. If Aranesp's proves to be safe, this episode will be viewed in hindsight as a tremendous buying opportunity.
How will we know if Aranesp is OK? Patience, I guess. Monthly sales reports will be scrutinized for any significant changes in prescription trends. And with some big cancer conferences coming up, including the American Society of Clinical Oncology's annual meeting in June, you can bet that Wall Street will be grilling influential doctors about their thoughts on the drug.
One thing Amgen must do is stay on top of this situation and be proactive about disclosing any new information to investors. The company screwed up by keeping silent about the Danish study, something CEO Kevin Sharer acknowledged on Friday afternoon's conference call. There are four other long-term Aranesp studies that should yield important data on the drug and its risk-benefit in treating cancer patients. When new data is available from these studies, Amgen must disclose them immediately.
Heck, if Susie Q. High School is doing an Aranesp study for the science fair, Amgen better know about it. The drug is under a high-powered microscope, so if Amgen doesn't disclose first, someone else surely will.
For those who may have missed Friday's events, here's a recap:
At issue is a relatively large, randomized and controlled Danish study designed to determine whether the use of Amgen's Aranesp would have a beneficial effect on head-and-neck cancer patients undergoing radiation therapy. Simply put, if patients got Aranesp to raise their hemoglobin levels, it would make tumors more sensitive to radiation.
This study was stopped early, on Oct. 18, 2006, because of information on potential negative events. On Dec. 1, the study's lead investigator posted an interim analysis on the Web site of the Danish Head and Neck Cancer Group.
You can read this summary on your own by Googling "DAHANCA 10." Among those findings, the analysis of the study's primary endpoint -- locoregional failure of radiation treatment -- showed a "small but significant poor outcome in patients treated with Aranesp," according to the study summary. The investigator, in his conclusion, stated that "the likelihood of a reverse outcome, i.e., that Aranesp would be significantly better than control, was almost non-existent."
In reporting this data widely for the first time, the
Cancer Letter
quoted doctors who raise the suggestion that EPO drugs (in this case Aranesp) might actually
protect
tumors from therapy. These doctors want the Danish study to be fully vetted and presented in public, which could (should) lead to further studies that investigate the implications. If it is found that EPO drugs like Aranesp widely protect tumors from therapy, obviously Amgen's EPO franchise would be severely damaged.
In response, Amgen held a conference call Friday afternoon, led by CEO Sharer and joined by the rest of the company's top management, including chief scientist Roger Perlmutter.
On the call, Amgen said all it knew about the analysis of the Danish study was what had been contained in the investigator's summary report of interim results. (A final analysis is still underway.)
Amgen also defended Aranesp's safety and efficacy in strong terms. The Danish study was an off-label use of Aranesp in a patient population that is not typically anemic (because they're not getting chemotherapy). The study also allowed patients to reach a hemoglobin level above what is recommended on Aranesp's approved label. Other studies conducted to address Aranesp's role in directly improving outcomes of cancer therapy are underway, but to date, none of these studies have shown a negative signal against Aranesp.
Adam Feuerstein writes regularly for RealMoney.com. In keeping with TSC's editorial policy, he doesn't own or short individual stocks, although he owns stock in TheStreet.com. He also doesn't invest in hedge funds or other private investment partnerships. Feuerstein appreciates your feedback;
to send him an email.