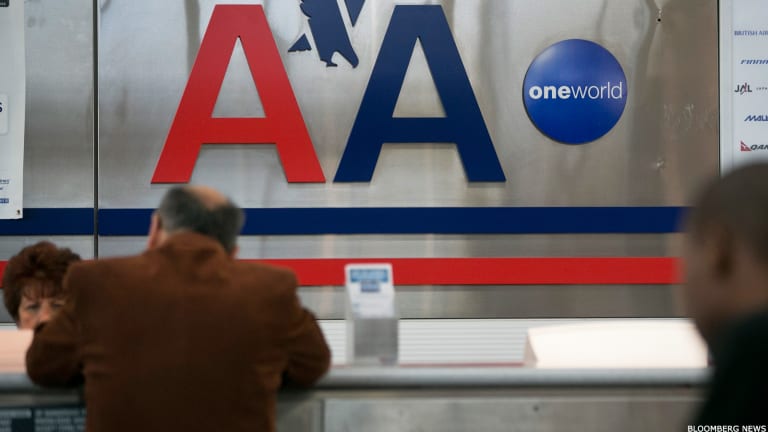 American Airlines Extends Grounding of 737 MAX Jets Through June 5
World's largest airline extends grounding of 24-jet fleet to avoid further disruptions; Boeing falls in after-hours trading.
After a busy week of news for Boeing (BA) - Get Report  following two fatal jet crashes since October, American Airlines (AAL) - Get Report said on Sunday it's grounding its fleet of 737 MAX jets through June 5.
American, the world's largest airline by several measures, has a fleet of 24 Boeing 737 MAX aircraft; grounding the jets means about 90 flights a day will be canceled, said the airline. 
Extending the grounding of the jets will "provide more certainty and avoid last minute flight disruptions," said the company. 
The airline said it's awaiting word from the Federal Aviation Administration, Department of Transportation, National Transportation Safety Board, Boeing, as well as other agencies, before deciding next steps.
"By proactively canceling these flights, we are able to provide better service to our customers with availability and rebooking options," said the company in a statement. 
Ticket holders will be contacted by email or telephone about canceled flights, said the airline, which said it's trying to substitute most trips with other jets to avoid disrupting plans.
American shares shed a bit -- .18% -- in after hours trading to $34, after closing up .38% on Friday to $34.06.
Shares of Boeing, however, were down 2.2% in after-hours trading to $383.30. Shares had closed down 1.01% to $391.93 on Friday.
American's decision comes after Boeing said last week that it's cutting production of its 737 Max jets starting this month, as it readies a fix to the systems believed to have contributed to two deadly crashes of the aircraft. A jet crashed in March in Ethopia, killing all on board, and another went down over Indonesia in October, also killing everyone on the jet. 
Boeing said it would make 10 fewer per month -- 42 -- than previously scheduled.
A preliminary report out of Ethiopia released Thursday appeared to further blame a software system flaw as a cause of the aircraft's crash.
"We at Boeing are sorry for the lives lost in the recent 737 MAX accidents," said Boeing's chief executive Dennis Muilenburg in a statement in response to the report. "These tragedies continue to weigh heavily on our hearts and minds, and we extend our sympathies to the loved ones of the passengers and crew on board Lion Air Flight 610 and Ethiopian Airlines Flight 302."
While the full details of what happened in the two accidents are awaited in the final reports to come, said Muilenburg, the release of the preliminary report of the Ethiopian Airlines Flight 302 accident investigation makes it apparent that in both flights a system known as MCAS, or the Maneuvering Characteristics Augmentation System, "activated in response to erroneous angle of attack information."
"The history of our industry shows most accidents are caused by a chain of events. This again is the case here, and we know we can break one of those chain links in these two accidents. As pilots have told us, erroneous activation of the MCAS function can add to what is already a high workload environment. It's our responsibility to eliminate this risk. We own it and we know how to do it."
The company said it plans a fix in the weeks to come.