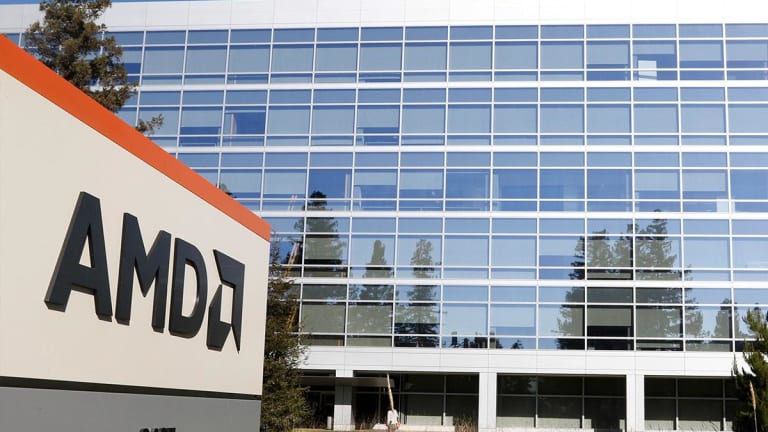 AMD Shares Rise After Chipmaker Beats on Earnings, Issues Strong Guidance
AMD also posted impressive revenue guidance for the second quarter.
Shares of Advanced Micro Device (AMD) were rising in after-hours trading Tuesday after the company beat estimates on both top and bottom lines for the first quarter of 2019. 
Shares rose 5.5% to $29.15 after declining 0.51% in regular hours. 
Adjusted earnings per share came in at 6 cents, beating Wall Street estimates of 5 cents. Revenue was $1.27 billion, beating analyst's expectations of $1.26 billion. The EPS result represented a year-over-year decline from its 11 cents in the first quarter a year ago. Revenue also fell from the $1.65 billion in the same period last year.
Computing and graphics revenue was $831 million, missing expectations of $856 million. Enterprise embedded and semi custom revenue was $441 million, beating estimates of $410 million. 
"We delivered solid first quarter results with significant gross margin expansion as Ryzen and EPYC processor and datacenter GPU revenue more than doubled year-over-year," said Dr. Lisa Su, AMD president and CEO. "We look forward to the upcoming launches of our next-generation 7nm PC, gaming and datacenter products which we expect to drive further market share gains and financial growth."
Some analysts have warned AMD may steal market share from Intel (INTC) , which guided its revenue projection for 2019 down a few days ago. 
AMD management guided for second-quarter revenue of around $1.52 billion, plus or minus $50 million. analysts polled by FactSet were looking for $1.51 billion. 
The stock is up more than 45% this year.