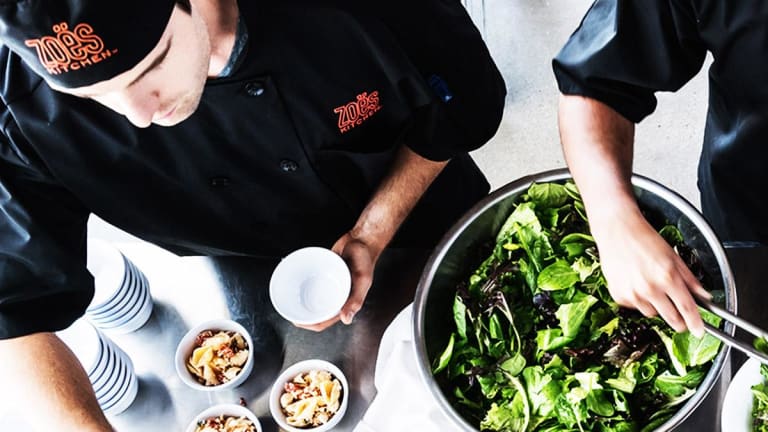 Amazon May Become a Theater Near You; Shaich Scoops Zoe's Kitchen -- ICYMI
Here's what you need to know now for Friday, Aug. 17.
We saw the blowout quarter from Walmart (WMT)  , now investors have got to wonder: How does Amazon (AMZN) respond on the retail front? Annie Gaus weighs in over on The Deal, explaining that everything from movie theaters to department stores is on the potential hit list. Imagine walking into an Amazon Theatre. It might not be far off, Gaus said, as reports have recently emerged that Amazon is in the running to buy theater chain Landmark Cinemas, competing with other unnamed suitors. Owned by Mark Cuban and Todd Wagner's 2929 Entertainment, Landmark has more than 50 theater locations in 27 markets, and focuses on indie and artsy fare. Given Amazon's investments broadly in video and media, which span Amazon Prime Video, its acquisition of Twitch, and Amazon Studios, a full-fledged film production shop, finding a brick-and-mortar distribution outlet for its content could make perfect sense.
Restaurants starve for better days, at least some. El Pollo Loco (LOCO)  , Potbelly (PBPB)  , Papa Murphy's (FRSH)  and Zoe's Kitchen (ZOES)  all debuted on the public markets from 2013-2014. Restaurant chains were hungry for capital and investors were looking for the next Chipotle (CMG)  or Panera. The two groups met via listings on the Nasdaq and New York Stock Exchange. Fast forward almost five years and the once-hot fast-casual space is waning. Market saturation and new concepts have sprouted up faster than the pioneers can keep up, and their Ebitda is taking a hit. See Mediterranean restaurant chain Zoe's Kitchen. The company announced it would be acquired this morning for about $300 million, or $12.75 per share, by restaurant group Cava, with backing from restaurant pioneer and Panera founder Ron Shaich. Zoe's went public in April 2014 during a wave of restaurant IPOs. The then-Brentwood Associates-backed Mediterranean fast-casual chain priced its shares at $15 apiece, at the top of its range, giving it a market value of around $275 million. Shares in the Plano, Texas-based would rocket as high as $44.85 in July 2015 only to fall back to earth as the restaurant space continued to saturate. Meanwhile, Potbelly has been exploring a sale as its bottom line sags. Papa Murphy's is down about 75% from all-time highs and Pollo Loco sits at about half its IPO price as of Friday's close.
Markets Today: Stocks were rising on Friday, Aug. 17, following a jump of nearly 400 points for the Dow Jones Industrial Average in the previous session after China and the U.S. agreed to hold trade talks next week and Walmart topped earnings estimates and raised guidance. The Dow rose 111 points, or 0.43%, to 25,669, the S&P 500 rose 0.33%, and the Nasdaq rose 0.13%. The Dow ended Thursday, Aug. 16, up 396 points, or 1.58%, to 25,558. It was the blue-chip index's best daily performance since April. Nvidia (NVDA)  fell 4.9% on Friday after the chipmaker beat earnings and sales estimates for its fiscal second quarter but issued weaker-than-expected third-quarter guidance because of declining demand for cryptocurrencies.
This is an excerpt from "In Case You Missed It," a daily newsletter brought to you by TheStreet. Sign up here.