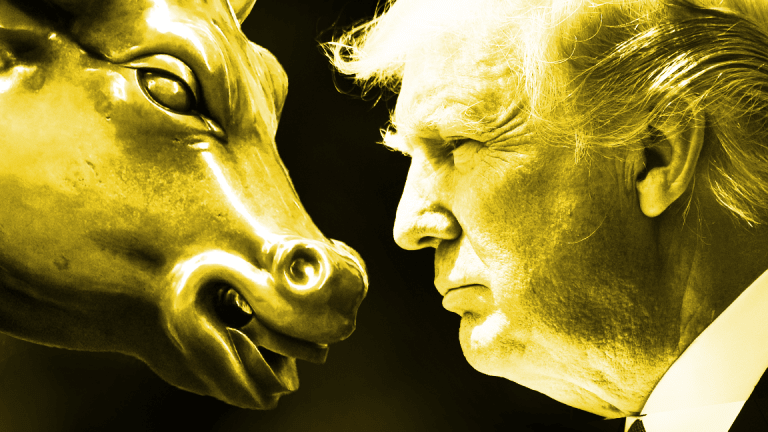 Amazon and GM Shares Recover as Trump Tariff Talk Is Mainly Bark, Little Bite
Stocks rebounded Wednesday, another roller-coaster for investors as markets reacted to the moods of the mercurial President before realizing that his bark is worse than his bite.
U.S. equity markets rebounded Wednesday after futures contracts were way down in the morning as investors reckoned that a full-blown trade war with China isn't on the horizon and President Trump's chief economic adviser proposed tariffs might not go into effect after all.
It's another day when markets reacted to the moods of the mercurial President before realizing that his bark is worse than his bite. Markets fluctuated last week, as well, after Trump's threats to impose global tariffs on steel and aluminum proved empty as his administration said they wouldn't apply to important U.S. trade partners including Canada, Mexico and South Korea. The same seems to be happening with regards to the incipient trade war, which the president promised would be easy to win: some of the sharper knives in the drawer turn out to be some of the cooler heads.
General Motors Corp. (GM) - Get General Motors Company Report , which may be in the cross-hairs of China tariffs, put out a statement to the media asking the leaders of the U.S. and China to try to appreciate the importance of goodwill in trade matters.
"We support a positive trade relationship between the U.S. and China, and urge both countries to continue to engage in constructive dialogue and pursue sustainable trade policies," GM said. "We continue to believe both countries value a vibrant auto industry and understand the interdependence between the world's two largest automotive markets."
GM shares closed up 2.9% to $38.02.
That's a reasonable view, not that the President specializes in such things. Here's what he said about Action Alerts Plus holding Amazon (AMZN) - Get Amazon.com Inc. Report , whose CEO, Jeff Bezos, owns the Washington Post.
"You have retailers all over the United States that are going out of business," Trump said on Tuesday. "If you look at the cost that we're subsidizing, we're giving a subsidy to Amazon."
Trouble is, President Trump doesn't signal with such remarks that he's up-to-date on the actual current situations for both Amazon and the Post Office. The president doesn't set the state tax rates that generate the revenue he says Amazon isn't collecting. The president doesn't establish the shipping rates that Amazon has negotiated with the Post Office. The president can't stand in the way of the forces of supply and demand that have made Amazon the dominant retailer in the U.S.
And investors increasingly know this about Trump.
"We expect more chatter out of the White House on Amazon throughout Trump's time in office," Piper Jaffray analyst Michael Olson wrote in a note to clients, as reported by Politico. "We, however, believe that little will change which has the potential to negatively impact Amazon's growth trajectory. Specifically, we find it unlikely that the Post Office will materially raise rates for Amazon deliveries, given Amazon would likely shift to alternative shipping options."
The fact of the matter is that American investors have made Bezos one of the richest men in the world because consumers strongly favor Amazon's variety, convenience, value and ease of use. It's not that Americans hate shopping malls or mom-and-pop stores, it's that Amazon does retailing better and cheaper than its competitors. Indeed whatever anger is aroused by Trump, him taking it out on Amazon isn't likely to work. It's a good business.
Amazon's stock rose 0.9% Wednesday. 
Over-promising and under delivering has cropped up repeatedly during the Trump presidency, notwithstanding his huge corporate tax cuts and the nomination of conservative judges. Remember that the wall was going to be built and Mexico would pay for it. Remember how Obamacare would be repealed and replaced by something better. On Tuesday, Trump said he would send active U.S. military to guard the southern border, before he found out that he can't do that. Now he's going to send the National Guard. It's OK.
But the promises of the Trump trade may turn out to be as fleeting as one of last year's tweets. After a 2017 in which the benefits of low taxes, a lax regulatory regime and a sympathetic judiciary helped the S&P 500 gain about 20%, this year looks to be one for profit-taking.
"We're in a volatility regime that is completely, obviously different from what we experienced in 2017. It's payback time," DoubleLine Capital founder Jeffrey Gundlach, one of the most prominent bond investors, said on CNBC. "2017 was the easiest investment year of all time. The risk-adjusted returns for the stock market were probably the best in history."
That was then, and now this is April, the cruelest month so far for the Trump trade. Still to come, is November. Trump's behavior is unpopular, and if it leads to the Republicans losing control of Congress to the Democrats, then the lifespan of the current tax and regulatory scheme, as sweet as it's been, will likely be short. And that would be the end of the Trump trade.
"This is going to be a challenging election year," Senate majority leader Mitch McConnell, Republican of Kentucky, said to local media. "We know the wind is going to be in our face. We don't know whether it's going to be a Category 3, 4 or 5."