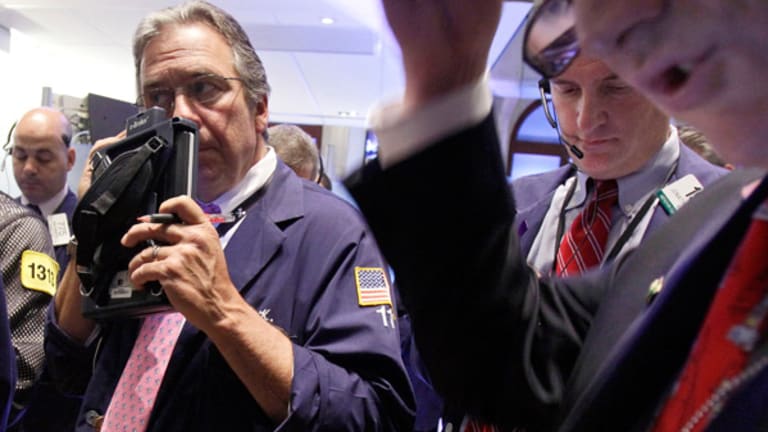 Altria Shares a Compelling Vice
Litigation and anti-smoking legislation affect a small portion of the world's tobacco market.
This column was originally published on RealMoney on June 29 at 8:30 a.m. EDT. It's being republished as a bonus for TheStreet.com readers.
The title of
Frank Curzio's column on
Altria
(MO) - Get Altria Group Inc. Report
asks rhetorically, "Should I Do It?" If you ask me, the answer is a resounding yes. And in the interest of full disclosure, this stock is a holding in the Vice Fund (VICEX), which I co-manage.
It's hard to mention Altria without first discussing the legal issues surrounding the company -- and the industry, for that matter. On that front, recent news items have been decidedly positive.
Back in March, an independent arbitrator ruled in favor of Big Tobacco, a decision that could reduce the multibillion-dollar payment that the cigarette makers shell out to state governments each year in accordance with a 1998 settlement agreement. This ruling means that this year, the $6.5 billion that the companies were expected to turn over to the states in April could be reduced by $1.2 billion.
More recently, and specifically relating to Altria, the Illinois Supreme Court declined to reconsider its reversal of a $10.1 billion damage award against the company's Philip Morris USA unit. The suit, often referred to as the "Price" case after lead plaintiff Sharon Price, asserted that the tobacco company misled consumers into believing that its light cigarettes were safer than regular brands. Around $2.1 billion in cash used to secure an appeal bond will be returned to Altria.
On the heels of this announcement, the Ohio Supreme Court threw out a similar class-action lawsuit claiming Philip Morris USA deceived buyers of light cigarettes.
Of course, the company won't always be as fortunate, and there are many cases still pending. But in the U.S. Supreme Court's next term, which begins in October, one of the issues it's slated to consider is tightening the constitutional limits on punitive damages. Such a decision would help tobacco companies cap their damages in the hundreds of cases still pending.
The biggest bit of legal news still looming -- and long overdue -- is word that the Florida Supreme Court will uphold a lower court's ruling that overturned the $145 billion judgment against the tobacco industry in the Engle personal-injury class-action claim -- the largest anti-tobacco lawsuit still outstanding. The delay has caused some frustration among tobacco investors, but a resolution will eventually come, and when it does, it could be a big catalyst for the group.
Following news from Florida, Altria will separate its food and tobacco businesses, spinning off its stake in
Kraft Foods
(KFT)
to Altria shareholders. Kraft has, admittedly, been hurt by rising costs and increased competition from sales of private-label goods, a margin-squeezing combination. But I'm not interested in Altria for its stake in Kraft. The tobacco business -- particularly the international unit, which accounts for 48% of Altria's operating income -- is the object of my affection.
Consider China, home to 350 million smokers. The world's biggest cigarette market -- and the most protected -- is a government-controlled monopoly dominated by the China National Tobacco Corporation (CNTC). Thanks to the protection, CNTC's sales account for a full one-third of the entire global cigarette market, and the state-run cigarette maker boasts a market share comparable to the three largest multinational tobacco companies combined.
China has historically blocked attempts by foreign companies to enter its lucrative market. But in December, Philip Morris International struck a deal to make and sell Marlboros in China. There are more Chinese smokers than there are American citizens, and they bought roughly 1.95 trillion cigarettes last year. In coming years, a good portion of those cigarettes will bear the Marlboro name.
In addition to the potential from China, emerging markets are booming. In Indonesia, for example, over 30% of the population smokes, and that figure is on the rise. Last year, Philip Morris International paid $5 billion for the country's second-largest cigarette maker, Sampoerna, and the Altria unit just won approval for Sampoerna to distribute Marlboros in Indonesia.
Philip Morris International bought another strong franchise in Colombia last year that's paying off, and Argentina and Russia are also showing handsome growth. Egypt, France, the Philippines, Turkey and Ukraine are bolstering Altria's bottom line as well.
The most common mark against the tobacco business is that smoking bans will cause the industry's demise. That's simply not the case. Despite the prohibitions, Altria's earnings are at an all-time high.
Smoking bans are pretty much limited to the U.S. and Western Europe. As noted above, smoking is a global activity that's enjoyed, unencumbered, by hundreds of millions of people worldwide. And, where unit volumes have declined, cigarette makers have been able to successfully offset it by boosting prices. In economics jargon, that's called inelastic demand.
Smoking alternatives, like smokeless tobacco, are another solution to combat smoking bans. In April,
Reynolds American
(RAI)
offered to shell out an incredible $3.5 billion for closely held snuff and chewing-tobacco company Conwood. Philip Morris USA is testing its first smokeless, spitless product, Taboka, next month. Sales of smokeless tobacco products have been growing in the U.S., while cigarette consumption has declined. So, Altria's entry into this market could also help negate smoking bans.
Here's the bottom line: The legal issues surrounding the industry -- which, by the way, are also limited to the U.S., the most litigious nation on Earth -- are coming to an end. Smoking bans are limited in their scope, but the demand for cigarettes is global. Recent legal decisions have favored Big Tobacco. Meanwhile, the tobacco companies continue to boost prices, cut costs and return a good chunk of their profits to shareholders with juicy dividends and aggressive stock buybacks.
P.S. from TheStreet.com Editor-in-Chief, Dave Morrow:
It's always been my opinion that it pays to have more -- not fewer -- expert market views and analyses when you're making investing or trading decisions. That's why I recommend you take advantage of our
to TheStreet.com's
RealMoney
premium Web site, where you'll get in-depth commentary
and
money-making strategies from over 50 Wall Street pros, including Jim Cramer. Take my advice --
At time of publication, the fund Norton co-manages was long MO and RAI, though positions may change at any time.
Charles L. Norton, CFA, is a principal of GNI Capital, Inc., an SEC-registered investment advisor that provides investment management expertise for separately-managed equity, fixed income and ETF portfolios and a hedge fund, and is co-portfolio manager of the Vice Fund (VICEX) and the Generation Wave Growth Fund (GWGFX). In addition, Mr. Norton authors a twice-monthly newsletter, Supernova Stocks, which focuses on investments in market-leading stocks with unique and extraordinary growth potential. Mr. Norton had been a vice president in the equity research department of a New York-based hedge fund, where he also managed separate accounts for high net worth clients. Prior to his experience on the buy side, Mr. Norton worked in the investment banking division of Salomon Smith Barney, where he was an analyst in the health care group, reporting directly to the head of the group. While Mr. Norton cannot provide investment advice or recommendations, he appreciates your feedback;
to send him an email.