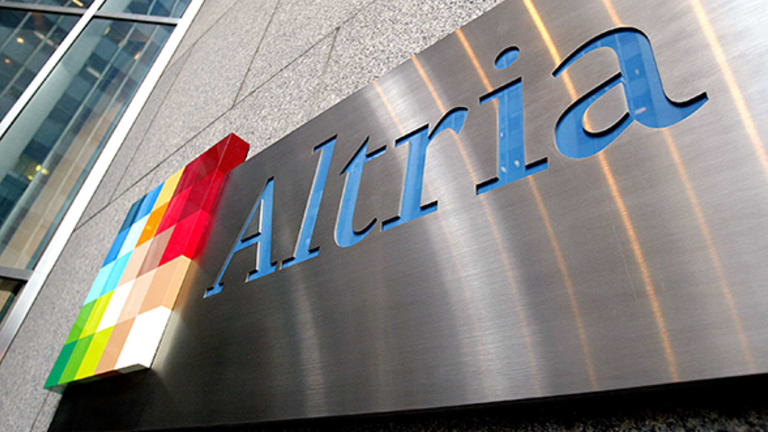 Altria (MO) Stock Is the 'Chart of the Day'
Altria (MO) stock was chosen as Wednesday's 'Chart of the Day.'
Altria (MO) stock was chosen as Wednesday's 'Chart of the Day.'
NEW YORK (TheStreet) -- Shares of Altria (MO) - Get Report are down 0.04% to $67.88 in midday trading on Wednesday, but the stock is up 2.41% since Friday, when the U.K. decided to leave the European Union and triggered a market selloff.
Richmond, VA-based Altria, a manufacturer of cigarettes and other tobacco products, was seen as a safe haven amid the market rout.
Investors were attracted to tobacco-related stocks because of their relative low risks and higher yields, Reuters reported.
TheStreet's Chris Versace and Bob Lang have identified Altria has the "Chart of the Day." Here's what they had to say about the company:
What a week! Market breadth has been horrible, sentiment has been very sour, and the Dow Industrials have dropped nearly 1,000 points in just two sessions. Despite the awful market conditions, there have been quite a few safe havens in which to park money in the stock market.

Case in point: Altria, a stock that has shown dominant relative strength and is actually higher than its close last Thursday. We did witness turnaround Tuesday, and since the uptrend may still be intact, we'll see if there is some follow-through.

Take a look at the chart below and you'll see the RSI is clocking in at an overbought reading and the moving average convergence divergence (MACD) is still on a strong buy signal.

The momentum indicator at the bottom shows there was a nice chance to buy on a slight dip earlier this month, but the strongest stocks rarely give you a chance to get on board (so if you missed it, don't fret).

Since hitting a low in January, the uptrend line shows higher lows and higher highs. Additionally, Altria offers a very nice dividend alternative to bonds.

If the market continues its precarious ways, we like Altria as a solid defensive name. Log in and watch this video for more.
- Chris Versace and Bob Lang's "Chart of the Week: Altria" was originally published on 6/29/16 on Trifecta Stocks.
Want more from Versace, Lang and Wall Street's brightest minds BEFORE your stock moves? Learn more about Trifecta Stocks now!