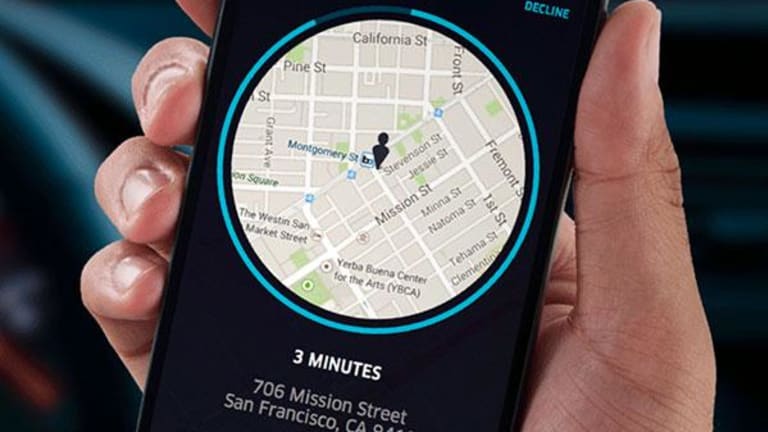 Alphabet (GOOGL) Senior VP Drummond Leaves Uber Board
Alphabet's (GOOGL) senior VP David Drummond is stepping down from Uber's board as both companies work on self-driving car initiatives.
NEW YORK (TheStreet) -- Alphabet's (GOOGL)  senior VP of corporate development David Drummond recently stepped down from ride sharing service Uber's board over conflicts of interest, the company announced on Monday. 
Previously, Drummond helped oversee Alphabet's investment arm GV's $250 million investment in Uber in 2013. But Uber is no longer the underdog, as it becomes a direct competitor to Alphabet in the self-driving car vehicle space, according to Drummond.   
"I recently stepped down from Uber's board given the overlap between the two companies," said Drummond in an emailed statement, according to the Wall Street Journal. 
The shake up is similar to Google executive Eric Schmidt's resignation from Apple's (AAPL) board in 2009 after the search engine company released its Android mobile software that directly competed with the iPhone, said Vanity Fair special correspondent Nick Bilton on CNBC's "Squawk Alley" on Tuesday morning. 
Drummond's move was smart, according to Bilton. "Google was already working in driver-less cars and now Uber is doing that, and I just don't think it makes sense for Drummond to be on the board," he said.  
Uber, Google, and Ford (F) formed a coalition earlier this year to develop self-driving cars, seeming to indicate that they would work together, noted CNBC's Kayla Tausche. 
While the companies may still work together, the coalition doesn't mean the companies aren't preparing for the increasingly competitive environment, Drummond replied. "I think they want each other's help right now, but they will not want each other's help in the future," he predicted. 
Earlier this month, Uber acquired self-driving truck startup Ottomotto, which was founded by former Alphabet employees. 
Uber and Google are also beginning to compete in mapping solutions, Drummond noted. "There's lots of different things where they're competing, and I think that's only going to become larger as they move forward," he concluded. 
(Alphabet and Apple are a part of Jim Cramer's charitable trust Action Alerts PLUS. See all of Cramer's holdings with a free trial.)