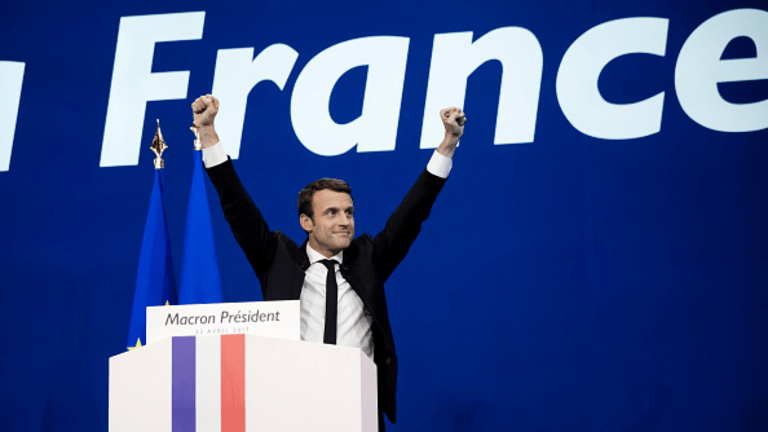 Allez! France's Employment Growth Hits 10-Year High and GDP Is Upgraded
Strong employment and stable economic growth over the first quarter strengthen the hand of reformer Macron.
Napoleon said he would rather have lucky generals than good generals, and while it remains to be seen if France's new President Emanuel Macron is as good as many hope he is certainly proving lucky.
France's job creation hit its highest point since the 2008 financial crisis, influential economic data tracker IHS Markit reported Friday, June 23. Simultaneously, France's own economic statistics agency Insee, upgraded French economic growth for the second time in under a month, declaring that gross domestic product increased 0.5% in the first quarter, up from an initial estimate of 0.3% and an earlier revision to 0.4%.
"A particularly upbeat talking point ... was the sharpest rise in employment for almost ten years," said IHS Markit economist Alex Gill. "This is welcome news for the newly elected government which has made reducing unemployment one of the main aims of its administration."
Macron, who assumed office in May, only finalized his government this week can take little credit for the improvements. But he will reap the benefits either way. His plan to boost employment by cutting red tape surrounding hiring and firing in France (and a promise to cut the number of civil servants) will be considerably aided by robust economic growth and stronger employment.
The latest upgrade by Insee means first quarter growth now matches that of the final quarter of 2016, suggesting that a particularly unpredictable Presidential campaign had little effect on investment confidence.
The voting may have rattled consumers though. French consumption was flat over the first quarter, after growing 0.6% in the final quarter of 2016, according to Insee.
IHS Markit also noted a dip in France's key purchasing managers index, which fell to a five-month low of 55.3 in June, from 56.9 in May. That dip was led by the service sector where growth in June slowed to a five-month low of 55.3, down from 57.3 in May.
That left the heavy lifting to manufacturing businesses, which increased gross fixed capital formation by 1.2%, according to Insee. IHS Markit said that the PMI for the manufacturing sector rose to 55 in June, from 53.8 in May.
The lack of consumer spending may yet prove a weakness, though it could just as easily mean there is room for further acceleration if French consumer's rediscover their mojo.
France's key CAC 40 index traded Friday late-morning local time at 5273.74, marginally lower than its Thursday close and up 5% over the past three months.