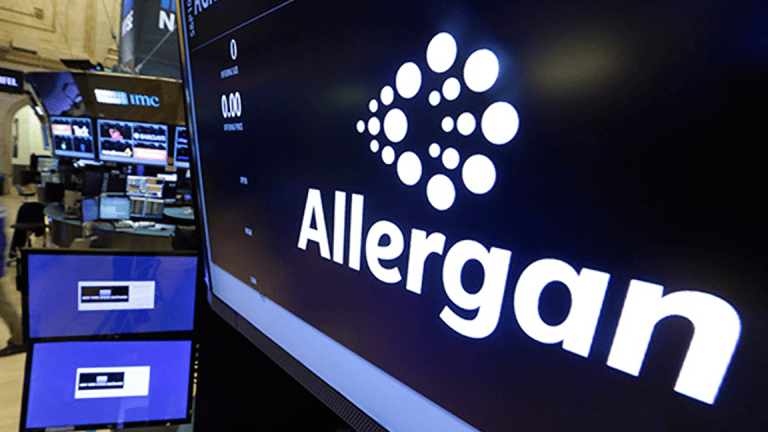 Allergan Pursues Strategic Divestitures; Specialty Retailers Shake Out -- ICYMI
Here's what you need to know now for Wednesday, May 30.
Here's what you need to know now for Wednesday, May 30.
Stocks rebounded sharply Wednesday as investors shrugged off a potential political crisis in Italy and new tariffs to be placed on Chinese goods imported to the U.S. -- for now.
Allergan plc (AGN) - Get Report  has made it clear what business lines matter most to it. The Dublin-based drug giant is pursuing a sale of its women's health and infectious diseases businesses after wrapping up its strategic review, CEO Brent Saunders announced at the Bernstein Strategic Decisions conference in New York on Wednesday, May 30. "There is no fire sale at Allergan," Saunders said. "There is no undue pressure to sell them for a bargain basement price." Proceeds from the potential sale of the units would be used for debt reduction and share buybacks, Saunders said at the conference. Allergan will focus on its medical aesthetics, eye care, central nervous system and gastrointestinal businesses, he said. Investors seemed to clap in modest approval as shares of Allergan ticked higher Wednesday. Shares of Allergan are still down about 8% year-to-date and 33% over the last 12 months.
Don't count Big Blue out just yet. Though Action Alerts PLUS holdings Amazon.com (AMZN) - Get Report  , Microsoft (MSFT) - Get Report  and Alphabet (GOOGL) - Get Report  have been collectively taking a lot of cloud market share from smaller rivals, IBM (IBM) - Get Report  insists it can hold its own. In a talk with TheStreet's Eric Jhonsa, IBM Cloud Platform CTO Jason McGee argues his firm has some unique strengths in a very competitive cloud infrastructure market.
Not all retailers that were left for dead during last summer's industry upheaval, may have been deserving. And since last summer's industry rout, some have made a real deal comeback while others have seriously fizzled into oblivion. Cato Corp. (CATO) - Get Report  , a Charlotte-based specialty retailer which suffered some of the worst same-store sales declines last year, continues its comeback, points out Jonathan Heller on Real Money. Last week the company announced better than expected first quarter earnings (94 cents versus 87 cent consensus) and revenue ($236 million versus $229 million). Shares are up 27% since that report. While Cato seems to have turned a bit of a corner, others like Hibbett Sports (HIBB) - Get Report  and Big 5 Sporting Goods (BGFV) - Get Report  continue to execute turnaround plans and are still a bit behind Cato. "Make no mistake, specialty retail, especially apparel is still an ugly business, but the market overly punished CATO (and others)," Heller writes, adding, "Despite the solid run since February, CATO shares still trade at half of where they traded just three years ago."
This is an excerpt from "In Case You Missed It," a daily newsletter brought to you by TheStreet. Sign up here.
Photo of the day: Taking a page from Netflix
MoviePass is taking another page from the Reed Hasting's playbook. While the company's application of the Netflix Inc. (NFLX) - Get Report subscription model to movie theaters has been met with skepticism, the Helios and Matheson Analytics Inc. (HMNY) unit is moving into original content with an acquisition announced Wednesday, May 30. Helios said it will buy the library and film slate of Emmett Furla Oasis Films, the production outfit of Hollywood producers Randall Emmett and George Furla. The duo's credits include Sylvester Stallone's "Rambo" and Michael Bay's remake of the "Amityville Horror." Shares of Helios gained fell 2.1% to 46 cents on Wednesday. The stocgained 15% on Tuesday, after Citadel Securities LLC said it had purchased a 5.4% stake, in a Securities and Exchange Commission filing. Read More
Read more from "In Case You Missed It." Sign up here.