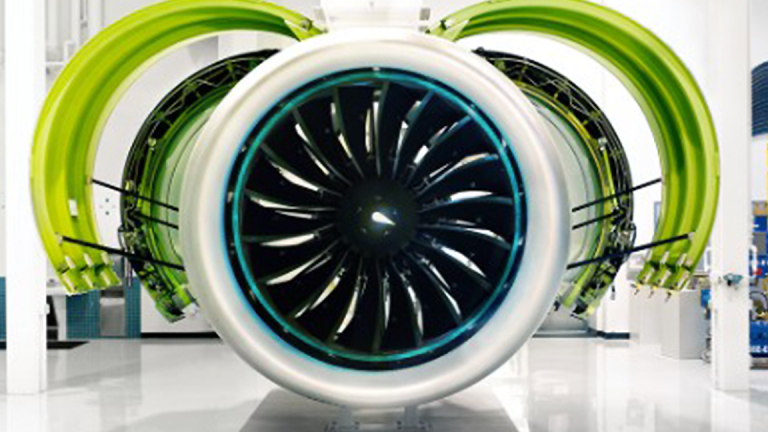 Alibaba Steals the Spotlight; UTX Pushed to Break Up -- ICYMI
Here's what you need to know now for Friday, May 4.
Here's what you need to know now for Friday, May 4.
No jobs, no problem. Stocks were up sharply on as shares of Apple Inc. (AAPL) - Get Report  rose and investors looked past a U.S. jobs report that came in below expectations. The Dow closed up 332 points. The S&P 500 was up 1.31% and the Nasdaq rose 1.78%.
Alibaba (BABA) - Get Report  stole the spotlight Friday despite an all-time high for Apple, as well as continued talk of Tesla's (TSLA) - Get Report  Elon Musk chastising analysts and chatter of Amazon (AMZN) - Get Report conquering India. Two days after short-seller Citron Research took a long position in Alibaba, the Chinese e-commerce giant is enjoying a post-earnings reaction very similar (well sort of) to the one Amazon saw following its own strong Q1 report. In both cases, enthusiasm about their tremendous revenue growth has overshadowed any worries about their also-tremendous spending growth. Despite Alibaba's robust growth, fears of trade wars and perpetual concerns about Chinese accounting practices have thus far held back an Amazon-esque start to the year. BABA is up about 10% in 2018 while AMZN is up about 33%.
United Technologies Corp.  "welcomed" Third Point's Dan Loeb on the same day other activists like Starboard and Carl Icahn were continuing to shape Newell. Loeb on Friday launched a campaign urging the company to split into three "focused, standalone businesses." Loeb says UTX should split into separate companies: Otis Elevator, Aerospace, and Climate Control. The campaign emerges after United Technologies CEO Gregory Hayes speculated in February during a presentation whether or not his aerospace and industrial company would be better off as three separate businesses. "That's the question for the board," he said. "That's a question we continue to study. " It seems Loeb wants a little more haste in that process.
Friday was a banner day for the markets but those of us at TheStreet were looking forward to a busy weekend. TheStreet and its co-founder Jim Cramer will host an investor bootcamp this weekend where attendees will hear from and interact with the best in the business on tips about how to manage their portfolios. Hosted by Jim Cramer, topics include trading futures, alternative investments, building wealth under the new tax code and more. Plus, Cramer interviews PayPal (PYPL) - Get Report CEO Dan Schulman, to learn more about the future of commerce. Tickets are still available.
This is an excerpt from "In Case You Missed It," a daily newsletter brought to you by TheStreet. Sign up here.
Photo of the day: A business that spans 149 years
Kraft Heinz (KHC) - Get Report and Warren Buffett both have long histories. Heinz traces its beginning back to 1869 and the Heinz Food Co. that slung pickles and preserved vegetables. Buffett, of course, is a world renowned money manager and investor owning business including Geico and Dairy Queen. Kraft Heinz is one of Buffett's newer investments, having taken the company over in tandem with 3G Capital in 2015. Today Buffett owns a 51% stake in the company, and with results for the first quarter leaving something to be desired and the Berkshire Hathaway (BRK.A) - Get Report annual meeting kicking off Saturday, many are wondering if it is time for the two institutions to part ways. Read More
Read more from "In Case You Missed It." Sign up here.