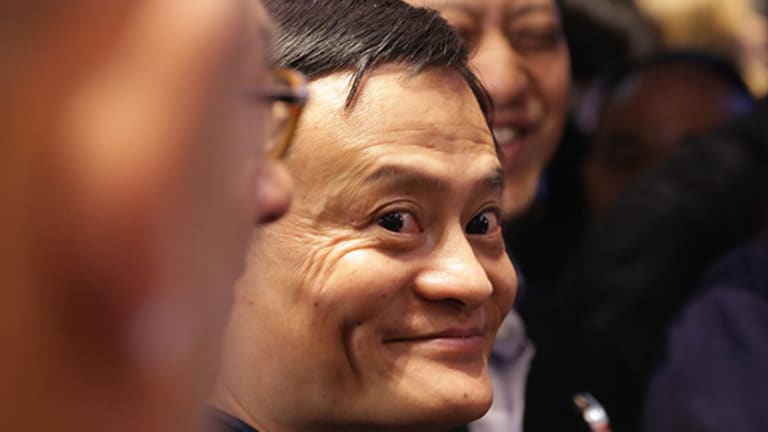 Alibaba Plans to Win Over Southeast Asia Through More Than Just Acquisitions
The region might be the next big opportunity for the e-commerce giant to shed home market reliance.
Alibaba's (BABA) Executive Chairman Jack Ma recently signed an agreement with Thailand's Deputy Prime Minister Somkid Jatusripitak to help the country's small- and medium-sized businesses succeed in e-commerce.
The meeting marks the third time that a top Thai official has directly interacted with Ma since Thailand's Prime Minister Prayut Chan-o-cha asked Alibaba's founder to help Thailand's small- and medium-sized enterprises develop their e-commerce business while he was attending the G20 Summit back in September in Hangzhou.
"E-commerce in many emerging markets is still at very early stages, which means the lead by Amazon (AMZN) , eBay (EBAY) or any local incumbent is surmountable. Alibaba is focused on those emerging markets, especially in Asia, and is well positioned to be successful there," said Gil Luria, managing director at Wedbush Securities. "Alibaba was able to crack the code on the formula that works in China, especially in regards to logistics, so any market where they can find an equivalent solution could be a big market for them."
Within one year, Alibaba has managed to build a footprint all over Southeast Asia. The Chinese e-commerce giant is eyeing the region's 620 million population and in particular, 250 million smartphone users who are digital-savvy and eager to use mobile technology to shop online. And, according to experts, the company is well-positioned to do so. 
"Southeast Asia region includes several countries with different government and culture, which could make Amazon's direct sales business model facing more challenge," said Marie Sun, analyst at Morningstar Investment Service. "Comparing Amazon to Alibaba, I think Alibaba's marketplace business model may be more suitable to Southeast Asia market, which is more fragmented and in early growth stage."
Another characteristic that sets Southeast Asian shoppers apart from online shoppers in other markets is their penchant for shopping via social media sites such as Action Alerts PLUS portfolio holding Facebook's (FB) Instagram or Japan-based Line (LINE) . Especially in Thailand, consumers prefer to interact with sellers on social platforms prior to purchasing and operate on a touch-and-feel, cash-on-delivery basis.
A study by Bain finds that Southeast Asia lacks a solid regional payment and logistics infrastructure which have been main factors for China's astounding growth in digital retail. In a move to claim traditional e-commerce market in the region, Alibaba's latest agreement with the Thai government promises training to 30,000 small- and medium-sized Thai enterprises and 10,000 Thai individuals in digital technology.
The agreement with Thailand was reached over three months of discussions but Alibaba's intention to expand into Thailand and moreover, Southeast Asia, a fragmented e-commerce market with huge prospects, had started months prior.
In April, Alibaba made its largest overseas investment with a $1 billion deal for a majority control of Singapore-headquartered Lazada, which operates in Singapore, Malaysia, Thailand, Indonesia, the Philippines and Vietnam, six of Southeast Asia's biggest e-commerce markets.
Last month, Alibaba's digital payment arm Ant Financial made an investment in Thailand's Ascend Money, which offers e-payment services and micro-loans to customers who are under-served by big financial firms. Bangkok-based Ascend Money operates in Indonesia, the Philippines, Vietnam, Myanmar and Cambodia and is a subsidiary of Thai conglomerate Charoen Pokphand, owned by the Chearavanont family, the richest family in Thailand and the second richest family in Asia, according to Forbes.
While Alibaba is betting on the online marketplace in Southeast Asia to live up to its full potential, a host of challenges stemming from the region's diverse languages and cultures might obstruct the company from achieving the same level of success as it has done in its home market China.
But analysts believe that Alibaba's business model still puts it in an advantageous position to claim the market compared to long-time rivals Amazon and JD.com (JD) .
Alibaba's commitment to helping develop the Thailand's logistics and supply chain might end up serving itself later and help the company stay ahead. But still competitors are catching up as JD.com set up shop in Indonesia and Japan's Softbank invested $100 million in Singapore's largest online marketplace Tokopedia.
"Alibaba's expansion in Southeast Asia area is mainly through Aliexpress and Lazada, while the payment business in that region is still in early stage, in my view. I think it is still too early to say Alibaba is going to win," said Sun, the analyst at Morningstar.