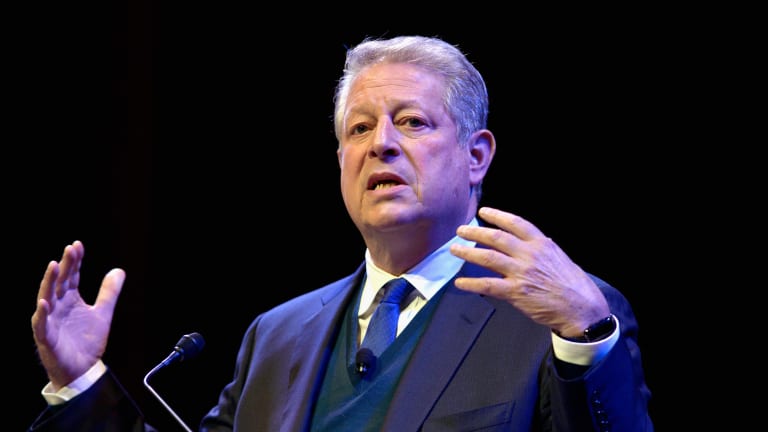 Publish date:
Al Gore: Technology Can Solve the Climate Crisis
The former Vice President said reversing global warming is still a huge challenge, but the 'sustainability revolution' is potentially more profound than many people realize.
The former Vice President said reversing global warming is still a huge challenge, but the 'sustainability revolution' is potentially more profound than many people realize.
Former Vice President Al Gore issued an impassioned plea on Tuesday to tech investors and entrepreneurs to contribute to what he called the "sustainability revolution" and help reverse the effects of climate change.
"I'm here to recruit you!" Gore said at the Collision technology conference keynote in New Orleans on Tuesday. "We need your help to win this struggle and help solve this crisis."
Gore co-founded and is currently the chairman of Generation Investment Management, which invests in socially and environmentally-friendly companies and has about $18.5 billion in assets; Gore has also served on the board of directors of Apple Inc. (AAPL) - Get Report since 2003. In his speech, he laid out a case that will be familiar to viewers of An Inconvenient Truth, the Oscar-winning documentary about his efforts to advance the idea that human activity is leading to an alarming rise in global temperatures. 
Gore noted that the world is still generating enormous amounts of heat-trapping pollution that is having a profound effect on climate and in particular, leading to more extreme weather and storms due to warming oceans. While that makes the case for why we need to change, Gore said that on the question of whether we can change, while it will not be easy, wind and solar energy are already becoming much more prevalent around the world, and that investment in both is growing rapidly.
But even more significant than the rise of renewable energy, Gore said, was the use of new digital tools such as the Internet of things, machine learning and AI that are giving companies the ability to manage physical atoms and electrons as efficiently as IT companies manage bits. 
"This has the scale and magnitude and impact of the industrial revolution, but the speed of the digital revolution," Gore said. 
As an example, Gore cited how Alphabet Inc.'s  (GOOGL) - Get Report Google used the AI company it acquired, DeepMind, to apply its tools to making its server farms, which are the largest in the world, to become more energy-efficient. Gore noted that without making any changes to hardware, Google achieved a 56% decline in energy use just from more highly precise management of atoms and BTU's.
While Gore acknowledged that Google has the advantage of vast amounts of data on its server farms that it can use, he said that "there are thousands of use cases where this same kind of transformation can and is taking place." 
The crucial question then becomes will we solve the climate crisis, Gore said, and here he implored the throngs of tech investors and entrepreneurs present to keep pushing for ways of making sustainability a desirable and necessary objective. 
"We are making progress, we have to do it, I'm convinced we will do it," Gore said. "But the business community and tech entrepreneurs especially, keenly aware of what's at stake and knowledgeable about the new tools...can play the crucial role in making sure that the answer to  [whether we will solve the climate crisis] is in fact, yes."
Appleand Google are holdings in Jim Cramer'sAction Alerts PLUS Charitable Trust Portfolio. Want to be alerted before Cramer buys or sells AAPL or GOOGL? Learn more now.