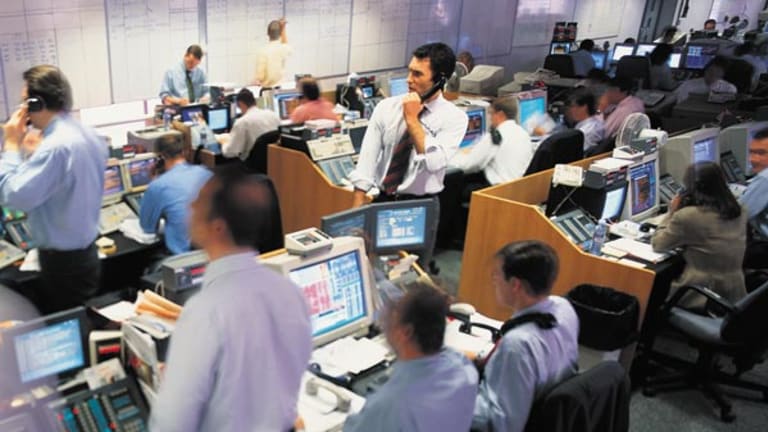 Airlines Race Oil's Rise
Some of the efforts designed to lift passenger fares are managing to stick.
Of all the questions facing the airline industry, the most difficult to answer might be whether U.S. carriers will ever be able to boost ticket prices rapidly enough to compensate for rising fuel costs.
This past weekend, some, but not all, of last week's efforts to increase pricing managed to stick, JPMorgan airline analyst Jamie Baker said Monday, even as fuel costs were rising again.
One-way fares in markets without low-cost carriers increased $5, while the practice of absorbing some airports' passenger facility charges appears poised to cease, Baker wrote in a report.
However,
AMR
(AMR) - Get Free Report
unit American Airlines blocked a $50 business-fare hike tried by
UAL's
(UAUA)
United Airlines. Also,
Southwest Airlines
(LUV) - Get Free Report
took no action on United's $2 to $4 increase in Southwest markets.
"We view AMR's decision as a modest disappointment, though one that likely paves the way for a smaller increase in walk-up fares over coming weeks," Baker said. He added that Southwest's action was expected, because the airline "rarely responds to industry efforts aimed at compelling it to raise fares, only to raise fares on its own terms several weeks later."
The move to stop absorbing airport passenger facility charges was triggered by
Delta Air Lines
undefined
, which said Friday that it would begin adding the fees to its ticket prices on connecting flights. The fees, charged by airports for infrastructure including new security facilities, range from $3 to $4.50. Delta was following an action that American took in its hubs in mid-March.
Separately, United said on Friday it had raised business fares by $50 each way in an effort to offset fuel costs. It also raised coach fares $2 to $4 each way in markets where it faces low-fare competition and $5 each way in other leisure markets.
The trend to higher ticket prices was pronounced in February. Domestic yields, or revenue for each passenger carried one mile, rose 12.4%, according to the Air Transport Association. Baker said he expects
Continental Airlines'
(CAL) - Get Free Report
March yield to increase by 5%.
Airline stock prices have reflected the improvement, as the Amex Airline Index has risen more than 43% since its low point in late September. At the same time, however, oil prices are headed up. On Monday, crude oil prices topped $67 a barrel because of concerns about Iran's nuclear ambitions and Nigerian production problems.
Despite the ticket-pricing improvements, industry yields remain historically low. February's yield was 12.9 cents, roughly equivalent to the 1992 level, the ATA said. Domestic yields reached a peak of about 15 cents in February 2001. Yields have declined because of the increased competition from low-fare carriers, even though occupancies are at record highs.
The industry still has a lot of catching up to do, said John Heimlich, ATA's chief economist. Last year it lost about $10 billion, and to break even it would have needed a crude oil price of about $34 a barrel. Instead, crude oil averaged about $56 a barrel and jet fuel averaged about $72 after allowing for the "crack spread," the cost of refining crude oil into jet fuel.
"That's why the revenue environment has to improve," Heimlich said. But so far, revenue improvements haven't been nearly enough to offset advancing oil prices. Heimlich has projected that the industry will lose about $2 billion this year. He said he won't consider revising the number before seeing the first-quarter results.