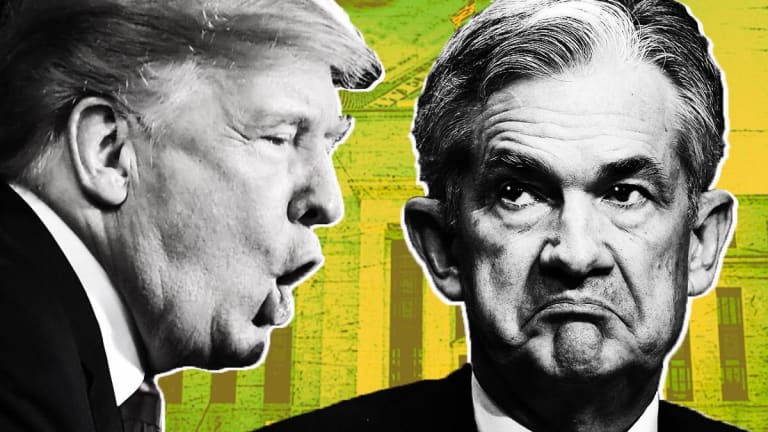 After Fed Gifts Markets With Contested Rate Cut, Trump Wants More
The Federal Reserve's decision to cut interest rates on Wednesday for the first time since 2008 was contested by two of of its own members, and many economists say it wasn't even warranted since U.S. growth is on a solid footing. The action should help stimulate the economy heading into 2020, but President Donald Trump fretted on Twitter that the move won't provide `much' help -- to himself.
President Donald Trump speaks about Federal Reserve monetary policy like he's giving an interview on his own play in a golf tournament: Whatever happens, does it help or hurt his game?    
Earlier this week, he told reporters that the Fed's push last year to raise interest rates, as the economy strengthened following years of historically easy borrowing conditions, "puts me at somewhat of a disadvantage." Notice the first-person pronoun.  
Then on Wednesday, after the Fed cut rates for the first time since 2008, he tweeted that the 0.25 percentage-point reduction wasn't enough: "I am certainly not getting much help from the Federal Reserve!" That's `I' as in he. 
The Fed is supposed to be an independent panel, making decisions on the level of U.S. interest rates to maximize employment while keeping inflation from spiraling out of control in the interest of all Americans. The central bank typically raises rates when the economy is strengthening, cuts them when the economy is in danger of falling into a recession and holds them steady when things are moving along steadily.
A growing number of economists argue that the U.S. is doing just fine at the present, and Fed Chairman Jerome Powell on Wednesday said as much at a press conference after the latest monetary-policy decision was announced: "The outlook for the U.S. economy remains favorable."
The rate cut, according to Powell, was needed largely because of slowing international growth -- in turn partly due to the U.S. government's trade battles with China and other nations -- that might spill over to the domestic economy.
But two members of the central bank's monetary-policy panel, known as the Federal Open Market Committee, or FOMC, dissented from the eight-vote majority decision, arguing that a cut wasn't warranted, according to a statement. 
And despite Powell's insistence that politics plays no role in the Fed's actions, the chair cited Trump's trade war with China as a key driver of the economic "uncertainties" that have been giving investors and business executives anxiety over the past year. 
So now, some economists and investors are wondering if Trump can influence the Fed to cut rates -- simply by keeping the trade war with China going until it's no longer convenient, presumably as the 2020 elections approach.
There's a genuine argument that higher U.S. interest rates, relative to those globally, make dollar-denominated assets more attractive, and thus put upward pressure on the dollar in foreign-exchange markets. And that gap could widen as the European Central Bank or officials in China move to cut their own interest rates as part of an effort to support their flagging economies.
A stronger dollar would indeed make it harder for U.S. manufacturers to compete in global export markets. But a stronger dollar would also make it cheaper for retailers to import goods from abroad, in turn keeping prices down for American consumers. Offsets, as it were.
The real casualty could be the Fed's reputation for political independence if investors start to believe that Trump, via levers direct or indirect, can influence monetary policy to his own advantage. A competitive golfer, the president is reported to take every advantage he can get, and sometimes advantages he isn't supposed to get. 
"The Fed is caught between a rock and a hard place, illustrated by two FOMC dissenters to the rate cut," David Riley, chief investment strategist at the $60 billion bond-fund manager BlueBay Asset Management, wrote in e-mailed comments. "The rock is President Trump with an eye on the looming presidential election as well as an ECB set to ease policy in September, against a healthy U.S. economy that does not warrant rate cuts."
During a press conference on Wednesday, Powell didn't rule out further rate cuts. But he didn't commit to further rate cuts either. He characterized the latest reduction as a "mid-cycle adjustment."   
And that's what Trump didn't like, based on his tweets.  
"What the market wanted to hear from Jay Powell and the Federal Reserve was that this was the beginning of a lengthy and aggressive rate-cutting cycle, which would keep pace with China, the European Union and other countries around the world," Trump tweeted. "As usual, Powell let us down."   
According to BlueBay's Riley, the overarching theme is that the president and many investors just want more monetary stimulus -- to make sure that stock prices and other asset values keep going up. 
"Trump will not be satisfied by a `one-and-done' rate cut, nor will be the market, demanding monetary sugar," Riley said. "It is a tough time to be Fed chair."
From Trump's perspective, Powell isn't making it easy enough to be president.