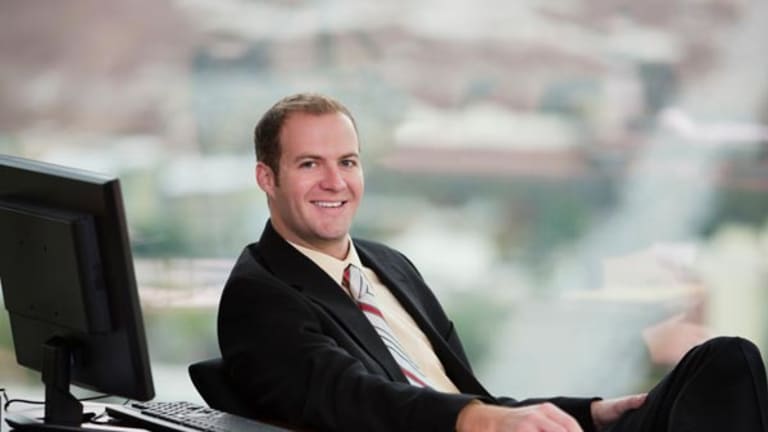 Advanced Micro a Chip Opportunity
The recent selloff has established this stock as a viable long-term value.
This column was originally published on RealMoney on April 21 at 1:31 p.m. EDT. It's being republished as a bonus for TheStreet.com readers.
Advanced Micro Devices
(AMD)
reported solid first-quarter earnings results last week, but near-sighted investors took the company's second-quarter flat revenue guidance as a cue to abandon ship. That selloff to $30.60 from $35.42 has made AMD one of the most compelling buys on my screen right now.
AMD's first-quarter earnings were impressive, and offered clear evidence that the company is kicking
Intel
(INTC)
around, as AMD reported EPS of 38 cents on revenue of $1.33 billion. This marked a 1% sequential top-line decline for AMD, but the real story was the company's 71% year-over-year top-line growth. (These growth rates exclude results from the company's spun-out flash memory business.)
Still, the AMD doubters put on the full-court press of negative coverage following the company's report. If it wasn't the company's gross margins being debated by bears, it was AMD's supposedly lackluster financial guidance or the potential for Intel to make a triumphant second-half return that sent shares lower. However, all of these arguments are rather easily debunked.
Let's examine Intel's report. The erstwhile bellwether saw its revenue decline 12% sequentially in the first quarter and cited a slowdown in PC sales for its declining revenue. But this doesn't really add up when you consider that AMD saw flat sequential revenue and IDC estimates that PC shipments grew by a double-digit percentage clip in the first quarter vs. year-ago levels. Intel's revenue declined 10% from year-ago levels, a product of both price cuts and market-share loss to AMD.
Margin Battle Is Marginal
The first point of contention was that AMD's gross margin of 58.5% for the quarter was goosed by lower-than-expected depreciation and amortization costs. AMD gave annual depreciation guidance in its fourth-quarter earnings release and said the guidance was front-end loaded, meaning more would hit the income statement in the first half of the year. Analysts therefore modeled a large depreciation expense in the first quarter, but AMD's depreciation was actually less than most analysts expected. For the record, Intel had a gross margin of 55.1%.
But rather than spending time arguing about the first-quarter gross margin results, I believe the key metric to focus on is that AMD raised its long-term gross margin target to a range of 55% to 60%. Conversely, Intel said gross margins will be in the 50% range, plus or minus 200 basis points.
Also, mining for bearish data points, such as lower depreciation expense, to support a negative thesis in this growth stock ignores the larger story. AMD is able to take market share while maintaining prices due to better products and a growing reputation as being on the cutting edge of next-generation chipsets while Intel is failing to protect its market share despite price cuts.
The second major bear argument is that AMD's second-quarter guidance was disappointing. I find this notion completely preposterous.
The company guided sales to be flat to slightly down vs. the first quarter. With Intel guiding for a 6.7% sequential revenue decline this quarter (the midpoint of the company's second-quarter top-line guidance range is $8.3 billion) and PC sales likely to be flat based on historical patterns, AMD is likely being conservative in its forecast. Either way, flat sequential second-quarter sales results are by no means a sign that AMD is losing its way or that Intel has suddenly come back as a formidable threat to take market share.
For the record, AMD grew sales by roughly 2% in the second quarters of 2005 and 2004. Intel's sales declined by 2% in the second quarter of 2005 and were down fractionally during the second quarter of 2004.
Server Growth Up
Aside from PCs, AMD is gaining so-called mindshare on the server side with its Opteron offering. Opteron is used in 90% of
Rackable Systems'
(RACK)
servers, which I consider a bullish tell on AMD's competitive positioning in the server space, particularly given Rackable's superior power and heat efficiency. Continued share take in the server space, where demand for higher powered servers is growing due to increased Web usage for voice and video capabilities, will be a large driver of revenue and market-share gains for AMD.
Even more impressive than AMD's continued market-share gains is the fact that the company's research and development (R&D) spending is just a fraction of Intel's. As I highlighted
on March 6, Intel has outspent AMD in the R&D department by $17.7 billion over the past five years. Going forward, this will be a competitive advantage for AMD over Intel as Intel, which is going to have to cut expenses as it rationalizes its declining market share, may have to cut back its R&D budget and thus miss out on opportunities to pull ahead of AMD on innovation.
AMD is also making the right moves to entrench itself as the key innovator in the processor space, a title once held by Intel. The company aligned itself with Massachusetts Institute of Technology and
Google
(GOOG)
as part of an initiative to build a $100 computer. While this may not be a meaningful revenue contributor anytime soon, it allows AMD to have its name mentioned aside Google for years to come.
The Numbers Favor AMD
One of the key comments I focused on during AMD's earnings conference call was management's goal of taking 35% market share in the next three to five years. Using PC market size estimates from Doug Freedman at American Technology Research, I built a spreadsheet to get an idea of what the processor market will look like in 2010.
Assuming AMD management, which is usually conservative with guidance, missed its target by 500 basis points and reaches only 30% by 2010, or about 3 1/2 years from today, I believe the company will be able to generate more than $3 a share in earnings. This assumes gross margins moderate to the low 50% range and that the entire market is worth $40 billion.
To compare AMD's earnings potential with Intel's, I used analyst consensus EPS estimates for 2006-08, and then grew Intel's earnings at an industry growth rate in 2009 and 2010. Based on this analysis, Intel will be able to generate $1.75 of EPS in 2010. This would mark a 14% earnings compounded annual growth rate (CAGR) from 2006 consensus forecasts for Intel vs. a 23% CAGR for AMD.
Even so, AMD shares trade for less than 10 times my earnings number, while Intel, which has inferior growth metrics and declining market share, is still going for more than 11 times my 2010 assumptions.
Before jumping into AMD, understand that I am not making a play on next quarter beating expectations or on Intel failing to get its next chipset, Conroe, to the market on time. Rather, this opportunity in AMD is best suited for investors with a multiquarter time horizon that can weather the cyclicality of the chip space without getting shaken out of the stock on an in-line quarter or flat revenue guidance.
P.S. from TheStreet.com Editor-in-Chief, Dave Morrow:
It's always been my opinion that it pays to have more -- not fewer -- expert market views and analyses when you're making investing or trading decisions. That's why I recommend you take advantage of our
to TheStreet.com's
RealMoney
premium Web site, where you'll get in-depth commentary
and
money-making strategies from over 50 Wall Street pros, including Jim Cramer. Take my advice --
William Gabrielski is a research analyst at TheStreet.com. In keeping with TSC's editorial policy, he doesn't own or short individual stocks. He also doesn't invest in hedge funds or other private investment partnerships. Under no circumstances does the information in this column represent a recommendation to buy or sell stocks. Gabrielski welcomes your feedback;
to send him an email.
Interested in more writings from William Gabrielski? Check out
and
TheStreet.com Breakout Stocks
.