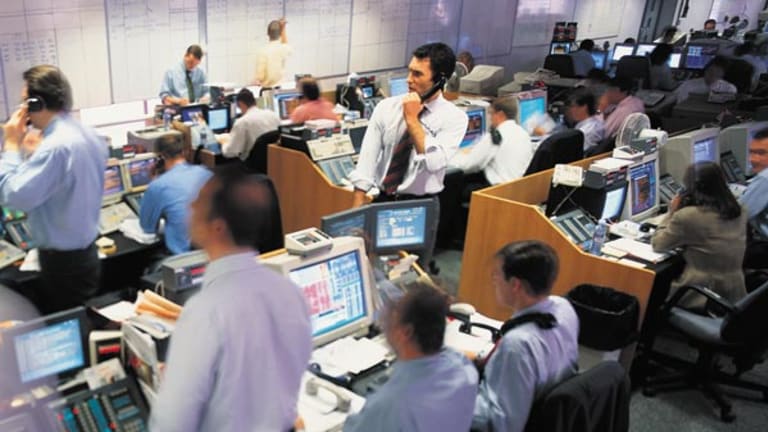 Activist Track: Coal Is the New Black
It's cool, goes with everything, and its related stocks have real assets behind them.
This column was originally published on RealMoney on June 12 at 2:05 p.m. EDT. It's being republished as a bonus for TheStreet.com readers.
Right now is exactly when we need to start buying stocks.
The bears have been ecstatic in the past few weeks, and here are all the worries.
Interest rate increases are going to lead to a bad situation for consumers. Every consumer who has an adjustable-rate mortgage is going to get a wake-up call over the next 12 months when his payments potentially double (from the 3.5% rate two to three years ago to the 6%-7% rate he's about to start paying). Housing prices will consequently collapse, and because the U.S. home-ownership rate is 69%, that could lead to bloodletting, as many homeowners realize they now have negative net worth and no feasible way to sell their properties without declaring bankruptcy. The trade deficit, combined with the rate increases in the European countries, combined with the persistent rumor that everyone is going to start paying for oil in euros, could lead to a collapse in the dollar unlike anything we've seen. All the large-cap companies, despite having excellent cash flows, are having stock issues for various reasons ( Microsoft (MSFT) - Get Microsoft Corporation Report delaying Vista, Exxon Mobil (XOM) - Get Exxon Mobil Corporation Report feeling regulatory fury because of its enormous profits, Intel (INTC) - Get Intel Corporation Report (trading at six times cash flows) getting competitive pressure from AMD (AMD) - Get Advanced Micro Devices Inc. Report).
The brutal market was made clear by John Mauldin in his excellent email newsletter in which he pointed out the declines in the worst markets this year:
It really hasn't been pleasant out there and, realistically, it's been relatively painless for the U.S., which is down only about 8% from its highs (10% for the Nasdaq). So that's right. Now is exactly when we need to start buying stocks. This is not 1999, when companies without cash flows were trading at $100 billion market caps and all you needed to do to go public and watch your stock soar was to put the word "cyber" in your name.
So where have all the cool companies gone? Right now, coal is the new cool, at least in the eyes of activist investors.
All the hedge funds are flocking to coal companies such as
James River Coal
(JRCC)
, which has activist fund Pirate Capital pushing for it to get bought.
Pirate, which has barely had a down month in its 3 1/2-year history, started acquiring shares of JRCC in the high $40s, and the stock now sits in the low $30s.
Then there's
Massey Energy
( MEE), where Third Point portfolio manager Dan Loeb is running for a seat on the board. In a recent filing, he criticized poor management guidance, extravagant CEO compensation and a delayed stock-buyback program as part of his reasons for running. He also refers to "Massey's Air Force" for the company's dealings with relatives, and other corporate governance issues as reasons for Massey's sluggish stock price.
And finally, Carl Icahn just announced that he owns 1.36 million shares of
Consol Energy
(CNX) - Get CNX Resources Corporation Report
, a company that mines, prepares and sells steam coal. With all three of these companies, the bull case involves valuing the coal under the ground which, particularly with oil in the $60s, could be worth more than the market caps of the companies. Although nobody in my high school days 20 years earlier would've accused me of being "cool," I am bullish on all three of these companies.
Some Cyber History
What makes the market different from the prior bear market is that these speculative companies that are attracting the best hedge funds as investors are markedly different than the cybers of yore. They have real assets, real cash flows and ultimately provide a buffer to any serious market pullback. And what happened to the cybers?
Didn't there used to be a whole bunch of large public companies that had the prefix "cyber" in them? Like whatever happened to that great company,
Cybernet Internet Services
(ZNET)
that provides Internet connectivity services. In 1999, it did a $150 million high-yield bond offering led by Morgan Stanley and Lehman Brothers. Today, it traded 580 shares for 1.9 pennies a share. Where did that $150 million go?
Or how about
Cyber Digital
(CYBD)
? It wasn't enough to be "cyber." It had to be "digital" also. The company, at 32 cents a share and with a $5 million market cap, recently announced that it placed a $103 million value on its CTSX system. The company did an analysis based on a comparable transaction, and J.C. Chatpar, president and CEO concluded, "Therefore, we believe that our CTSX system could be valued at $103 million. Yet, our current market cap is only $5 million, based on approximately 22 million shares outstanding at current stock price." Fascinating.
The other day I was reading an online piece from October 1999, called "VC Buzz." That day, Oct. 6, 1999, $211.4 million worth of VC deals were announced. And that was a slow day. Just in case they missed something, at the end of the article they asked, "Do you think
your
cool company ought to be featured in a VC Watch column?"
Times have changed indeed.
P.S. from TheStreet.com Editor-in-Chief, Dave Morrow:
It's always been my opinion that it pays to have more -- not fewer -- expert market views and analyses when you're making investing or trading decisions. That's why I recommend you take advantage of our
to TheStreet.com's
RealMoney
premium Web site, where you'll get in-depth commentary
and
money-making strategies from over 50 Wall Street pros, including Jim Cramer. Take my advice --
James Altucher is a managing partner at Formula Capital, an alternative asset management firm that runs several quantitative-based hedge funds as well as a fund of hedge funds. He is also the author of
Trade Like a Hedge Fund
and
Trade Like Warren Buffett
. Under no circumstances does the information in this column represent a recommendation to buy or sell stocks. Altucher appreciates your feedback;
to send him an email.
Interested in more writings from James Altucher? Check out his newsletter, TheStreet.com Internet Review. For more information,
.
TheStreet.com has a revenue-sharing relationship with Trader's Library under which it receives a portion of the revenue from purchases by customers directed there from TheStreet.com.