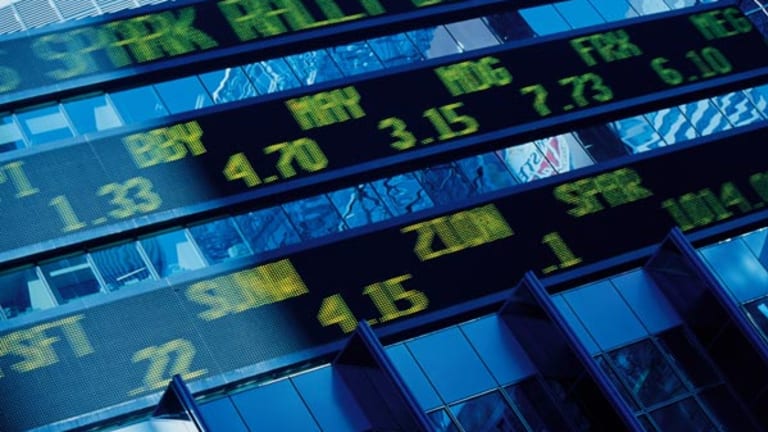 Activision's 'Guitar Hero' Rocking Hard
The industry's latest data show that growth is still ramping.
This column was originally published on RealMoney on April 20 at 1 p.m. EDT. It's being republished as a bonus for TheStreet.com readers. For more information about subscribing to RealMoney, please click here.
The video-game industry continues to shine, but the truly bright spot is
Activision
(ATVI) - Get Activision Blizzard, Inc. Report
.
According to market-research outfit NPD, which released its monthly video-game sales data last night, the industry posted year-over-year software sales growth of 15%, ahead of analysts' expectations. However, Activision was the star of the show, with year-over-year sales rising a whopping 149% on the back of the
Guitar Hero 2
juggernaut.
NPD's March sales period ended April 7, so the first four days of sales of the new
Guitar Hero 2
Xbox 360 version were included in the March numbers. It was a hell of a four-day run. The game sold 291,000 units, making it the third-best-selling game of the month in terms of units, despite being supply constrained, likely due to a shortage of the accompanying toy guitar. Gamers were not scared away by its average selling price of $87.77, which resulted in the game's second-place rank in terms of dollar sales, trailing only
God of War 2
for the PS2.
A Major Hit
For those who aren't familiar,
Guitar Hero
is a rhythm/music game in which the user hits buttons on a toy guitar to "play" along with rock songs. You can watch an 8-year-old playing the game
here.
Why is
Guitar Hero
so hot? In my opinion, there are a number of factors driving it. First, the game appeals to a huge variety of people. Casual gamers find it fun to goof around with songs they like, and hardcore gamers probably like to obsess over nailing songs on the hardest difficulty levels.
Plus, like the
Nintendo
Wii, it has an innovative input device (the toy guitar) that generates a lot of interest because there isn't anything else like it on the market. This makes it friendly to nontraditional gamers who find typical video-game controllers to be a bit overwhelming."Guitar Hero" has also gotten a huge boost from retailers such as
Best Buy
(BBY) - Get Best Buy Co., Inc. Report
that feature the game on impressive home-theater setups, giving people a chance to try it. Such demo stations often can get quite crowded.
One high-profile fan is Detroit Tigers relief pitcher Joel Zumaya, who reportedly missed three games in last year's American League Championship Series last year because he hurt his wrist and forearm playing too much
Guitar Hero
. Also, last November,
The Wall Street Journal
ran a story discussing
Guitar Hero
's popularity among rock bands such as Korn and My Chemical Romance.
In reaction to the impressive March results, analysts are bumping up their Activision numbers. For the fourth quarter ended in March, Bear Stearns now sees Activision losing 2 cents a share on $272 million in revenue, compared with its previous estimate of a 9-cent loss on $207 million in sales. And Credit Suisse's forecast went from a loss of 9 cents a share on $201 million in revenue to a loss of 4 cents a share on $245 million in revenue.
So what's next for Activision? I'm willing to bet that
Microsoft
(MSFT) - Get Microsoft Corporation Report
will soon allow Activision to release a wireless version of the accompanying toy guitar in reaction to the franchise's momentum. As for the stock, I'm holding but not buying for the
Breakout Stocks newsletter. It's a lot more fun riding momentum than chasing it. Whatever the stock does, consider booking profits ahead of fourth-quarter results, as the stock is really starting to price in upside.
Rising Tide Isn't Lifting All Boats
But not every software company is sharing the spotlight with Activision.
Electronic Arts
(ERTS)
saw a 28% decline due to a tough year-over-year comparison. It only had one title in the top 10 by unit sales, fighting game
Def Jam Icon
, and
NBA Street Homecourt
wasn't much of a hit.
Despite that disappointment, I still like Electronic Arts. The company doesn't seem to be able to deliver a breakaway hit big enough to move the needle, but that may change this holiday season with
Rock Band
, a partnership with
MTV
and others aimed at emulating the huge success of the
Guitar Hero
. However, as I'll discuss in an upcoming article on the holiday-season game lineup, Electronic Arts could have a tough time competing with
Guitar Hero 3
, which should arrive ahead of the holidays on multiple platforms.
From a sentiment standpoint, investors seem to have fairly low expectations for Electronic Arts, which for some time has been outmaneuvered by smaller rivals such as Activision, which can squeeze huge quarterly numbers out of just a few hit titles.
Over on the hardware side, there wasn't much excitement for next-generation consoles, though the software numbers fortunately imply that existing owners continue to buy plenty of games. In March, Microsoft's Xbox 360 sold 199,000 units at retail, though that pace may pick up in April due to gamers waiting for the console's "elite" version, which features an HDMI port, a larger hard drive and a black finish.
I was disappointed by sales of Nintendo's Wii, which clocked in at 259,000 units, though it is possible that Nintendo held back supply until its new fiscal year, which began this month. And in contrast to its recent successful European launch,
Sony's
PS3 was a bit of a stinker at 130,000 units, despite what I perceive to be decent supply at retail.
In last-generation hardware land, the Nintendo DS portable continued to impress with 508,000 units sold, and the Sony PlayStation 2 continued to outperform its next-gen counterparts with 280,000 units sold. The Sony PSP portable moved 180,000 units.
But the big takeaway from the month is that
Guitar Hero
is turning into an even bigger monster than I expected. Gamers are showing absolutely zero resistance to its $90 price tag, which in general bodes well for next-generation AAA-quality titles. When it takes just four days to have the second-best performing game of the month, something good is definitely happening.
In keeping with TSC's editorial policy, Michael Comeau doesn't own or short individual stocks. He also doesn't invest in hedge funds or other private investment partnerships. Comeau is a research analyst at TheStreet.com. In this role he performs stock analysis for
, and is also a regular contributor to RealMoney.com. Prior to his arrival at TSC in June 2004, Comeau worked as a Consultant to Toyota Motor North America, performing in-depth research on automotive industry issues, primarily in the areas of alternative engine technologies, competitive analysis and macroeconomics. His primary market interests include consumer technology, specialty retail, and small-caps. Comeau received a bachelor's degree in Finance from Brooklyn College, and has completed Level 1 of the CFA program.. He appreciates your feedback;
to send him an email.