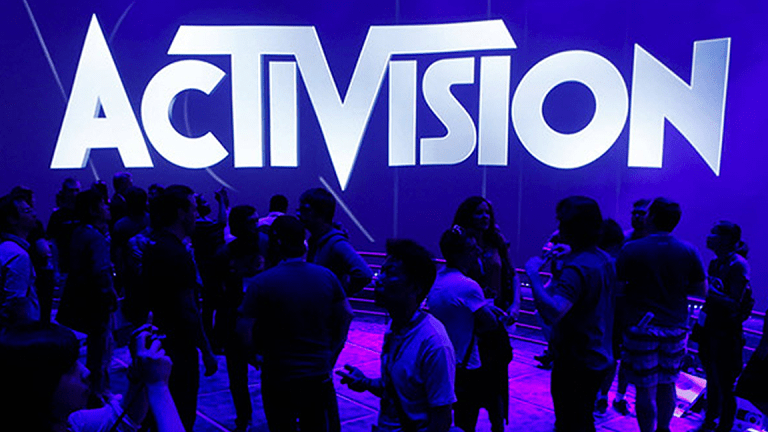 Activision Blizzard to Report Earnings After Peers EA and Take-Two Disappoint
Activision reportedly plans to cut jobs in the face of slowing sales growth, as it and its major rivals face pressure from Epic's mega popular Fortnite.
Video game maker Activision Blizzard Inc. (ATVI) - Get Report  reports fourth quarter earnings on Tuesday, and investors will be watching closely after two of its peers issued disappointing reports last week that caused their stocks to tumble. 
Last Thursday, Bloomberg reported that Activision planned to cut hundreds of jobs owing to flat to declining sales growth for games such as Overwatch and Hearthstone, citing sources familiar with the matter. The stock fell 9% on the news.
Analysts are expecting Activision, the maker of Call of Duty, World of Warcraft, and Overwatch, to report adjusted earnings-per-share of $1.28, representing 37% year-over-year growth, and revenue of $3.04 billion, up 15%. 
At a recent Goldman Sachs investor conference, analysts said "there was largely an agreement that there were few near-term product catalysts" for Activision. They added that "the feedback on the upcoming quarter was largely cautious with concerns about how 2019 guidance would be interpreted," Goldman said.
Activision shares were down 2.3% to $42.40 in morning trading on Monday and are down 37% over the last year.
Mega-popular video game Fortnite, made by Tencent Holdings' LTD-backed  (TCEHY) Epic Games Inc., seem to be eating into market share for the other video game makers.
Last Tuesday after the close, Electronic Arts Inc. (EA) - Get Report reported disappointing earnings, posting EPS of 86 cents, badly missing estimates of $1.94. Revenue was $1.3 billion, missing analysts estimates of $1.8 billion. Even worse, EA's full year 2019 guidance was for $4.9 billion, against expectations of $5.2 billion. 
Shares of EA fell 14% last Wednesday to $79.26, before popping on a quick positive turn of events. On Friday, EA announced that its new battle royale game Apex Legends had already attracted 10 million players in its first 72 hours. The stock did a 180 -- and then some -- gaining 26% on Friday. On Monday, EA shares rose another 8% to $105.53 as Bank of America upgraded EA from neutral to buy and raised its price target from $95 to $110 because of Apex Legends' success. 
Meanwhile on Wednesday, Take-Two Interactive Software Inc. (TTWO) - Get Report  , the maker of the popular Red Dead Redemption and Grand Theft Auto games, also plunged as the company gave a weaker-than-expected outlook for full year 2019 of EPS of between 67 and 77 cents, while analysts were looking for 84 cents.  
Take-Two shares fell 13% last Wednesday to $92.53 a share before recovering slightly. Shares were down 2.5% to $94.76 on Monday morning.  
Watch Jim Cramer's Daily NYSE Show and Replays Below