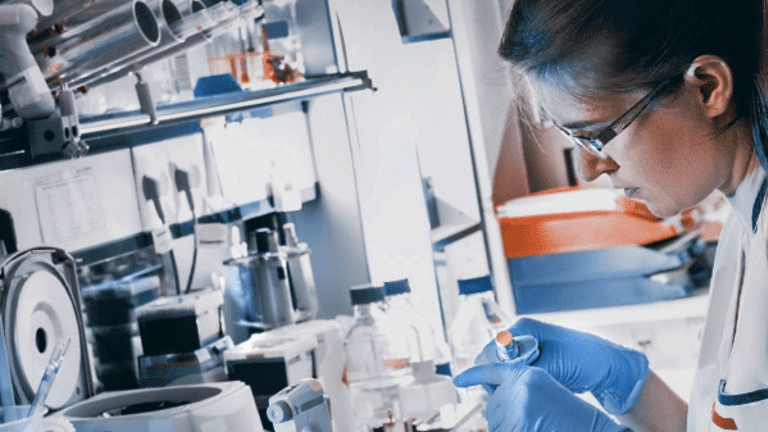 Actelion Restarts Possible Merger Talks With Johnson & Johnson
The Swiss biotech says it's in exclusive talks with J&J about a possible 'strategic transaction.'
Actelion (ALIOY)  said Wednesday that it has re-entered talks with Johnson & Johnson (JNJ) - Get Report that could lead to a "strategic transaction."
The statement comes just a week after the two groups ended talks that could have led to a $27 billion takeover of the Allschwil, Switzerland-based firm and ignited speculation of a counter bid from France's Sanofi  (SNY) - Get Report .
"Actelion has entered into exclusive negotiations with Johnson & Johnson regarding a possible strategic transaction," the company said in a brief statement. "There can be no assurance any transaction will result from these discussions. Actelion does not intend to make any additional comments regarding these discussions unless and until it is appropriate to do so, or a formal agreement has been reached."
Actelion shares closed 6.44% higher in Zurich Wednesday, changing hands at Sfr214.79 each and 2% below the record high it touched last week as the Sanofi speculation intensified.
Actelion shares have rallied some 36% since merger speculation first linked it to J&J, but its market value still sits around $4 billion below the Sfr253 price J&J was reported to have bid and $6 billion shy of the $30 billion value Sanofi was said to be contemplating.
"With its rare disease leadership in PAH (Pulmonary Arterial Hypertension), long product lives of key products Opsumit and Uptravi, and revenue growth outlook, we continue to believe that Actelion could be strategically attractive to a number of potential acquirers," Goldman Sachs said in a research note published last week.
Sanofi's CEO Olivier Brandicourt said in October that he was looking for acquisitions and was ready to "act rather swiftly."
France's biggest drug maker also proved its willingness to spend earlier this year when it launched a hostile bid for San Francisco biotech Medivation Inc., before seeing its offer fail after rival Pfizer Inc. (PPE) agreed a $14 billion deal.
French broker Exane BNP Paribas said in a note last week that the rationale for a Sanofi bid for Actelion was beyond doubt but questioned whether the bidder would be willing to improve on the about $27 billion that had been offered by J&J.
Shares in the French pharmaceutical group were marked 0.62% lower in Paris at €75.12 each while Johnson & Johnson slipped 0.33% in New York to $115.25.