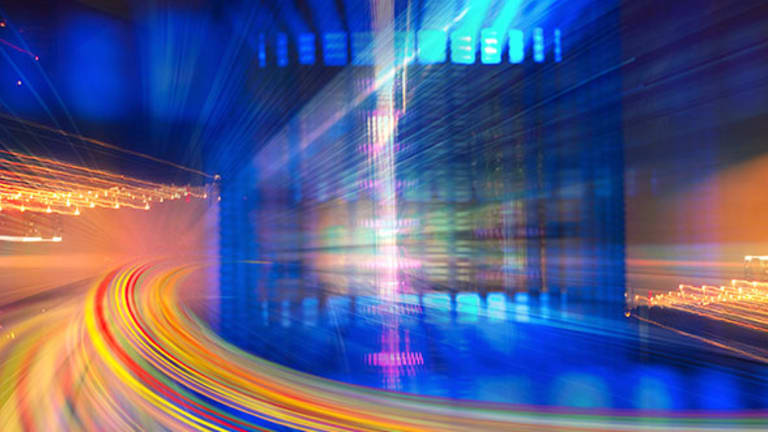 Acacia Communications (ACIA) CEO Shanmugaraj to CNBC: 'We are Enthusiastic About Growth'
Acacia Communications (ACIA) CEO Raj Shanmugaraj joined CNBC's 'Squawk Box' Friday morning to discuss the company's 2016 second-quarter earnings results.
NEW YORK (TheStreet) --Acacia Communications (ACIA) - Get Acacia Communications, Inc. Report CEO Raj Shanmugaraj joined CNBC's "Squawk Box" on Friday morning to break down the company's better-than-anticipated second-quarter earnings results, which were reported after the market close on Thursday.
The company posted earnings of 77 cents per share on revenue of $116.2 million, crushing estimates for earnings of 30 cents per share on revenue of $85.8 million.
Acacia develops silicon-based digital processors that process light signals coming in and out of routers, as well as other devices. Essentially the technology makes it easier and more economical for network providers to construct systems.
"We have two technologies: one is a DSP ACICS which is a silicon-based signal processor that processes the light signal. We also have low-cost silicon photonics optics which reduces the cost. So we have high-performance, and because everything is silicon-based, we can get high performance at lower cost," Shanmurgaraj explained.
The lower cost element is perhaps the most important, he noted. This is because as companies begin to develop more and more cloud computing technologies, the bandwidth requirements will increase. Acacia can satisfy those demands but at a lower cost.
"The demand for bandwidth, both within in cities and the data centers continues to be very strong. Thus we increased capacity to be able to support this demand. We had some constraints late last year, but we were able to scale and execute very well to meet said demand," Shanmurgaraj said.
He then commented on the roughness of the industry regarding the company's ability to deliver growth and revenue.
"It is a choppy business, but we are seeing multiple engines of growth. We have the metro players around the globe; we are seeing significant demands in emerging countries like China, and we have the data centers. So these multiple engines of growth smooth out the choppiness."
Shanmurgaraj concluded by providing his outlook for future quarters.
"We are expecting similar growth in the third quarter. If you look at the macro level the demand for bandwidth continues to grow so we are enthusiastic about the growth of the company," he said.
Shares of Acacia Communications are skyrocketing by 23.07% to $83.32 in pre-market trading Friday morning.