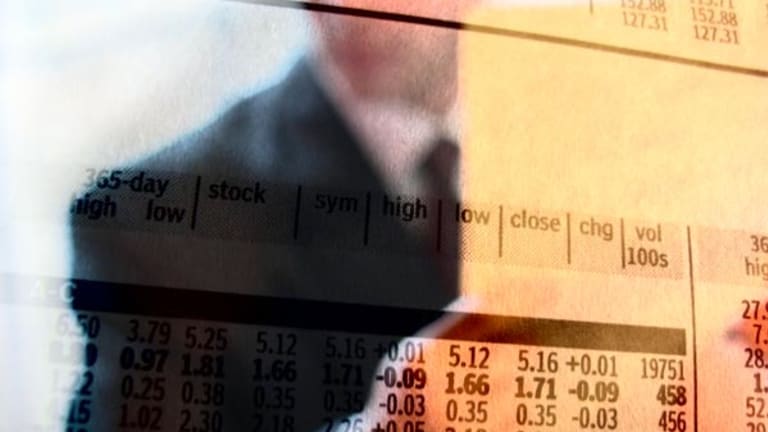 A Week to Forget
Slocks slump during the first week of the new year as inflation worries suddenly emerge.
Updated from 4:06 p.m. EST
Stocks closed lower for the day and week Friday in a volatile session, as investors tried to determine what weaker-than-expected nonfarm payroll data might mean for
Fed
policy.
After snapping a six-session losing streak Thursday, the
Dow Jones Industrial Average
shed 18.92 points, or 0.2% to 10,603.96. The
fell 1.70 points, or 0.1%, to 1186.19, while the
Nasdaq
lost 1.39 points, or 0.07%, to 2089.
For the first week of 2005, the Dow lost 1.7%, the S&P 500 lost 2.1% and the Nasdaq tumbled 3.9%.
In other markets, the 10-year Treasury note sunk 3/32 in price to yield 4.27%, while the dollar weakened further against the yen and euro. Oil, which added more than $2 a barrel Thursday, ended down 13 cents at $45.43 a barrel.
Volume on the
NYSE
was 1.48 billion shares, with decliners beating advancers by a ratio of 10-to-7. Volume on the Nasdaq was 2.19 billion shares, with decliners outpacing advancers 3-to-2.
The economy created 157,000 jobs in December, less than the 175,000 expected by economists, the Labor Department said. November's gain, however, were revised higher, from 112,000 to 137,000. The jobless rate remained at 5.4% -- as expected -- in December. Wage pressure remained minimal as average hourly earnings rose just 0.1%.
Early market reaction to the data was positive in what was seen as a well-timed tonic for a suddenly anxious market this week.
"It was a Goldilocks report," said Larry Wachtel, senior market analyst with Wachovia Securities. "If it was up over consensus, it becomes a Fed concern about inflationary pressures and bonds would respond. If it was too weak, then it would be clear that corporations weren't hiring. You walk a fine line; too much good news is bad news. We got somewhat in the middle, and we're seeing the proper response from that."
The optimistic interpretation aside, there's been growing debate that the market is experiencing tax-related selling after a big runup in late 2004. Stocks' slow fade Friday afternoon echoed daily patterns from earlier in the week.
One reason for the weakness was the release of Federal Reserve minutes Tuesday showing concern among policymakers about possible speculative excess in asset markets.
In corporate news Friday, health maintenance organization
WellPoint
(WLP)
lowered fourth-quarter earnings guidance to 90 cents a share, citing the cost of a debt buyback. The company previously put earnings at 95 cents to $1 a share. Wellpoint was up 40 cents, or 0.3%, to $115.80.
Tiffany
(TIF)
said sales for November and December rose 6% from a year ago, while overall sales rose 12% to $673.8 million. In the U.S., same-store sales rose 8% from a year ago over the two months. Tiffany gained $1.20, or 4%, to $31.50.
Among Wall Street research Friday, Bank of America initiated
H&R Block
(HRB)
at sell, citing a slowdown in new business and possible margin pressure. The brokerage set a $42 price target on shares that finished at $46.72, down $1.07, or 2.2%.
Biogen-Idec
(BIIB)
was upgraded to buy at First Albany on expectations for strong early sales of the multiple sclerosis treatment Tysabri. The firm raised its price target to $79 from $65. The stock rose 90 cents, or 1.4%, to $66.09.
Brocade Communications
(BRCD)
shares fell sharply after the company said it would restate its results for fiscal years 2002 and 2003. The restatements will account for additional stock-based compensation expenses found during an internal review. Shares lost 52 cents, or 7.5%, to $6.40.
Taser
undefined
said Friday it is cooperating with a
Securities and Exchange Commission
inquiry into statements the company made about the safety of its stun guns. Taser was plummeted $4.90, or 17.7%, to $22.72.
First Albany raised its earning estimate for
Apple's
(AAPL)
fiscal first quarter to 50 cents from 47 cents, basing the increase on strong iPod sales. Apple has projected earnings from 39 cents a share to 42 cents a share.The stock rose $4.70, or 7.3%, to $69.25.
Rivals
UPS
(UPS)
and
FedEx
(FDX)
were both upgraded to overweight from equal weight by Morgan Stanley as the broker rebalanced its transportation holdings. UPS was lost 16 cents, or 0.2%, to $83.50. FedEx also fell, down 28 cents, or 0.3%, to $94.91.
Immucor
(BLUD)
reported second-quarter earnings of $4.2 million, or 9 cents a share, up from $3.4 million, or 7 cents a share, from one year ago, missing the Thomson First Call estimate of 11 cents a share. The company also said it found $730,000 in improperly recorded transactions after reviewing accounting at its Italian unit. Immucor expects earnings of 51 cents to 55 cents a share on $138 million to $143 million for fiscal-year 2005. Shares gained $1.70, or 7%, to $25.91.
Overseas markets closed mixed, with London's FTSE 100 up 0.2% to 4837 and Germany's Xetra DAX rising 0.1% to 4305. In Asia, Japan's Nikkei fell 0.5% overnight to 11,433, while Hong Kong's Hang Seng lost 1% to 13,575.