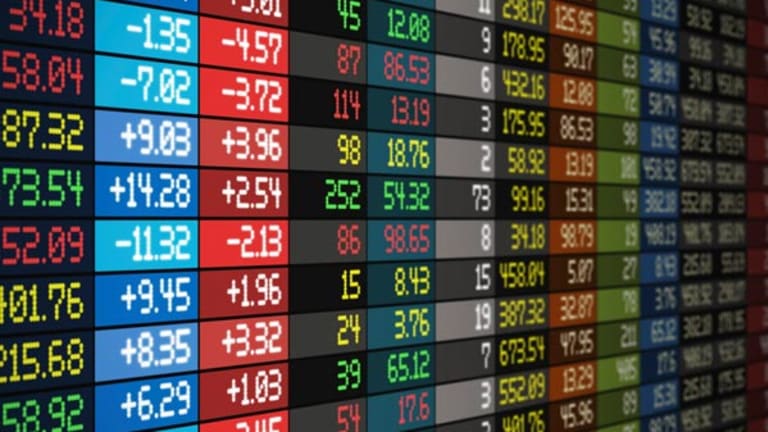 A Tentative Advance for Stocks
Crude's fall helps offset Amazon's disappointment and a weak durable-goods report.
Updated from 3 p.m. EDT
Stocks closed modestly higher Wednesday as a sharp decline in oil prices helped the market overcome worse-than-expected economic data and a mixed bag of earnings results.
The
Dow Jones Industrial Average
rose 47.67 points, or 0.5%, to 10,198.80, the
S&P 500
added 4.64 points, or 0.4%, to 1156.38, and the
Nasdaq Composite
gained 2.99 points, or 0.2%, to 1930.43. All three major indices began the trading session in the red before reversing. The 10-year Treasury note rose 9/32 in price to yield 4.23%, while the dollar was weaker against the yen and stronger against the euro.
"We fell in the morning on the durable goods, but we came back on the fall in oil," said Larry Wachtel, senior market analyst with Wachovia Securities. "It's a back-and-forth market, but regardless, it still is downward trending. The reversal today was great, but there isn't going to be a big turnaround to give us a full-blown bull."
Trading volume on the
New York Stock Exchange
was 2.09 billion shares, with advancers beating decliners by a 9-to-8 margin. Volume on the Nasdaq was 1.77 billion shares, with decliners outpacing advancers 8 to 7.
Crude oil prices plummeted after weekly inventory reports showed another increase in inventories. The Department of Energy reported that crude supplies increased by 5.5 million barrels for the week ended April 23. Meanwhile, gasoline inventories fell 300,000 barrels, while distillate supplies fell 1.4 million barrels. The June contract closed down sharply by $2.59 to $51.61 a barrel, a 4.8% decline; the decline accelerated in the afternoon as President Bush urged passage of comprehensive energy legislation, including increased use of nuclear power.
"The fact that the price of oil is crashing has turned us around," says Peter Cardillo, chief market analyst with S.W. Bach & Co. "We were approaching the low of our recent trading range, so the market is basically rallying from lows. I think we're just going to tread water in a choppy market here. It's just a question of seeing whether or not we've entered a slow patch after the durable-goods number and ahead of more economic data this week."
Strong sectors Wednesday included health care, drugs, utilities and telecom services. Weaker ones included energy, materials, airlines and biotech.
Stocks opened lower after durable-goods orders for March came in far below expectations. The Census Bureau said Wednesday that orders fell 2.8% in March, the largest drop since September 2002. Economists expected a 0.3% rise from the previous month's revised 0.2% decline. Excluding transportation, orders dropped 1%, also below the consensus of a 0.5% increase.
"Orders are slowing but they are not falling," says Ian Shepardson, chief economist with High Frequency Economics. "Markets will react, but these data are unreliable. Expect a hefty April rebound."
Winners and Losers
Investors had to sift through another mixed bag of earnings reports Wednesday. First,
Amazon.com
(AMZN) - Get Report
said it earned 18 cents a share in the first quarter, including a tax expense of $56 million, matching analysts' expectations. Revenue rose 24% to $1.9 billion from $1.53 billion a year ago, also in line with analyst estimates. Excluding a $30 million benefit from foreign-exchange rates, revenue gained 22% over last year. Amazon dropped, however, on concern about its shrinking profit margins. Shares lost 99 cents, or 3%, to $31.72.
"The earnings season has gone better than expected," says Michael Sheldon, chief market analyst with Spencer Clarke. "Companies in the S&P 500 are beating
estimates by 6.1%. However, a number of high-profile misses combined with weak economic news over the past few months has created greater uncertainty among investors."
General Electric's
(GE) - Get Report
CEO and Chairman Jeff Immelt said Wednesday that the U.S. economy is "still pretty strong," adding that orders at GE were expected to meet 2005 forecasts, according to
Briefing.com
. Immelt's comments helped boost the Dow in afternoon trading. Shares of GE rose 22 cents, or 0.6%, to $36.40.
In other earnings news,
Verizon
(VZ) - Get Report
posted a first-quarter profit of $1.76 billion, or 63 cents a share, up from $1.12 billion, or 43 cents a share, in the same quarter a year ago. Revenue rose 6.6% from a year ago to $18.17 billion. The figures beat the Thomson First Call analyst consensus estimate, which called for a 60-cent profit on sales of $18.11 billion. Verizon added $1.22, or 3.6%, to $35.22.
Boeing
(BA) - Get Report
on Wednesday reported first-quarter earnings of $535 million, or 66 cents a share, down from a year-ago profit of $623 million, or 77 cents a share. The company said results include charges totaling 7 cents, all related to ending its venture capital investments and the sale of its Electron Dynamic Devices business. The Thomson First Call consensus estimate was for a profit of 55 cents a share. Shares of Boeing gained 66 cents, or 1.1%, to $59.66.
Shares of
Phelps Dodge
( PD) traded lower despite the company posting first-quarter earnings that doubled last year's results. Phelps Dodge reported net earnings of $386.7 million, or $3.83 a share, up from $185.7 million, or $1.90 a share, a year ago. Operating income rose 74% year over year to $549 million, as revenue increased to $2.07 billion from $1.6 billion. The Thomson First Call consensus was for earnings of $3.35 a share and revenue of $2.07 billion. Still, shares fell $3.70, or 4.1%, to close at $85.54.
Communications-equipment maker
Corning
(GLW) - Get Report
reported first-quarter earnings of $249 million, or 17 cents a share, compared with $55 million, or 4 cents a share, a year earlier. Revenue for the quarter was $1.05 billion. Analysts expected 16 cents a share on revenue of $1 billion, according to Thomson First Call. Corning was up $1.01, or 8%, to finish at $13.57.
STMicroelectronics
(STM) - Get Report
reported a first-quarter loss of $31 million, or 3 cents a share, vs. a profit of $77 million, or 8 cents a share in the same quarter a year ago. Excluding charges, the company earned 4 cents a share. The Thomson First Call consensus called for earnings of 7 cents a share on revenue of $2.15 billion. Shares of STMicro fell 87 cents, or 5.6%, to $14.74.
Boosted by a large legal settlement,
InfoSpace
(INSP) - Get Report
said it earned $93.9 million, or $2.52 a share, in the first quarter, compared with $36.7 million, or $1.03 a share, a year ago. Revenue for the quarter was $87 million. Excluding certain items, including the settlement, the company earned $16.6 million, or 45 cents a share. Analysts expected earnings of 37 cents a share on revenue of $86 million, according to Thomson First Call. The company expects a second-quarter profit of 36 cents to 39 cents a share on revenue in the range of $83 million to $85 million. Analysts expected a profit of 42 cents on revenue of $91.7 million.
Brokerage First Albany cut its rating for InfoSpace to neutral, while Oppenheimer downgraded shares to neutral from buy. InfoSpace tumbled $12.29, or 27.3%, to $32.70.
Outside of tech,
WellPoint
(WLP)
reported first-quarter net income of $611.7 million, or $1.97 a share, compared with $295.6 million, or $2.08 a share, a year ago. The latest quarter included tax benefits of 9 cents a share. First-quarter revenue jumped to $11.1 billion from $4.57 billion last year. Analysts expected earnings of $1.83 per share on sales of $11.25 billion, according to Thomson First Call. The big HMO also raised second-quarter guidance and set a 2-for-1 stock split. WellPoint rose $6.42, or 5.4%, to $124.45.
For-profit education company
Corinthian Colleges
(COCO)
Wednesday said fiscal fourth-quarter earnings, due to be reported in June, would fall in the range of 20 to 22 cents a share, below analysts' EPS projections of 24 cents. The company cites slowing enrollment growth for the downward change in its outlook. Shares of Corinthian College dropped $2.84, or 16.8%, to $14.02.
Other biggies due to report Wednesday include
Starbucks
(SBUX) - Get Report
,
Anheuser-Busch
(BUD) - Get Report
,
Chiron
( CHIR) and
JDS Uniphase
(JDSU)
, all of which report after the bell.
Overseas markets were lower, following along with U.S. markets that saw another selloff Tuesday. In Europe, London's FTSE 100 dropped 1.2% to 4789, while the German DAX gave up 1.1% to 4189. In Asia, Japan's Nikkei slipped 0.3% to 11,005, and Hong Kong's Hang Seng lost 0.1% to 13,840.
On Tuesday, the Dow Jones Industrial Average fell 0.89% to 10,151.13; the S&P 500 fell 0.89% to 1151.74; and the Nasdaq lost 1.2% to 1927.44. The major indices fell sharply during the last hour of trading. The last time the Dow posted two gains back to back was on April 6 and April 7.
Earnings reports due Thursday include
Microsoft
(MSFT) - Get Report
,
Procter & Gamble
(PG) - Get Report
,
Bristol-Myer Squibb
(BMY) - Get Report
,
Coca-Cola Enterprises
(CCE)
,
Comcast
(CMCSA) - Get Report
,
Exxon Mobil
(XOM) - Get Report
and
Marathon Oil
(MRO) - Get Report
.
Also on Thursday, the Commerce Department is expected to report on the U.S. gross domestic product for the first quarter. Economists expect a decline to 3.5% from the fourth-quarter's final GDP reading of 3.8%. Also expected Thursday is the Labor Department's initial jobless claims report for last week, expected to show an increase to 320,000 new claims.