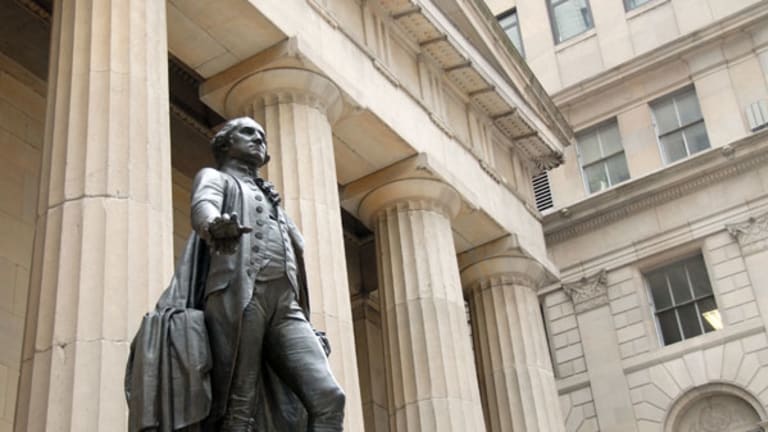 Publish date:
A Small-Cap Stock With Very Big Potential
This beaten-down small-cap stock is sporting a bullish technical setup.
This beaten-down small-cap stock is sporting a bullish technical setup.
DELAFIELD, Wis. (Stockpickr) -- My favorite way to trade small-cap stocks is to look for beaten-down names with potential catalysts that also have bullish charts or technical setups.
>>5 Stocks Under $10 Ready to Explode
Many traders and investors avoid small-cap stocks because they think they're just too risky to play. But some of the largest gains can come from small-cap stocks, and they can happen in very short timeframes. These are the type of gains that can build great wealth, but like anything else in the markets, they must be attacked with a disciplined trading approach.
To illustrate how great trading small-caps can be, take a look at the returns investors have racked up in small-cap alternative energy player Plug Power (PLUG) - Get Plug Power Inc. Report over the last six months. This small-cap stock was trading at 45 cents per share last November and have since exploded higher, tagging a new 52-week high at $11.72 a share. Shares of PLUG have racked up an incredible gain of 1,017% over the last six months. You're not going to capture gains like that in shares of Microsoft (MSFT) - Get Microsoft Corporation (MSFT) Report or Apple (AAPL) - Get Apple Inc. (AAPL) Report.
>>Side-Step the Selling With These 5 Big Trades
One small-cap stock that could have monster potential from current levels is American Apparel (APP) - Get Applovin Corp. Report, which designs, manufactures, distributes, retails and sells branded fashion basic apparel products, and clothing and accessories for women, men, children, and babies. This stock is a small-cap equity all around since its current market cap is just $92 million and it enterprise value is $346 million. Shares of American Apparel have been hit hard by the bears so far in 2014, with the stock down sharply by 56%.
Shares of American Apparel have been slammed lower by the bears for good reason. The CEO, Dov Charney, is very controversial, and the company has failed to execute on its business plan. The firm has been in such dire straits that the risk of defaulting on its debt was a serious concern. However, American Apparel recently won the confidence of FiveT Capital AG, a Switzerland-based asset management firm that has accumulated a 12.69% stake in the struggling retailer. FiveT took its stake in American Apparel by purchasing 26 million shares from the company's recent stock offering of 61 million shares at 50 cents per share. That offering has helped the company raise over $28 million in cash to help pay down its high-interest debt. FiveT's large stake could be a vote of confidence that the company is on the right track to a successful turnaround story.
American Apparel recently had more good news. Last week, the New York Stock Exchange said that American Apparel was in compliance with the continued listing standards of NYSE MKT. American Apparel had been warned in February that it could be delisted if it didn't get its financial situation in order, but it now looks like the offering has taken care of that concern.
American Apparel also recently announced its preliminary sales for the month ended on March 31. The firm said comparable sales dropped 5%, but its net sales from its online business were up 16%. Wholesale net sales increased 11% for the month, and total sales were $49.6 million, which was unchanged vs. the same period in 2013. American Apparel is clearly driving online sales by using popular social media sites like Instagram, where it has 921,000 followers and Twitter, where it has 481,000 followers.
If American Apparel can get its balance sheet in order and find more creative ways to drive sales both on the U.S. and abroad, then this company could well be on its way to finding some momentum for an already popular brand. The old ways of doing things for American Apparel, which included shock marketing and a loud CEO, will have to change, and it looks like that's happening. American Apparel can now leverage its brand with trending celebrities and social media to reinvent itself and enter a new age for the company.
>>5 Rocket Stocks Worth Buying This Week
As much as I like to glance at the fundamentals of any company, the main driving factor that's going to get me into a trade or an investment is the technical chart setup for the stock. This is what's piquing my interest in shares of American Apparel here, since the chart is starting to look extremely attractive, especially in the short-term for a large move higher.
If you take a look at the chart for American Apparel, you'll notice that this stock has formed a major bottoming pattern over the last month, with shares finding support and buying interest each time it has traded down towards 46 to 47 cents per share. Those support levels have held for shares of APP on all the recent pullbacks. Shares of APP are now starting to spike higher today with heavy upside volume. Volume so far has already eclipsed 3.8 million shares, which is well above its three-month average action of 1.70 million shares. This spike is quickly pushing shares of APP within range of triggering a major breakout trade above some key near-term overhead resistance levels.
Traders should now look for long-biased trades in APP as long as its trending above those key support levels at 47 to 46 cents per share and then once it breaks out above some major near-term overhead resistance at 54 cents per share with high volume. Look for a sustained move or close above that level with volume that hits near or above its three-month average action of 1.70 million shares. If that breakout materializes soon, then APP will set up to re-fill some of its previous gap-down-day zone from March that started at 80 cents per share. That 54 cent level also happens to coincide with another key technical indicator: APP's 20-day exponential moving average.
Shares of APP could easily explode higher if it can take out 54 cents per share on a closing basis. The reason being, then the stock will have a shot at trending into that gap-down-day zone and anyone who's shorted the stock recently might get a little concerned seeing a high-volume move into that gap. You also have to consider how beaten-down shares of APP are here, since the stock has been hammered lower by the bears over the last year from over $2 a share to its recent low of 46 cents per share. If APP can start to move into that gap with volume, then this stock can rocket higher easily. Some possible near-term targets are 65 to 70 cents per share, or even 80 cents per share.
The bottom line: Shares of APP are starting to look very attractive from a technical basis in the short-term and the company now has the backing of a large asset manager that has infused the firm with the cash needed to handle some of its debt problems. A longer-term turnaround story could also be at play here, offering investors an attractive entry point with the stock currently trading near the offering price of 50 cents per share. A multi-bagger return might be setting up for APP, so put this name on your radar traders and investors.
-- Written by Roberto Pedone in Delafield, Wis.
RELATED LINKS:
>>4 Stocks Rising on Big Volume
>>5 Stocks Insiders Love Right Now
>>5 Hated Earnings Stocks You Should Love
Follow Stockpickr on Twitter and become a fan on Facebook.
At the time of publication, author had no positions in stocks mentioned. Roberto Pedone, based out of Delafield, Wis., is an independent trader who focuses on technical analysis for small- and large-cap stocks, options, futures, commodities and currencies. Roberto studied international business at the Milwaukee School of Engineering, and he spent a year overseas studying business in Lubeck, Germany. His work has appeared on financial outlets including CNBC.com and Forbes.com. You can follow Pedone on Twitter at www.twitter.com/zerosum24 or @zerosum24.